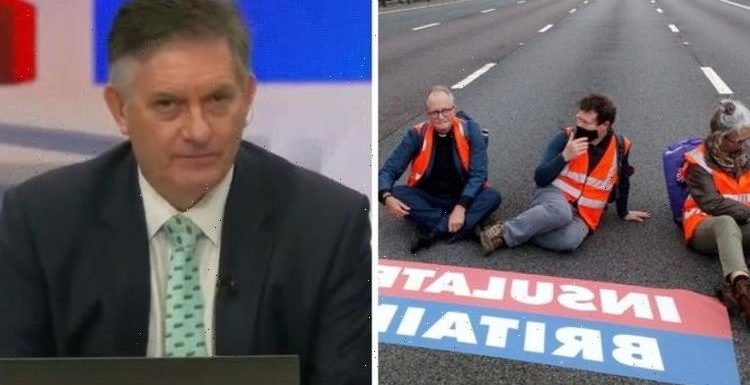 Insulate Britain: Simon McCoy says 'people have had enough'
We use your sign-up to provide content in ways you've consented to and to improve our understanding of you. This may include adverts from us and 3rd parties based on our understanding. You can unsubscribe at any time. More info
Protestors are now facing court action and possible jail time after disrupting some of the UK's busiest motorways over the past month. GB News' Simon McCoy explained national highways lawyers are now compiling evidence to prevent further demonstrations, and spoke to the Professor of Psychological Sciences Mark McDermott about why the group continues to put themselves at risk.
Insulate Britain took part in their 13th demonstration in five weeks by laying down in front of traffic at Dartford Crossing on Wednesday.
Professor McDermott spoke to McCoy and Kirsty Gallacher on The Great British Breakfast to try and explain what motivates the protests.
He told the presenters: "They weren't doing this to get kicks. This rebellion is coming from a sense of disaffection.
"A sense of there being an unreasonable set of requirements surrounding them, perhaps to be passive and to do nothing in the face of inaction, as they perceive it to be."
Groups like Insulate Britain and Extinction Rebellion have been organising protests over the past two years as a response to government inaction in the face of a worsening climate crisis.
However, McCoy believed their methods were too dangerous to justify the cause.
He argued: "The problem with this is, Mark, and we all saw the pictures yesterday as we've seen pictures before; someone's going to get hurt.
"Someone's going to die. And it won't be one of these protestors. And it won't be one of these protestors that ends up in prison.
"It'll be someone who's been trying to remove them because they're trying to get their kid to a hospital or something like that."
McCoy added: "And this is where people get really cross with them."
Insulate Britain received considerable backlash from the general public when their demonstrations first started on September 13 of this year.
A number of protestors blocked five junctions on the M25 motorway, and continued to stage further protests over the next fortnight.
Several members were arrested, but lawyers are now working with the police in an attempt to have them jailed for causing the disruption.
DON'T MISS:
Strictly Come Dancing fans demand Nina Wadia return [COMMENT]
NCIS LA season 13: Deeks and Kensi leave America after clue? [VIDEO]
Below Deck's Captain Sandy details 'volatile' crew experience [INTERVIEW]
Professor McDermott said the group believed they had a "just grievance" to protest, and identified the movement as "reactive rebellion" as opposed to "proactive rebellion".
McCoy hit back at his reasoning and said: "Some would call it just pain in the neck rebellion.
"People have had enough, they're sick and tired of this behaviour."
Their guest agreed with the comment, but reminded the presenter rebellions and protests have yielded positive results in the past.
"Oftentimes what we perceive to be antisocial acts can, in time, produce social goods, though they seem very problematic at the time," he replied.
Insulate Britain was formed by members of Extinction Rebellion, and Professor McDermott cautioned viewers the protests were unlikely to stop anytime soon despite the prospect of severe legal consequences.
He also denied claims the protestors could be labelled as terrorists, as their actions have remained non-violent despite the disruption caused to British drivers.
GB News begins with The Great British Breakfast at 6am.
Source: Read Full Article