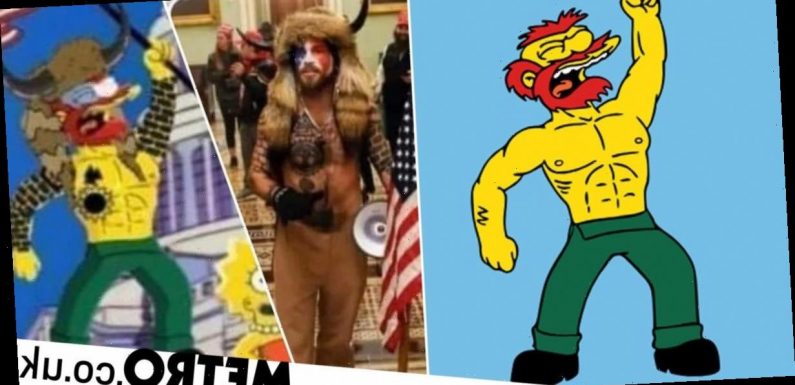 The Simpsons has managed to be a soothsayer for a lot of world events, with their eerily-accurate predictions becoming more and more regular in recent years, but unfortunately, one that is doing the rounds following the Capitol riots is a big ol' fake.
From predicting Donald Trump would become president to Lady Gaga's appearance at the Super Bowl, we've been lapping up all these future-thoughts from Matt Groening and co and this week one emerged that had us spitting out our tea.
An image of Groundskeeper Willie done up in the same Jebediah-esque fur, horned hat and with his face painted in Scotland's colours was doing the rounds on Twitter.
In a side-by-side frame alongside a man who's been called the QAnon 'shaman' – or called Jamiroquai by others – it was suggested the shot of Willie, with his fist in the air, covered in similar tattoos and holding a US flag, was some sort of prediction of the scenes to come out of Washington DC on Wednesday.
We're incredibly sorry to tell you, though, this one just isn't another of the show's hit-on-the-head nails.
The image of a riotous Willie isn't even from an episode of the long-running Fox series, but instead has reportedly been taken from a promo shot of a Simpsons mobile game and Photoshopped to try and bamboozle us all.
And it worked, with many fans lapping up the idea the showrunners were able to foresee this – while others were a bit more sceptical.
One wrote on Twitter: 'I know the Simpsons predict a lot of stuff… But this is ridiculous #CapitolRiots,' as another added: 'Every time damn this world crazy they show us the signs bt since it's a cartoon people look pass it (sic).'
Homer sat on the roof of 742 Evergreen Terrace, dressed in armour made from kitchen utensils, while the town is aflame and people fight each other.
Simpsons fans couldn't help but notice the striking similarities of events that broke out in Washington DC yesterday, and flooded Twitter in shock.
'Simpson's did it again,' wrote one. 'I just can't wrap my head around how they seem to predict every possible thing that happens in this country.'
Another added incredulously: 'NO WAY DID THE SIMPSONS PREDICT THE CIVIL WAR.'
Source: Read Full Article