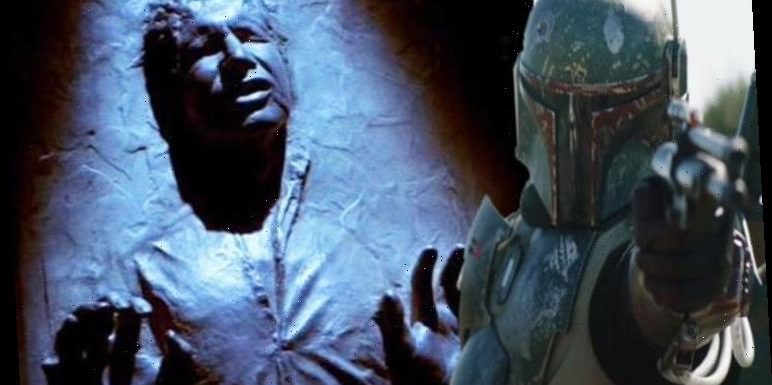 Star Wars: Rogue Squadron teased by director Patty Jenkins
When you subscribe we will use the information you provide to send you these newsletters.Sometimes they'll include recommendations for other related newsletters or services we offer.Our Privacy Notice explains more about how we use your data, and your rights.You can unsubscribe at any time.
Earlier this year it was confirmed that Boba Fett (played by Temuera Morrison) will be receiving a spin-off TV series on Disney Plus, titled The Book of Boba Fett. Further story surrounding the legendary Star Wars character will be explored in the upcoming comic book series War of the Bounty Hunters. The comic book's author, Charles Soule, recently told how it expands upon Boba Fett's story between The Empire Strikes Back and Return of the Jedi.
At the end of the 1980 film The Empire Strikes Back Boba Fett froze Han Solo (Harrison Ford) in carbonite and couriered him to the gangster Jabba the Hutt.
The opening scenes of 1983's Return of the Jedi showed Han Solo being rescued by Luke Skywalker (Mark Hamill) and Leia Organa (Carrie Fisher) before Boba Fett was thrown into the Sarlacc pit and presumed dead.
Soule revealed how much more happened between these films saying: "Boba Fett clearly doesn't take Han Solo directly to Jabba's palace.
"Something had to happen in between that intervening time between Empire and Jedi. And I was like: 'I would like to tell that story, and I would like it to be about Boba Fett and what happens to him.'"
Going on to detail his upcoming story, Soule called it a "Boba Fett-focussed crime epic, that involves Boba Fett going up against some of the heaviest hitters in the galaxy".
Speaking about these heavy hitters, Soule added: "It's Jabba the Hutt. It's Black Sun. It's Darth Vader.
"A bunch of others – factions and so on – that I think will be really interesting for the fans. It's basically Boba Fett, by himself, against all of these people."
In an even more surprising twist, Soule confirmed Boba Fett lost Han Solo while en route to Jabba.
Andor: Diego Luna teases Disney+ Star Wars series
Soule wouldn't reveal exactly how Boba Fett lost the frozen hero, but added: "He is going to do everything he can to get him back, no matter what."
After the bounty hunter's debut in The Empire Strikes Back he became a cult fan-favourite.
A deeper dive into the antihero's life and journey will clear up exactly what happened between the two films.
The warrior recently continued his story when he made his TV debut in Disney Plus' show The Mandalorian.
DON'T MISS…
Star Wars Darth Maul actor 'Sith' images before Obi Wan filming [INFO]
Star Wars: Daisy Ridley 'open to returning to series' [NEWS]
Gina Carano post: Why has Gina Carano been dropped from Mandalorian? [THE MANDALORIAN]
During the season two finale Boba Fett helped Mando track down Grogu (Baby Yoda) during a battle with the Empire.
The final stinger of the series showed Boba Fett claiming Jabba the Hutt's palace for himself before the title card of The Book of Boba Fett was shown.
Boba Fett's journey isn't the only part of the Star Wars mythos that will be revisited in the coming years.
Noted Star Wars leaker Doomcock recently announced the sequel trilogy – The Force Awakens, The Last Jedi and The Rise of Skywalker – are "going to be remade" into 10-hour TV shows.
Doomcock said The Last Jedi would be "renamed" and The Rise of Skywalker will be "100 percent different".
He added that Luke Skywalker actor Hamill was "open" to returning to the series in a retelling of the three films.
The Star Wars series is available on Disney Plus now.
War of the Bounty Hunters Alpha #1 is due out on May 5, 2021.
READ THE ORIGINAL REPORT
Source: Read Full Article