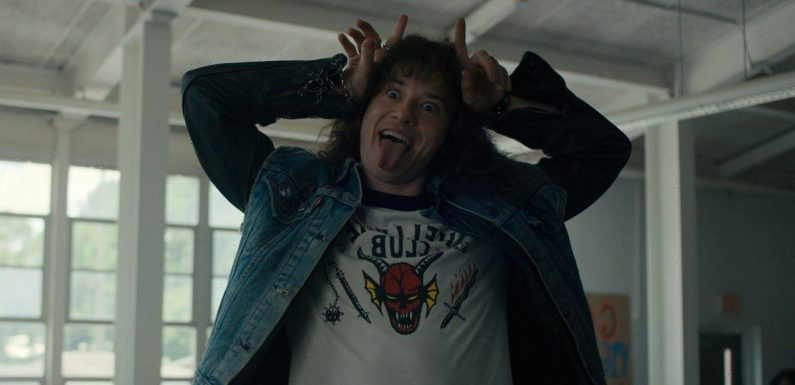 We've finally reached that glorious time in a series' marketing window where we start to get access to the good stuff. And by "good stuff," we mean the merchandise for Stranger Things 4. We're only a little less than two weeks away from the premiere of part 1, but the Stranger Things 4 merchandise is already hitting the shelves.
'Stranger Things 4' brings us Demobats, and you can now own one for yourself
When you think of plush stuffed animals, is the first thing that comes to mind a monstrous bat with a thirst for blood? Yeah, us neither, but somehow Stranger Things 4 is making it happen. On Amazon, you can find plushes of the Demogorgon, Demodogs, and even Demobats. We'll take one of each, please.
Become a member of The Hellfire Club
If your school doesn't have an official Dungeons and Dragons club, we say, "Start your own!" Hot Topic has shirts that look almost identical to the T-shirts Mike and the rest of The Hellfire Club wear to their meetings. If Dungeons and Dragons doesn't excite you, maybe a T-shirt with one of the four official posters for Stranger Things 4 is more your thing. A shirt with "Demogorgon Hunter" on the front is also an option.
Bringing back the '80s with a 'Stranger Things 4' Lite Brite
Any child of the '80s spent time in front of a Lite Brite, and now, Stranger Things 4 lets you relive the magic with some themed Lite Brites. (Okay, we fully expect anyone born in 1990 or later to find these completely underwhelming, but it's not about that. It's the nostalgia!) Target brings fans some of the most Stranger Things 4 merch, and that's where you'll find the Lite Brites. They also come with different themes depending on which characters you want on the front of the box.
Funko announced several new Pops of characters from the upcoming season
When it comes to Stranger Things 4 merch, we imagine that Funko Pops qualify as some of the most wanted collectibles out there. Funko recently announced a new lineup of Funko Pops to go with Stranger Things 4.
According to the press release, "The collection features Eleven, Lucas, Robin, Steve and other members of the iconic "Stranger Things" gang as fan-favorite Pop! vinyl figures and classic pocket keychains. These new additions to Funko's extensive "Stranger Things" line showcase each character in their signature outfits from the upcoming season, including Dustin sporting his thinking cap and Mike wearing a 'Hellfire Club' graphic tee. Fans can also bring home the mystifying world of the Upside Down and set out on their own daring adventure with Funko's latest blind box Mystery Mini figures. This collection has something for "Stranger Things" fans old and new!"
'Stranger Things 4' merchandise includes themed flashlight
One of the more unique Stranger Things 4 merchandise pieces is a "Demogorgon hunting" LED flashlight. A fan came across one of the flashlights at their local Target. The image quickly started to circulate on social media. The flashlight includes Dr. Martin Brenner's signature and a secret message hidden in morse code. 
More and more Stranger Things 4 merchandise pops up the closer we get to the premiere date. Watch Stranger Things 4 on Netflix when it drops on May 27, 2022.
Source: Read Full Article