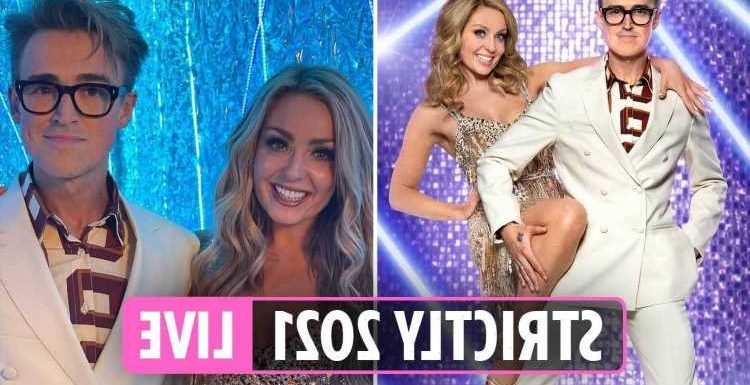 STRICTLY was plunged further into chaos as celebrity dancer Tom Fletcher and his professional partner caught Covid – and may have to drop out of the competition.
It's uncertain if he will have to leave the show but the blow means that the McFly singer will have to miss next week's show as he goes into ten days of isolation.
And Tom, 36, who's partnered with Amy Dowden, will only be allowed back on the show if he tests negative in time for the following week.
If he is double vaccinated he can take another test in eight days' time and if he tests negative can leave isolation after the eight days.
A BBC spokesman told The Sun: "Tom Fletcher and Amy Dowden have tested positive for Covid-19.
"The pair are now self-isolating separately following the latest government guidelines.
"While they will both miss Saturday's live show, Strictly Come Dancing protocols mean that all being well, they will return the following week."
Read our Strictly Come Dancing live blog for the latest updates…
[email protected]


Does the Strictly winner get to keep the Glitterball Trophy?

So the answer is yes, and no – as it's not as straight forward as you think.

After the Strictly winner gets handed the Glitterball by Tess Daly and Claudia Winkleman, they have to hand it back after pictures are taken.

Instead both the celebrity and their professional dance partner are handed smaller versions of the trophy.

Chatting on Sunday Brunch, 2011 winner Harry Judd explained: "They give you the big [Glitterball] and then they take it straight off you and give you this tiny little one."

[email protected]


Motsi Mabuse's real name revealed

Strictly Come Dancing judge Motsi Mabuse's full name is Motshegetsi Mabuse.

Her sister – professional dancer and show winner Oti, 31, – has a longer name too and is called Otlile.

The name Motshegetsi is said to mean "supporter" in the Bantu language of the Tswana people, which is spoken in South Africa.

[email protected]


When is Strictly on?

Strictly's live shows kicked off on Saturday (September 25, 2021) at 7pm on BBC One.

After the first week, episodes will continue on both Saturdays and Sundays – with the results being read out on the second show.

If you miss any of the action, you can catch up on the BBC iPlayer.
[email protected]


Who performs the songs on Strictly Come Dancing?

Strictly Come Dancing is not just loved by audiences for the brilliant dancing, but also for the great live music.

Musical director and arranger Dave Arch is the man in charge of the band.

David is a British pianist, conductor, arranger and composer who has enjoyed a prolific career covering a broad spectrum of the music business including albums, films, and commercials, live and television work.

He is also the Musical Director for productions of the Royal Variety Performance show on ITV as well as shows like Popstar To Operastar.

[email protected]


'Those who refuse Covid jab should be sacked from main line up'

Curtis, 25, said celebrities paired with un-vaxxed dancers should be allowed to dance with one of the many reserve pros who are double-jabbed and waiting in the wings.

He said: "There's always reserve professionals on there isn't there.

"So if they're thinking of pulling the show I don't think that should happen. Maybe remove the pros that aren't getting the Jab. But not get rid of them or fire them. There's always reserves on the show.

"So bring the ones in that have had the jab this year. Put the other ones on the reserve list.

"They're still part of the programme, and the show can go on and move forward."

Sun Jabs Army supporter AJ added during an interview on Good Morning Britain today: "Listen, actions speak louder than words. We're both double jabbed, to get live theatre and shows going, it's the live feeling, the jab is helping.

"We believe it helps and it's safety first."

Read more here.

[email protected]

NIKITA'S GIRLFRIEND SPEAKS OUT ON HIS RELATIONSHIP WITH TILLY RAMSAY

STRICTLY Come Dancing professional Nikita Kuzmin's girlfriend has broken her silence after he was spotted enjoying a cosy night in with his celebrity partner Tilly Ramsay.

Stunning dancer Nicole Wirt, who has been dancing with Nikita since 2016, took to Instagram last night to show her support for the pair.

She described their debut dance as "mesmerising", before adding she was "cheering for my faves" as they performed a romantic waltz.

In other news, AJ Odudu and Kai Widdrington are topping the leaderboard this week with 38 points.

For Week One, no one goes home. However, the combined judges' scores and audience votes will be carried over to Week Two for the first elimination.

[email protected]

TOM FLETCHER BREAKS SILENCE ON COVID CHAOS

Strictly Come Dancing star Tom Fletcher has given fans hope that he'll make an epic return to the dancefloor – despite his Covid bombshell.

The 36-year-old and his dance partner Amy Dowden tested positive today, hours after last night's first live show.

McFly singer Tom will have to miss next week's show as he goes into ten days of isolation – and if he's not fully recovered he risks leaving the competition.

But speaking for the first time since his diagnosis was revealed, Tom commented underneath his partner's statement saying: "Rest up partner. We've got to pull something special out of the bag for week 3."

We revealed earlier how Strictly has been plunged further into crisis after Tom caught Covid in week one.

His devastating Covid result comes at the end of a week in which Strictly has been embroiled in an anti-vax scandal where three pros have not had their jabs.

Tom, whose wife is 2020's I'm A Celebrity winner Giovanna Fletcher, 36, has also been forced to pull out of his McFly tour.

[email protected]

IS TOM FLETCHER LEAVING STRICTLY?

STRICTLY was plunged further into chaos as celebrity dancer Tom Fletcher and his professional partner caught Covid – and may have to drop out of the competition.

Here's what we know about the situation.

It's uncertain if he will have to leave the show but the blow means that the McFly singer will have to miss next week's show as he goes into ten days of isolation.

And Tom, 36, who's partnered with Amy Dowden, will only be allowed back on the show if he tests negative in time for the following week.

If he is double vaccinated he can take another test in eight days' time and if he tests negative can leave isolation after the eight days.

So it could be just the one episode he misses, but having to miss training, it's more likely he'll have to miss at least two episodes before he's back on screen again.

A BBC spokesman told The Sun: "Tom Fletcher and Amy Dowden have tested positive for Covid-19.

"The pair are now self-isolating separately following the latest government guidelines.

"While they will both miss Saturday's live show, Strictly Come Dancing protocols mean that all being well, they will return the following week."

[email protected]

ROSE AYLING-ELLIS REVEALS HOW SHE HEARS THE MUSIC ON STRICTLY

Rose – who plays Mick Carter's daughter Frankie on the BBC soap – explained she 'feels' the music on Strictly.

"They think we hear nothing," she said.

"But hearing stuff isn't just about hearing stuff in your ear. It's also visual, you watch the show, you feel it as well."

She added to The Guardian: "Nothing is impossible, and I know that a lot of deaf children grow up in society that thinks that it's not possible [for them to succeed]. But no – you can do it."

Rose explained how she will be able to pick up the beat of the music, so that she can dance in time on Strictly.

The actress added to BBC News: "It is a common misconception that deaf people can't enjoy music.

"I have a hearing aid, so I pick up some of the music and I can hear the beat. I can hear someone singing, but I can't identify exact words. I also feel the vibrations."

This means the vibrations from the live band led by Dave Arch can be felt through the large dancefloor at the show's Elstree studios.

The EastEnders star said she will be able to use her professional partner for guidance to stay in time with the rhythm.

"I will be focusing on reading my partner's body language plus counting in my head, which will help me with timing," she says. "So for me it's a combination of everything."

Rose added: "However not all deaf people are the same, every deaf person will have their own unique experience with music.

"I do love music and I can't wait to be taught how to dance at a professional level for Strictly!"
Source: Read Full Article