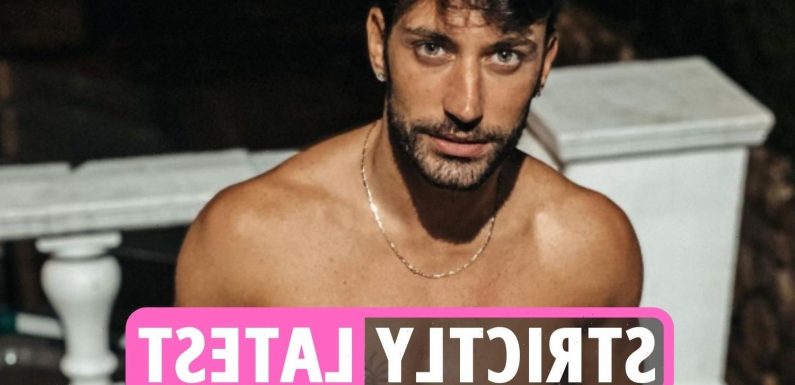 MADE In Chelsea star Verity Bowditch is following in the footsteps of a parade of glamorous women — dating Strictly dancer Giovanni Pernice.
Verity, 26, has had several secret meetings with the Italian, 31, just a month after he split from Love Island's Maura Higgins, also 31.
Giovanni is favourite to win this series with deaf EastEnders actress Rose Ayling-Ellis, 27.
A pal said: "Giovanni has fallen head over heels for Verity. They are smitten. He's been training really hard, but has made time for her."
Read our Strictly Come Dancing live blog for the latest news and gossip…
Louis Allwood




Tilly on being voted off

When the judges voted to save Rhys and Nancy, Tilly thanked everyone who'd been involved in her Strictly journey.

She said: "I'd just like to say a massive thank you to everyone who has made this an amazing, positive journey for me.

"From everyone here to backstage, wardrobe, make up and camera crew. It's just been the most extraordinary time.

"I found out something about myself that I didn't know I could do, I didn't know I could dance and have fun like this."

Praising Nikita, Tilly added: "I really meant it when I said I made a best friend for life. You've just been incredible."

Louis Allwood




How long do we have to wait for the Strictly 2021 final?

The Strictly Come Dancing 2021 final will air on BBC One on Saturday, December 18, 2021.

This means one contestant will be celebrating Christmas as Strictly's fiercest dancer.

The series will have been on the air for three months when the finale will hit the screens.

The finale will then be available for viewers wishing to catch up with the programme on BBC iPlayer.

While the competition has accustomed viewers to separate results shows on Sunday, the final result is expected to be revealed on the Saturday night.

Louis Allwood




Star forced to rest

Strictly Come Dancing star John Whaite was forced to rest after being left in 'so much pain'.

The 32-year-old and Johannes Radebe are currently in training for the BBC dance contest's quarter-finals.

The dancing pair made it through on Sunday night after getting a near-perfect score for their Argentine tango.

But on Tuesday, John had to leave rehearsals early, telling his Instagram followers he was off to rest.

He took a snap of himself in the back of a car, and said: "Going home to rest. My hip flexors are in so much pain and the physio has recommended a day of rest.

"I'll watch Christmas films all day and eat Haribo."
Louis Allwood




Rylan pressures Nikita to slam judges

Tilly Ramsay and Nikita Kuzmin were the latest duo to be booted from the show.

They appeared on It Takes Two where host Rylan Clark probed Nikita about the judges scoring.

"Some of the judges' comments; there were a few things about feet, a few things about arms," he started.

"Do you think, Nikita, that justified the lower scoring?"

But when Nikita hesitated to be critical, Rylan shouted: "Come on! You're out now! You can say what you wanna say, come on."

Tilly giggled as Nikita decided to still respond with diplomacy.

"I agree with this absolutely because samba is the most difficult dance," Nikita explained.

"Samba is a difficult dance. You have different body rhythms to do your steps with, you have different actions.

"You have feet actions, you have arms – you have some many things you have to do."

"At the same you have to be sassy, you have to do all the beautiful shimmy things that Tilly did.

"So unfortunately, yeah I agree."

Louis Allwood




What dances are contestants doing this weekend

John Whaite will dance the samba, as Rhys Stephenson takes on the Argentine Tango.

Dan Walker dances the salsa, while AJ Odudu do the same.

Rose Ayling Ellis will take on an American Smooth.

Louis Allwood




Is it the same trophy?

As the celebrities have to hand it back each year, the same trophy is used.

Each year the winner's name is added to the gold plague on the front of the Glitterball.

It is believed the same trophy has been used since Strictly started back in 2004.

Louis Allwood




Does the winner keep the trophy?

So the answer is yes, and no – as it's not as straight forward as you think.

After the Strictly winner gets handed the Glitterball by Tess Daly and Claudia Winkleman, they have to hand it back after pictures are taken.

Instead both the celebrity and their professional dance partner are handed smaller versions of the trophy.

Chatting on Sunday Brunch, 2011 winner Harry Judd explained: "They give you the big [Glitterball] and then they take it straight off you and give you this tiny little one."

Louis Allwood




Strictly Come Dancing Winner Odds

BetVictor have released their latest odds for the winner of this years competition.

Rose Ayling-Ellis 1/5
AJ Odudu 7/1
John Whaite 8/1
Dan Walker 22/1
Rhys Stephenson 66/1

Ex-star of the show excited for this weekend

THE QUARTER finals return this weekend on the BBC and the couples dances have been announced leaving fans divided on who they think will do the best.

It appears to be a two horse race between Rose Ayling Ellis' routine, or AJ Odudu's.

Fans have been commenting on an Instagram announcement over the new routines and dances.

Ugo Monye couldn't contain his excitement commenting "Lessssgooo"

Another commented "Rose and Gio with an american smooth! i can't wait!"

Louis Allwood




Rose Ayling-Ellis turns down big money deal (Continued…)

A source said: "Rose has already done so much to raise awareness of the plight deaf people face on a daily basis. She is a total inspiration.

"High street franchises like Specsavers sell hearing aids and several firms have been in touch to see if she wanted any freebies, or wanted to get on board for campaigns.

"Although it means turning down vast sums of money, Rose doesn't feel right accepting. She gets her hearing aids from the NHS and doesn't want to mislead her fans.

"She is a passionate champion of our health service.

"Her pals have been joking that Rose should have gone to Specsavers but she's adamant not profiting from her condition is the right thing to do."

Louis Allwood




Rose Ayling-Ellis turns down big money deal

Rose Ayling-Ellis has turned down lucrative deals to endorse hearing aids.

The EastEnders actress refuses to promote any non-NHS devices.

Rose, 27, is understood to have been offered deals worth hundreds of thousands of pounds by high street names including Specsavers.

But she has rejected them all so as not to "mislead" her fans.

Rose, the first deaf celeb on Strictly, is favourite to win the BBC dance show with her partner Giovanni Pernice.

Louis Allwood




Michelle Keegan turned down strictly

The actress has revealed she turned down Strictly Come Dancing because she's "too scared" to perform in front of a live audience.

The actress, 34, admitted she's been asked to take part in the BBC dance show but won't be following in the footsteps of her husband Mark Wright any time soon.

Mark managed to get to the final of the show in 2014 alongside pro Karen Hauer.

Speaking about potentially putting on her dancing shoes, Michelle told Graham Norton: "I have a few times [been asked]. But for me, it's the live audience… it's a skill. It takes a lot of dedication and skill."

She continued:  "He [husband Mark Wright] did it like 5 years ago. It's the music before it happens and the audience is really quiet and the lights come on.

"My heart was in my mouth for him. I couldn't be on the dance floor, too scared, too nervous."

Louis Allwood




Who is Ben Jones?

Much like the Strictly choreographer, Ben is a professional dancer and has been trotting alongside Amy for several years.

The couple were once British National Latin Dance champions, becoming the first all-British pair to win the competition.

Both have decided to help others follow their passion for dancing and run the Art in Motion dance school in Dudley, in the West Midlands.

Not much else is known about Ben as he keeps a low profile, allowing his partner to bask alone in the spotlight.

Unlike Amy, he is not active on any social media platforms, although he can sometimes be seen with his wife in posts shared on their school's official Instagram profile.

The couple have also walked the red carpet together on many occasions but Ben remains adamant on staying away from the limelight altogether.

Louis Allwood




When is Strictly: The Real Full Monty?

Fans of the show don't have to wait too long to watch it on TV.

The performance of Strictly: The Real Full Monty will be aired on December 13 and 14.

You'll be able to watch it at 9pm on ITV.

Louis Allwood




Amy Dowden gets a visit from rarely seen twin

Amy Dowden gets a visit from her rarely seen twin sister Becky after her hospital dash.

The dancer – who has Crohn's disease – suffered a terrifying health scare and was rushed to hospital after falling ill over the weekend.

Since then she's been resting up and her twin Becky paid her a visit.

Amy, 31, uploaded a boomerang on social media of her sister plaiting her hair.

She captioned the post: "When your twin comes to visit… Straight on the sister duties @becky_dowden."

Louis Allwood




Rose Ayling-Ellis can't train when it's raining

Rose Ayling-Ellis is unable to train when it's raining because of her deafness.

The popular actress relies on the vibration of music to rehearse with dance partner Giovanni Pernice, but when heavy rain is thundering down outside it makes it all the more challenging.

Show host Claudia Winkleman told The Big Issue: "Rose is fantastic…she's properly funny. I hope that comes across. She's a fabulous dancer. The fact she's deaf comes way down the list of the extraordinariness of the charm of Rose.

"She finds it difficult to train when it's really raining as it messes with the vibrations in her chest."

Read the full story.

Louis Allwood




Judge Craig says watching the show 'strange' experience after Covid diagnosis

"It was really strange for me but I really enjoyed it and it gave me a whole new appreciation for the show because I was watching it not as a judge but as a punter, a normal person just watching it.

"It's funny because when I'm at work, I'm really looking at it technically and I'm concentrating only on the technique and only on how the dance is presented in a professional fashion. So for me, watching it at home was amazing.

"Plus, when we're judging we're judging the full body and when you're at home you see cutaways. You're not necessarily watching the footwork all the way through because you can't see it. So I can understand people at home thinking, 'Oh, I missed that heel lead'."

Louis Allwood




Bruno looks unrecognisable

Ex-Strictly judge Bruno Tonioli appeared unrecognisable with his dark tan and glasses as he danced with a pal in a new video.

He appears to be enjoying life out in the US, and it looks like he has been especially enjoying the LA sunshine.

The Dancing With The Stars judge can be seen in a TikTok video dancing with his glamourous friend.

The pair look like they are having the time of their lives as they danced along to Summer Nights from Grease.

Louis Allwood




Craig's top three

Choreographer Craig tips the baker and his partner Johannes Radebe for the final, alongside soap star Rose Ayling-Ellis and partner Giovanni Pernice, and presenter AJ Odudu and Kai Widdrington.

'If I was choosing, that's who it would be,' he told Hello! magazine.

He admits, though, that there's 'never been dancing like it' on Strictly.

'And the closer they get to the end, the more competitive they're all becoming because they can see themselves holding that glitter ball, and with that always comes offers for new shows. So there's a lot at stake really and they're all hungry for it,' he added.

Louis Allwood




Reason Amy Dowden moved in with Tom (Continued…)

Speaking to hosts Susanna Reid and Rob Rinder, Giovanna Fletcher explained that as Amy is a Strictly pro she is still appearing on Saturday live shows – and is in a strict Covid bubble as a result.

This means that she isn't able to travel to stay with family members, which is why Tom and his wife have taken her in as they were her original bubble for the series.

Gi shared: "Everyone in Strictly is in bubbles, she can't travel to the Midlands or Wales – we just want her with us."

Rob replied: "So it's the opposite of the Strictly Curse – you've moved in with each other!"

The I'm A Celeb champ giggled: "Exactly – it's more of a hostage situation, possibly. But that's something that's not focused on – the friendships that can be made through Strictly, we absolutely adore her.

"For us, it's not a Strictly Curse – we've actually gained a new member."

Louis Allwood




Surprising reason Amy Dowden moved in with Tom

GIOVANNA Fletcher has revealed the surprising reason why husband Tom's Strictly Come Dancing partner Amy Dowden was forced to move in with them after her hospital dash.

The 31-year-old professional dancer told followers that she was being cared for by the couple at their family home following a severe flare up of her Crohn's disease.

Appearing on Good Morning Britain today, Giovanna shed some more light on the situation – and revealed that Amy and Tom were on a walk near their home with fellow Strictly 2021 contestant Sara Davies when she fell ill.

Louis Allwood




'Positive journey for me'

When the judges voted to save Rhys and Nancy, Tilly thanked everyone who'd been involved in her Strictly journey.

She said: "I'd just like to say a massive thank you to everyone who has made this an amazing, positive journey for me.

"From everyone here to backstage, wardrobe, make up and camera crew. It's just been the most extraordinary time.

"I found out something about myself that I didn't know I could do, I didn't know I could dance and have fun like this."

Praising Nikita, Tilly added: "I really meant it when I said I made a best friend for life. You've just been incredible."

Louis Allwood




Anne-Marie fave for Christmas special

Betfair – Strictly Come Dancing Christmas Special 2021 winner

Anne-Marie: 6/4
Fred Sirieix: 5/2
Mel Giedroyc: 11/4
Jay Blades: 5/2
Moira Stuart: 20/1

How does the voting system work?

Strictly Come Dancing results are calculated through a mix of audience vote and panel scores.

The four judges give points out of 10, with a maximum of 40. This is then placed on a leaderboard.

The BBC site claims: "These ranks are converted into points, with the highest scoring couple ranked first receiving a number of points equal to the number of couples."

A similar point system is used for the public vote – via online and phone services – which is then added to the points from the judges.

In the result of any tie in score – Head Judge Shirley Ballas – decides who to save from participating in the dance-off.

She also has the ultimate say in which of the bottom two couples stays, if the judges don't reach a unanimous decision.

The scores from the judges on the first show and the public vote will be combined 50-50 and announced in the results show.

When is Strictly next on TV?

Strictly continues on Saturday, December 4, 2021 at 6.55pm.

The results show will air the following day at 7.20pm on Sunday, December 5, 2021.

The final is on December 18, 2021.

You can also catch any missed episodes on the BBC iPlayer.

Source: Read Full Article