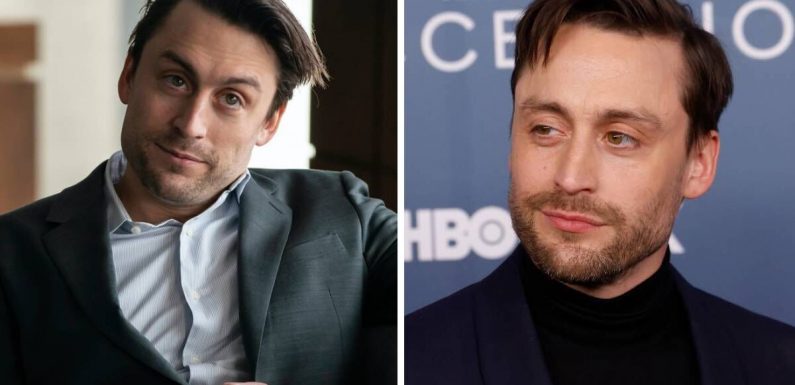 Succession: Brian Cox on change to Logan's backstory
We use your sign-up to provide content in ways you've consented to and to improve our understanding of you. This may include adverts from us and 3rd parties based on our understanding. You can unsubscribe at any time. More info
Kieran Culkin, made famous in his own right as Roman Roy in HBO and Sky Atlantic drama Succession, comes from a very well-known Hollywood family. As one of seven siblings, Culkin knows better than most the complicated dynamic of life with brothers and sisters. While Succession fans are excited to see the return of Roman, Shiv (played by Sarah Snook) and Kendall Roy (Jeremy Strong), they are also interested to know more about his real-life family.
Watch Succession with 3-month of FREE Sky TV channels with Sky Glass
View Deal
Where are the Culkin brothers now?
Macaulay Culkin
Macaulay Culkin is probably one of the most famous child actors of all time, launching his global career when he starred as Kevin McAllister in the Home Alone film franchise.
He went on to feature in a number of other popular films such as Uncle Buck, Richie Rich and My Girl.
Macaulay also had a very public friendship with legendary pop singer Michael Jackson with the youngster starring in his Black or White music video.
Fast-forward to 2023 and Macaulay is a family man, having welcomed his second child at the end of 2022.
The 42-year-old is in a long-term relationship with actress Brenda Song who Disney fans may remember from The Suite Life of Zack and Cody.
They first met on the set of the movie Changeland in Thailand in 2017 and have been together ever since.
He had previously been married to actress Rachel Miner and dated Mila Kunis for almost nine years until their split in 2011.
Rory Culkin
Rory's acting career began when he appeared alongside Macaulay in the 1993 film The Good Son.
After that, he went on to appear in the 2000 movie You Can Count on Me and then with his brother Kieran in Igby Goes Down.
Rory got his first major role in the film Signs, starring opposite Mel Gibson and Joaquin Phoenix.
He has since gone involved in more mature projects like Hick, Scream 4, Columbus and Lords of Chaos.
More recently, Rory has been pursuing a career in television in shows like The Expecting and Swarm on Amazon Prime Video which came earlier this month.
Don't miss…
Kate Garraway says Derek is 'bedridden' after sharing he is 'damaged' [REACTION]
Amazon announces three-day Spring sale [DEAL]
Brian Cox opens London Stock Exchange ahead of Succession Season 4 [CAST]
Shane Culkin
Shane is the eldest brother of the Culkin family who didn't get his big break in the acting world like his siblings.
He has one IMDb credit for his appearance in the 1989 series Great Performances but no other roles came after this part.
Very little is known about Shane today as he has managed to stay under the radar, despite coming from such a recognisable family.
Christian Culkin
Similarly to Shane, Christian has just one credit which is in the 1994 movie My Summer Story with his brother Kieran.
After this, Christian remained out of the limelight with his current career unknown.
Tragedy struck on two separate occasions for the Culkin family, first when Kieran's half-sister Jennifer died of drug-related complications in 2000.
Jennifer was the daughter of actor Kit Culkin and Adeena Vangoner, while his other six children are his and Patricia Brentrup who he was in a 20-year relationship with.
Eight years later, his other sister, Dakota, died at just 29 years old of injuries she sustained after getting hit by a car in Los Angeles.
Succession season four premieres on Sunday, March 26, on HBO in the USA and Monday, March 27, on Sky Atlantic.
Source: Read Full Article