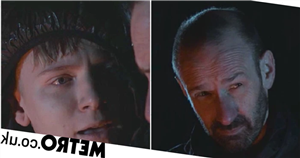 A few weeks ago in Coronation Street, Griff Reynolds (Michael Condron) put fear in Spider Nugent's (Martin Hancock) eyes, telling him a 'race war' is coming and that they need to plan something dangerous.
Tonight, said plan got underway.
Griff is ultimately targeting Maria (Samia Longchambon) and her aim to turn the festive market into a peaceful one that focus on making people from overseas feel welcome and part of the community.
This has angered Griff and his gang, as they believe people born in the country should have priority when it comes to things like housing and jobs – and that, put simply, people who travel to England in the hope of a better life are not welcome.
Overhearing Griff's entire plan throughout the episode was Spider, still working as an undercover police officer, of course.
He made a call to his colleague and revealed Griff's plan would be happening at the Town Hall.
Sadly, for Spider, Griff had already worked out what he was up to and tricked the police into thinking there was a bomb in the car when in actual fact, it was a load of baked bean cans.
With help from Max (Paddy Bever), Griff attacked Spider with a crowbar, searched him for a police ID badge, but ended up running away when Peter (Chris Gascoyne) arrived and called an ambulance.
Ultimately, the baked bean cans in the car turned out to be a distraction technique as that evening, Griff instructed his gang to leave the flat and camp out at the side of a road.
With the rain pouring, Max stood beside Griff and wondered what he was up to.
As another gang member arrived with the Speed Daal van, terror started to form for Max.
Griff told the teen that tomorrow, after their plan, he'll walk into the police station and be a hero.
Thanks to previous spoilers, we can say Griff's plot will more than likely involve the planting of a bomb, but will the Weatherfield residents make it to safety in time?
Will Max see the real Griff Reynolds during this ordeal?
Source: Read Full Article