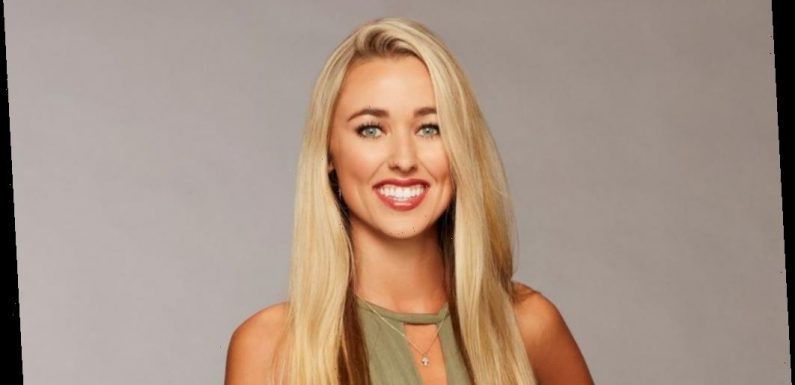 Things are certainly heating up on this season of The Bachelor. While Matt James claims to already be falling in love with one contestant, another has been waiting in the wings to crash the season. Last week, fans saw a preview that showed Bachelor alumni Heather Martin appearing on Matt's season and trying to join the competition. But now, Matt has revealed that he didn't actually have a prior relationship with Heather.
Who is Heather Martin?
Heather first appeared on Colton Underwood's season of The Bachelor. Her claim to fame on her season was that she had never been kissed. Colton did supply Heather with her first kiss, but shortly after that, she decided to send herself home.
While on Underwood's season, she became close friends with Hannah Brown, who went on to be the Bachelorette. During Hannah's season, Hannah dated Tyler Cameron, who is best friends with Matt. Fans have been guessing that this connection was probably how Matt and Heather met.
ABC executive Rob Mills alluded to something serious having gone on between Matt and Heather before Matt left to film.
"[Heather] felt for sure [Matt] was her husband and basically did anything she could to get there and track him down," Rob Mills said on the Jan. 5 episode of Julia Cunningham's Bachelor Recap podcast.
Matt James says he didn't have a relationship with Heather Martin
For someone to crash The Bachelor over halfway through the season, they must have a pretty strong connection with the lead, right? Well, Matt has recently revealed that he and Heather actually did not have a relationship with one another before he became the Bachelor.
"I have met Heather before [but] I had no relationship with her," he told Us Weekly. "But she does have a relationship with one of my good friends Hannah Brown. I was just as shocked to see her as everyone else was when she arrives and I think it makes for a very interesting conversation."
Despite not being sure as to why Heather came, Matt was determined to be respectful of the situation as adding new women to the competition didn't go over so well previously. When five new women entered the competition a few weeks ago, the rest of the contestants didn't react kindly.
"I tried to be empathetic to that because I would be upset if new women came when I was part of this journey," Matt told the outlet. "And you have all these newcomers [who are] very attractive, educated … everything that you would want in someone that you're looking for, you see come through the door, five more, and I can see how that can be frustrating. [But] I think there's a certain way that you should deal with that frustration."
Does Heather Martin join this season of 'The Bachelor?
When Heather shows up to the filming location, everyone looks shocked.
"Heather, what are you doing here? You could honestly destroy this whole thing for Matt," Chris Harrison says in the teaser.
For some reason, even though she never had a relationship with Matt, Heather seems determined to compete for his heart.
"This is like an impossible situation, still, like, I do feel like Matt's worth it," she says.
Fans will have to wait to see if Heather stays in the competition or is sent home before she can even unpack.
The Bachelor airs on Mondays at 8 p.m. ET on ABC.
Source: Read Full Article