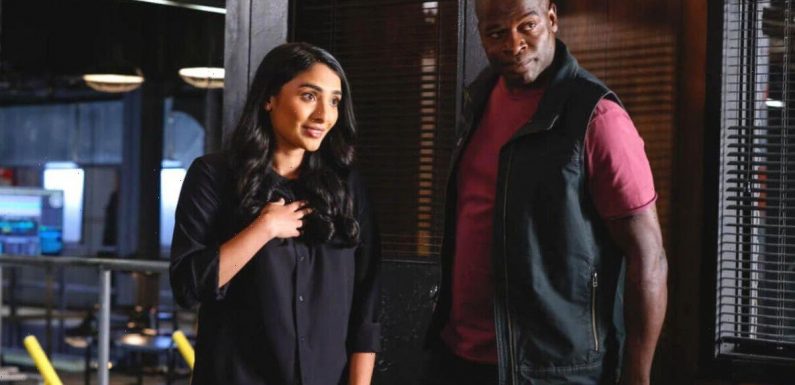 The Blacklist: Trailer teases final season
We use your sign-up to provide content in ways you've consented to and to improve our understanding of you. This may include adverts from us and 3rd parties based on our understanding. You can unsubscribe at any time. More info
Ahead of The Blacklist's return to screens, fans have been questioning Dembe Zuma's (played by Hisham Tawfiq) storyline. After he left the task force for an FBI role, there's a chance season 10 will see the former bodyguard working as a double agent.
Throughout the series, Dembe has worked closely with Raymond 'Red' Reddington (James Spader) as his sworn bodyguard and closest friend.
He dedicated his life to protecting Red as an appreciative gesture for saving him from human trafficking when he was a child.
Despite Dembe's loyalty things took a dramatic turn in season nine when the show returned with a two-year time jump.
As the task force disbanded and Red was nowhere to be found Dembe found a new lease on life and joined the FBI.
READ MORE: Loose Women viewers fume 'get her off' at Jane Moore
Although he stuck with his law-enforcing role throughout season nine, Dembe wasn't too far as he couldn't stop himself from helping his old friend during the finale.
With this in mind, many fans have questioned who the character will be working for throughout the upcoming instalment.
With season 10 premiering next week, bosses dropped a major hint with the release of early images which sees Dembe working closely with Donald Ressler (Diego Klattenhoff).
As well as being seen beside newcomer Siya Malik (Anya Banerjee), Dembe appears to be in the mix as the riveting series commences.
Red and Dembe did grow closer together and seemingly sealed their friendship when Dembe accompanied Red to the hospital.
Although fans had shared hopes of the two friends working closely together, it looks as though Dembe may decide to keep working in the task force.
However, with his close links to Red, will he keep key investigation details to himself?
With the return of blacklister Wujing (Chin Han), Dembe could step into his old shoes as a bodyguard and protect Red.
Although the task force is trying to crack down on the wanted fugitives, Dembe could struggle to keep details of the investigation secret if Red finds himself in danger.
In fact season 10 could be Red's most challenging season as he attempts to escape Wujing's wrath.
The synopsis for the premiere reads: "Six months after Wujing's escape from custody, Reddington mysteriously resurfaces in Manhattan amidst an explosion.
"When a former blacklister is found at the scene, the task force begins to investigate a larger conspiracy at play."
The former hacker Wujing is hot on Red's tail after the character betrayed him and had him arrested by the FBI SWAT team.
As Marvin Gerad (Fisher Stevens) gave Wujing a list of the blacklisters, it's likely he will round up the other criminals to seek revenge.
He also has proof Red is an informant and will likely stop at nothing to get back at Red.
With Red's life under major threat, Dembe could be exposed as a double agent for trying to keep his friend safe.
The Blacklist season 10 premieres on NBC on Sunday, February 26. A UK release date has yet to be announced.
Source: Read Full Article