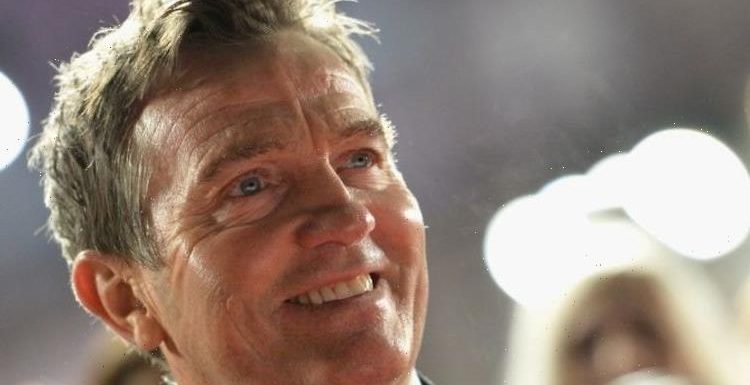 The Chase: Bradley Walsh jokes he gets 'no respect' on show
We use your sign-up to provide content in ways you've consented to and to improve our understanding of you. This may include adverts from us and 3rd parties based on our understanding. You can unsubscribe at any time. More info
Mr Walsh returns to screens tonight to host The Chase: Celebrity Special at 5pm on ITV. The show asks the celebrity contestants to answer a series of questions while preventing a team of professional quizzers, known as The Chasers, from ruining their progress. Tonight's episode sees comedian Susan Calman, broadcaster Dermot Murnaghan, track and field athlete Perri Shakes-Drayton and comedian-turned-actor Omid Djalili pit their wits against The Chaser.
If the celebrities answer enough questions against the clock to beat The Chaser and exit the game they could win a prize pot worth thousands for their chosen charity.
Much loved presenter Mr Walsh is often found making wry quips and joking with the contestants and chasers.
When one contestant revealed she had a royal connection, the presenter saw an opportunity to call out the Duke of Cambridge and take a swipe at rival show Pointless.
Contestant Karen claimed her company had developed the silicone mould used for William's and Kate's wedding cake, to which a surprised Mr Walsh responded: "You've got to get a royal appointment surely?"
Read More: Prince Philip withdrew support of Prince Edward's horror gaffe
When Karen replied that she didn't know, and was doubtful that the royal couple knew who she was, Mr Walsh decided to jokingly address William by pointedly speaking into the camera.
The presenter said: "I'll tell them, don't worry about that – they'll be watching now.
"Will, listen up!"
After a pause for comic effect, Mr Walsh added: "He's not there? Kate, get him!"
He then feigned surprise and said: "Oh, he's watching Pointless? Shocking!"
The BBC's Pointless is hosted by Alexander Armstrong and Richard Osman, and is arguably The Chase's biggest rival.
It asks its contestants to score as few points as possible by trying to come up with an answer no one else can think of to a general knowledge question.
Last year, Mr Walsh left The Chase fans in hysterics, when it became clear that he did not know the names of the Queen's grandchildren.
DON'T MISS:
Monty Don's shock BBC confession exposed: 'I loath television!' [INSIGHT]
Lord of the Rings: How Tolkien never wrote Gandalf's iconic film line [ANALYSIS]
Queen Mother's brutal swipe at Prince Andrew exposed [OPINION]
The third question of the show asked how many grandchildren the Queen had, with the three answer options being three, five or seven.
Contestant Lucy chose five, which led to Mr Walsh trying to remember the names of the royal great-grandchildren.
Mr Walsh said: "Charlotte, George… Zara and Mike have got a child, so that's three."
He added "Edward has two children" before Chaser Paul Sinha interjected to say that Edward's children would be the Queen's grandchildren, not great grandchildren.
Mr Walsh then tried to remember the Queen's children: "Charlie, Andrew, Edward… John, Paul, George and Ringo."
To howls of laughter, he added: "Charlie's boys are Wills and Harry, Andrew's boys are Beatrice and Eunice…"
The presenter then also burst into a fit of laughter.
Watch The Chase: Celebrity Special on ITV at 5pm tonight.
Source: Read Full Article