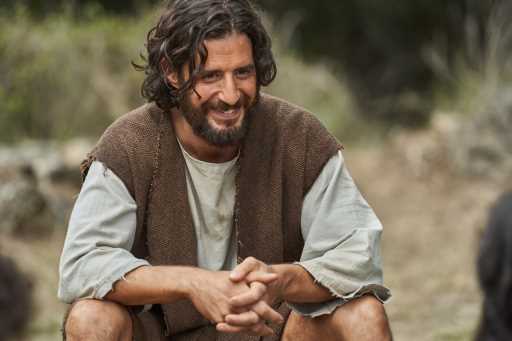 Look who's about to declare thanks be to God: The CW has picked up the first three seasons of The Chosen.
The series about the life of Jesus is from creator, director and producer Dallas Jenkins (The Resurrection of Gavin Stone, What If…) and stars Jonathan Roumie as the King of Kings. It will premiere on Sunday, July 16, and will continue its run through the fall, with the Season 3 finale airing on Christmas Eve.
Related Story
2023 Premiere Dates For New & Returning Series On Broadcast, Cable & Streaming
This is The Chosen's first U.S. broadcast home. Episodes already can be found on Peacock, Netflix and Roku.
"The Chosen is based on the biggest IP of all time and is truly a one-of-a-kind series that tells this historically significant story in a captivating, dramatic and premium way," said Brad Schwartz, The CW's President of Entertainment, in a statement. "This show has already connected deeply with viewers around the world, and The CW will expand its audience even further."
RELATED: New Series On Broadcast Networks In 2023-24: Photo Gallery
Added Jenkins: "The CW has always been bold and unique, which is perfect for us. Plus, Brad Schwartz made it clear a while ago he loves and respects The Chosen, so we know it'll be in great hands."
Continued Lionsgate President of Worldwide Television Distribution Jim Packer: "As part of our global representation of this coveted property, we are pleased that The CW will become another great partner for The Chosen. This groundbreaking series already has a massive global following, and The CW platform will provide the perfect opportunity for the show to reach existing fans and inspire new ones."
The Chosen is described as the first multi-season series of its kind. Set against the backdrop of Jewish oppression in first-century Israel, the seven-season show shares an authentic and intimate look at Jesus' revolutionary life and teachings. The fourth season is currently in production.
It began as a crowdsourcing project on the Angel Studios app and turned into a global hit with over 110 million viewers in 175 countries, with plans to make it available in 600 languages. The series has generated 6.5 million followers across social media, made $35 million at box office in special-event theatrical releases and has spawned an apparel line, best-selling books, DVDs and an upcoming series of graphic novels. Jesus sells!
The Chosen is distributed globally by Lionsgate.
This isn't the first time the CW under Nexstar has picked up multiple episodes of a new show. On Thursday, it announced it has renewed the Canadian import Sullivan's Crossing for a second season, even though it's not set to premiere until this fall.
That series already debuted in Canada, where it has become a hit on CTV. Production on Season 2 will begin in the fall in Nova Scotia.
Must Read Stories
Probe Launched Over Incident On 'BMF' Picket Line With Writers & Line Producer
The CW Doth Acquire First Three Seasons Of Lionsgate's Jesus Drama 'The Chosen'
Hugh Grant Circling A24 Horror Pic 'Heretic' From 'A Quiet Place's Scott Beck & Bryan Woods
Optimus Prime Time: 'Rise Of The Beasts' Peels Out With $8.8M In Previews
Read More About:
Source: Read Full Article