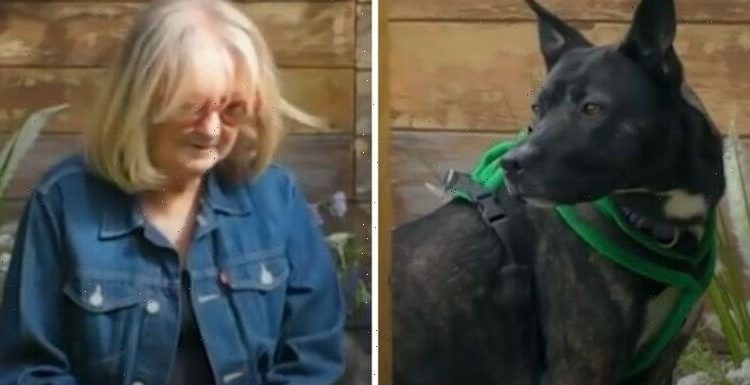 The Dog House: Staffy turned down due to lack of 'connection'
We use your sign-up to provide content in ways you've consented to and to improve our understanding of you. This may include adverts from us and 3rd parties based on our understanding. You can unsubscribe at any time. More info
Channel 4's The Dog House shows hopeful dog owners meeting a potential pet for the first time at Wood Green, the animal charity in Cambridgeshire. The dogs there have been found lost or abandoned or have been given up by former owners. The show sees potential owners meeting dogs as those working at the charity watch on via cameras to document what's going on. Lorraine was after a companion for her son, Oliver, but she wasn't pleased to meet Staffordshire Bull Terrier Cynthia, as she believed she couldn't bond with her.
Lorraine and Oliver met two-year-old Staffy-cross Cynthia after workers at the charity believed they would be a good fit.
As one of the employees brought the dog out to meet them, Lorraine commented: "Someone's shy," as Cynthia stayed close to the Wood Green worker.
"She might be a little bit nervous at first," the employee explained.
"Once she comes round though, she's so loving and affectionate."
When she left, Cynthia began to cry by the door as Lorraine stated: "Well hopefully she'll tell us know when she's ready."
"I'll get some treats and we can sit on the floor," she told her son.
Oliver began to play with Cynthia, but Lorraine mistook a playful bow as a threat.
"No, no, no don't," she advised Oliver when the dog lowered her head in a playful gesture.
Watching from another room, the employees commented: "See that's a play bow, she just wants to play.
"If you aren't used to a big dog though it can be worrying."
As the dog continued to stand by the door, Oliver stated: "She keeps wandering around, doesn't she?"
"I'm afraid so," Lorraine remarked. "I'm not sure she's that bothered about us, if I'm honest."
She went on: "She wants to leave, so."
"Yeah," Oliver replied. "She's not going to bond with us, is she?"
"Doesn't feel like it," Lorraine answered as the dog stood by the door watching the pair.
When the charity worker returned, Lorraine informed her: "It doesn't seem to be gelling too well."
"You had some nice moments with her though where she's come over for a cuddle," the dog expert pointed out.
She asked: "What's kind of holding you back, do you think?"
"We feel like she's tolerating us and I understand completely why but it just doesn't feel right," Lorraine explained.
Those tuned into the show believed Lorraine hadn't given Cynthia a fair chance.
Twitter user Suzy wrote: "Mum knew about the play bow but expected an instant connection with Cynthia. Dogs need time to bond. #thedoghouse."
Abbie penned: "Give her chance ffs she's known you 30 seconds #thedoghouse."
"Poor dog hasn't had time to bond yet… #thedoghouse," argued Teena Massam.
@anomalousaspie commented: "When you adopt a dog, you don't usually meet with it & see if there's a bond.
"The animal will eventually bond with you. The emphasis placed on first impressions is fickle. Why are people looking for a bloody Disney romanticised 1st impressions miracle??? #thedoghouse," (sic).
Luckily, the mother and son ended up adopting a Westie named Norman, who bonded with them both very well.
The ending of the show revealed that Cynthia, meanwhile, had also since found her forever home.
The Dog House continues on Thursday at 8pm on Channel 4.
Source: Read Full Article