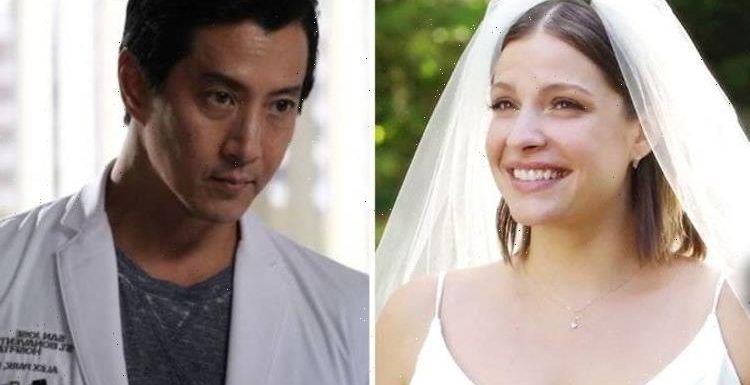 https://www.youtube.com/embed/lM4QPuTVwiM
The Good Doctor is the heartfelt medical drama on ABC starring actor Freddie Highmore as Dr Shaun Murphy. Series four was a particularly emotional one as it saw Shaun and girlfriend Lea Dilallo (played by Paige Spara) trying to deal with a devastating loss. Nevertheless, the couple appeared to come away from it stronger with wedding bells now in the not-so-distant future.
Shaun and Lea were expecting a baby in season four and excitedly found out that it was going to be a little girl.

Unfortunately, it wasn't meant to be as Lea suffered a miscarriage, leaving both of them filled with grief.

Due to his autism, Shaun isn't always the best when it comes to handling his emotions but he did everything he could to try and support Lea.

This is why at the end of the series, Lea decided he was the one and proposed to Shaun which, of course, he delightfully said yes to.
We use your sign-up to provide content in ways you've consented to and to improve our understanding of you. This may include adverts from us and 3rd parties based on our understanding. You can unsubscribe at any time. More info
What time does The Good Doctor season 5 start?
There isn't too much longer to wait before The Good Doctor returns for more new episodes.

Season five of The Good Doctor will kick off tomorrow, Monday, September 27, on ABC.

At what time it will start does depend on your geographical location in the States due to the various time zones.

Even though The Good Doctor season five premiere is going to begin at the same moment wherever you are, the actual time will differ.
The Good Doctor will be airing at 10pm EST (Eastern Standard Time) on September 27.

But if you live in the CT (Central Time) zone, then series five is going to start at 9pm.

Either way, time is almost up for fans in America to find out what happens next with those at St. Bonaventure Hospital.

However, it is a different story if you are residing in the UK.
DON'T MISS…
Dr Shola shut down as Andrew Pierce brutally dismantles Brexit claim [BREXIT]
Simon McCoy erupts in James Bond row over female actors taking on role [REACTION]
Angel Adoree details concern over Escape to the Chateau move [EXPLAINER]
Fans in the UK will not be able to watch the series five premiere tomorrow.

Typically, new seasons of The Good Doctor are released around one month on Sky Witness after it starts in America.

But with series four, there was a four-month gap between the US and UK release dates which could have been down to the coronavirus pandemic.

There has been no talk so far of when it will be out across the pond.
The premiere episode of season five will be called New Beginnings and is going to start with a celebration.
The synopsis reads: "Shaun and Lea's upcoming engagement party has everyone in a festive mood after their return from Guatemala.
"Meanwhile, a young single mother learns her son may have contracted his cancer from a surprising source, and Mateo finds out if his previous issues in America will be resolved."
The Good Doctor season 5 will premiere on Monday, September 27, 10/9c on ABC in the USA. A UK release date is yet to be announced.
Source: Read Full Article