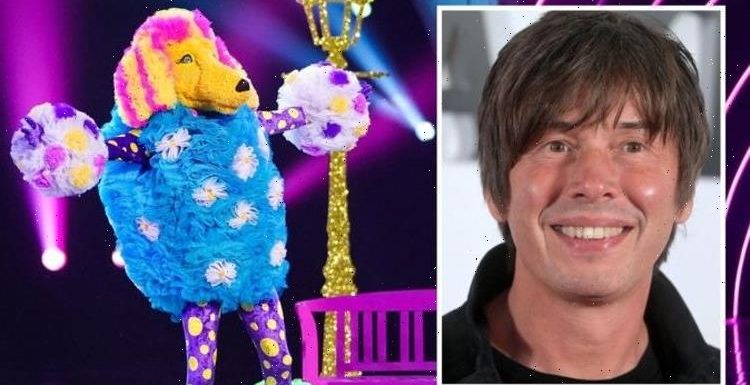 The Masked Singer UK: Poodle performs 'Rocket Man' after clues
We use your sign-up to provide content in ways you've consented to and to improve our understanding of you. This may include adverts from us and 3rd parties based on our understanding. You can unsubscribe at any time. More info
With the newest season of ITV's The Masked Singer in full swing, the weekly uncovering of celebrities have fans hot on the paws of Poodle. Fans and dog lovers now believe the masked performer is English physicist and former musician Brian Cox.
This ITV cast of this show season has been one of the trickiest yet to solve.
After surviving being in the bottom two against Bagpipes in Love week, the colourful Poodle managed to outperform their rival like they were at Crufts.
Despite rumours of Bagpipes being a member of AC/DC or even Andy Murray, he was revealed as another tennis superstar, Pat Cash.
With eyes firmly on Poodle, some fans are convinced it is science whizz, Brian.
Read more: 'Can't hire Scotland Yard!' Lorraine Kelly hits out at Prince Harry over police protection
Brian, 53, is well known for presenting science programmes such as the Wonders of.. series and books like Why Does E=mc²?
Viewers might also be shocked to hear he was a keyboard player and singer for the British bands D:Ream and Dare; these musical skills would be handy if you were in a singing competition.
On January 15, the show tweeted a short video of Poodle writing science equations in pink ink on a transparent board which solidified Brian's name for many fans.
Elle tweeted: "wait NO IT'S BRIAN COX the big hair from his band days and the science #maskedsingeruk."
So far, the judges have guessed that the pooch could be Mika, Peter Crouch, Rylan and even rapper Snoop Dogg.
With panellists Davina McCall, Jonathan Ross, Rita Ora and Mo Gilligan stumped, Elle wasn't the only viewer thinking it was Brian.
Diane said: "Brian Cox. Physicist and a singer. That's all I've got for now."
"I thought Paul O'Grady or Brian Cox but now the judges have messed with my head and I think Mika," Ebony added.
DON'T MISS:
'Proper fix!' The Chase viewers fume over contestant's 'impossible' questions [LATEST]
'Can't hire Scotland Yard!' Lorraine Kelly hits out at Prince Harry over police protection [LATEST]
Mark Wright breaks silence amid claim wife Michelle Keegan is on The Masked Singer [LATEST]
Poodle said they were "no stranger" to wearing a dog collar and they "once went on a very long walkies."
This has sparked some people to throw pop star Mika's name into the ring.
Ailish-Louise said: "Another hinting towards Mika is the Maths equations and science- in his music video he did with Ariana Grande 'Popular song, he was the smart, popular pupil?"
In week one, Poodle sang Rocket Man by Elton John and said: "I can't wait to be let off the leash in this competition."
Most recently, the singing pup was feeling lucky and performed What's New Pussycat by Tom Jones.
For the Love of Dogs presenter and dog fanatic Paul O'Grady has also been in the mix as a potential Poodle candidate.
Viewers will have to tune in this weekend to see if they are barking up the wrong tree.
So far, the celebrities unmasked along with Pat Cash are Will Young, Gloria Hunniford and Heather Small.
The Masked Singer returns Saturday on ITV at 7 pm
Source: Read Full Article