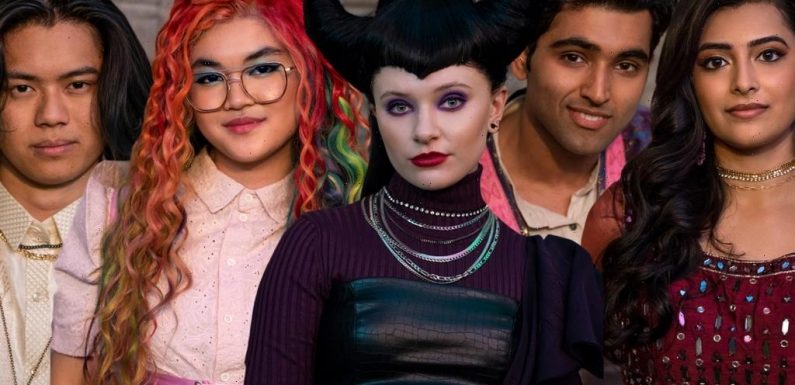 EXCLUSIVE: Disney+ is rounding out the cast of The Pocketwatch (working title), a music- and dance-filled original movie sequel to the megahit Descendants franchise at Disney+. Production is underway in Atlanta.
That 90s Show's Sam Morelos, Anthony Pyatt (When I'm With You), Peder Lindell (Out Of My Hands), Mars (Heather), Tristan Padil (The Lake Merritt Monster), Kabir Bery (Squatting), Grace Narducci (Law & Order: SVU) and newcomer Aiza Azaar join previously annouced cast Kylie Cantrall, Rita Ora, Malia Baker, Brandy, Jeremy Swift and Leonardo Nam in the sequel written by Dan Frey and Russell Sommer (Magic: The Gathering)
Related Story
Pedro Pascal On Wearing 'The Mandalorian' Costume: "You Can't See Sh*t"
The Pocketwatch (working title) follows the story of Red (Cantrall), the rebellious daughter of the Queen of Hearts (Ora); and Chloe (Baker), Cinderella's (Brandy) perfectionist daughter. When the Queen of Hearts incites a coup against Auradon, polar opposites Red and Chloe must join forces and travel back in time to undo the traumatic adolescent event that set Red's mother down her villainous path.
The eight new characters below are students at Merlin Academy and teen classmates of young Cinderella and young Queen of Hearts, whom Red (Cantrall) and Chloe (Baker) encounter when they travel back in time.
Pyatt portrays Hades. The fiery bad boy is cheeky with a dark side.
Lindell plays Morgie. The son of Morgana le Fay, Morgie is one of Uliana's adoring sycophants.
Mars is Maleficent. This teen version of the iconic character, delighted by her own evil ideas, is a core member of Uliana's Villain Kids Clique.
Morelos plays Zellie, the teen daughter of Rapunzel with a hipster vibe and fast-growing hair.
Padil plays Teen Prince Charming, who enjoys zooming down the school hall on a longboard.
Bery portrays Teenage Aladdin, who is inseparable from his girlfriend, Jasmine (Azaar).
Naducci plays Fay aka Teenage Fairy Godmother, who is comical in her struggles with develping her magical ability.
Azaar's Teen Jasmine is inseparable from her boyfriend, Aladdin: "Call us Jaladdin!"
The Pocketwatch is a Disney+ Original Movie from Disney Branded Televisión. Jennifer Phang (Advantageous, Half-Life, Foundation, The Flight Attendant) is the director and co-executive producer. Returning to the franchise is production designer Mark Hofeling (Descendants, Zombies, High School Musical). Suzanne Todd (Noelle) and Gary Marsh are executive producers and the casting directors are Alexis Frank Koczara and Christine Smith Shevchenko (The Mighty Ducks: Game Changers).
Must Read Stories
Redstones, Moonves, Dauman Star In New Book 'Unscripted': Excerpts
Goldsman's Weed Road Inks First Look At Warners; Focus On 'Constantine' & 'I Am Legend' Sequels
Barry Keoghan Lines Up Dream 'Billy The Kid' Project; Bart Layton Set To Direct
Peacock Renews Rian Johnson & Natasha Lyonne's 'Poker Face' For Season 2
Read More About:
Source: Read Full Article