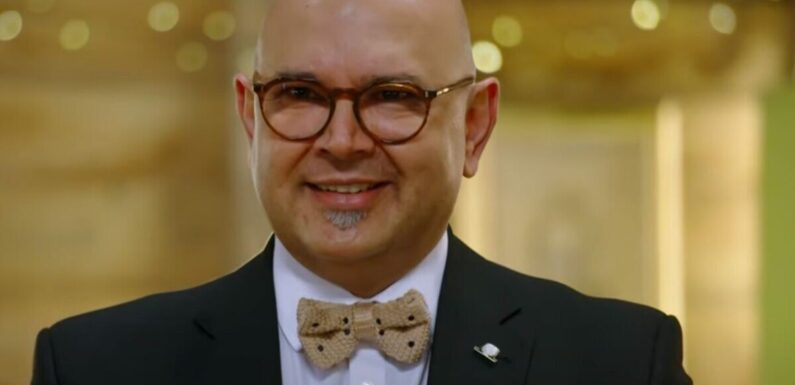 The Repair Shop: Jayesh on how sister inspired love of embroidery
The Repair Shop's Jayesh Vaghela has let viewers in on a secret that he has finally addressed with fans of the show.
Jayesh, who is an esteemed hatter on the well-loved BBC restoration programme, has shared a behind-the-scenes nugget on Instagram.
Taking to Instagram wearing his signature straw boating hat and a bow tie, the star revealed: "When you are watching the show, you may have noticed that I always tend to wear a bow tie.
"Now the thing is when I start on a new item, the colour of the bow tie changes. So look out for that."
The Repair Shop fans flocked to Instagram to comment on Jayesh's update, with Mike writing: "A great addition to such a warm-hearted and talented group of people."
READ MORE The Repair Shop's Jay Blades admits 'I miss it' as he shares show regret[LATEST]
Meanwhile, @followthehem shared: "I find you so fascinating, honestly."
Donna wrote: "I love these behind-the-scenes type snippets – thank you!"
Ana commented on the post: "I love this so much. He is such a lovely addition to the show."
Don't miss…
The Repair Shop expert admits 'wish I knew sooner' as he shares show regret[UPDATE ]
The Repair Shop's Jay Blade issues warning as he shares series update[INSIGHT ]
The Repair Shop expert addresses show 'habit' in admission about filming[LATEST]
We use your sign-up to provide content in ways you've consented to and to improve our understanding of you. This may include adverts from us and 3rd parties based on our understanding. You can unsubscribe at any time. More info
@thetiredteacher remarked: "I always think you look so smart."
Kerry told the BBC One star: "Jayesh, you're always so smart."
Away from The Repair Shop, Jayesh works as assistant manager in the world's oldest hat shop, Lock & Co in London.
He returned to the BBC show for series 12 after making his debut five years ago.
Jayesh used to watch and learn from his sister's sewing skills as a child.
He explained on an episode of The Repair Shop last year: "As I was growing up, my eldest sister, she was very good at hand embroidery. As a child, I would be sat right next to her playing with my toys."
Although he didn't realise it at the time, he managed to pick up a lot of the basics which he would later apply to his career as a professional embroiderer.
The Repair Shop episodes are available to watch on BBC iPlayer.