Back in 2009, Jason Derulo made his vocal debut by singing his name at the start of several of his chart topping songs. Though he dropped the tradition midway through the last decade, it later made a triumphant return. "It's a bigger hit if I sing my name at the front, you know, obviously," Derulo said with a laugh on "The Ellen DeGeneres Show" in 2020. "So yeah, I had to bring that back."
Before the Florida native's music career took off, Spin reported that Derulo actually adopted a phonetic spelling of his real last name, Desrouleaux, to make his stage name more industry- and fan-friendly in terms of spelling and pronunciation. However, more than 10 years later, with 11 Billboard Top 10 hits, television appearances, brand partnerships, a big screen acting gig in 2019's infamous movie adaptation of "Cats," and more than 46 million TikTok followers, as of this writing, it would be pretty difficult to find many people unfamiliar with Derulo's moniker. 
Despite this worldwide fame and social media stardom, there is still much more beneath the surface of this multifaceted singer-songwriter, so let's dive into the untold truth of Jason Derulo.
Jason Derulo has been dedicated to music since childhood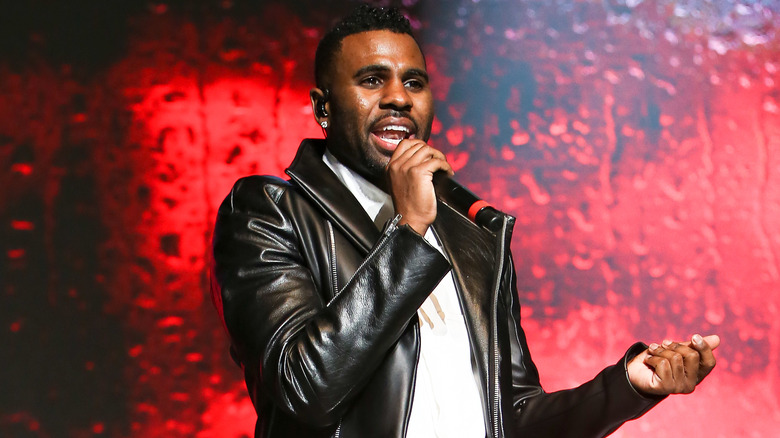 Growing up in Miami, Florida, Jason Derulo's hardworking Haitian family helped him learn early on what it meant to have a dream. "I watched my parents work so hard," Derulo told The Guardian in 2020. "My mother went to law school, had two jobs and still came home to cook us dinner. It was inspiring. It's where my worth ethic comes from."
According to OZY, Derulo's mother worked as an immigration officer, and his father owned his own import and export business. The hustle for success was important to the family, but singing and dancing were not part of their lifestyle. "They would play music in the house," he said to the outlet, "but that's as far as it went." Instead, a young Derulo, who spoke only French Creole as a small child, derived his passion for entertaining from someone outside the home — none other than the King of Pop. "I was four when I decided I was going to be an entertainer," Derulo explained to The Guardian. "I saw Michael Jackson for the first time and said, 'Mum, I want to be him.' She was like, 'Yeah, OK baby.'"
Derulo's family may have been slightly skeptical during his toddler years, but once he set his mind on stardom, they were strongly supportive of his work. "My family is like-minded," he continued. "My brother, sister and cousins all work with me. That keeps me grounded."
More than just your average pop star, Jason Derulo is a multi-talented artist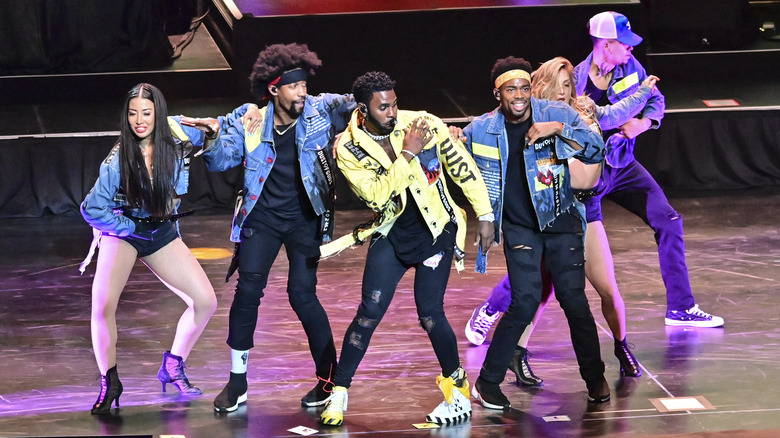 Moonwalking to Michael Jackson eventually morphed into a more serious hobby, as an elementary-aged Jason Derulo began taking dance classes. "I learned everything to be the consummate performer," he told Time, "every genre of dance, of music, mostly classical." More specifically, per the Daily Bruin, Derulo's training included ballet, tap, jazz, and hip-hop. "Dancing is my thing," he said.
Starting in middle school, he also began to act, and by his late teens, Billboard reported that Derulo became the grand-prize winner of "Showtime at the Apollo" in 2006. Building on these experiences, he attended college at The American Musical and Dramatic Academy (AMDA) in Los Angeles, where he also landed a gig ghostwriting songs with Rondor Music Publishing for artists such as Pitbull, Lil Wayne, and Cassie.
In order to cultivate a real hit, Derulo told Spin, songwriters must put themselves in the listeners' shoes: "It's just difficult to make somebody feel something. That is the main goal. How do you make somebody want to get up and dance? How do you make somebody feel okay after their breakup?" Songwriting was a skill that challenged Derulo, but as Rondor Vice President Kevin Hall told Billboard, "We're always looking for songwriters who can cut through everything around them, and I felt like his material had that lasting quality."
As an artist who eventually, per Insider, "officially earned a top 10 hit in three consecutive decades," Hall's analysis of Derulo was clearly correct.
This No. 1 hit marked the start of Jason Derulo's solo career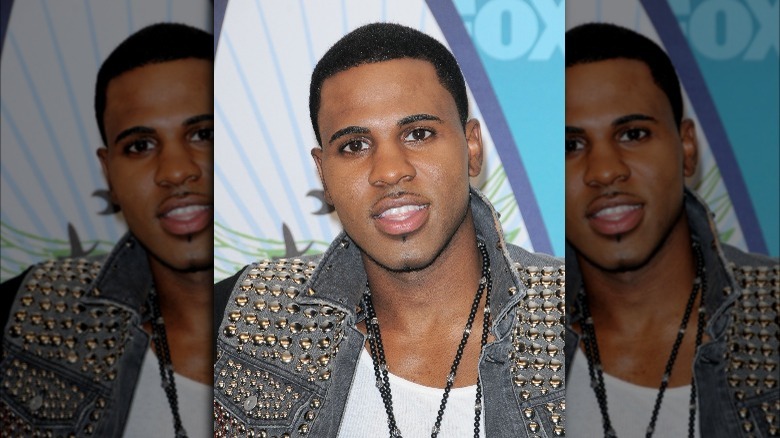 Before Jason Derulo's career took off in Los Angeles, he laid the groundwork back in his hometown of Miami, Florida. Revealing to the Daily Bruin how he managed to hustle his way into the business at age 16, he explained, "I wanted to build a demo for myself, build my repertoire of material, so to get these producers to work with me, I would say I was writing for this person or for this person. Ironically, one of the songs I did got placed, and that started a snowball effect. One person wanted to work with me, then another, then another."
This gave Derulo some clout once he moved to the West Coast, and though he was grateful to write songs for other artists, he was still eager to branch out on his own. "I had a huge attachment to the songs I was writing, but I had to give them up to make a quick buck," Derulo told Billboard. "…I was just hoping something would happen, that somebody would notice me." Soon enough, the right people did.
In 2009, Derulo was signed to a division of Warner Bros. Records, which produced his debut album and first major hit, "Whatcha Say." According to Billboard, "The track's chorus puts an electro-pop spin on a sample of Imogen Heap's 2005 song 'Hide and Seek,'" and it reached No. 1 on the Hot 100 chart. Other doors opened for Derulo after this, including opportunities to open for Lady Gaga, as well as The Black Eyed Peas.
Jason Derulo narrowly dodged paralysis or worse in a dance accident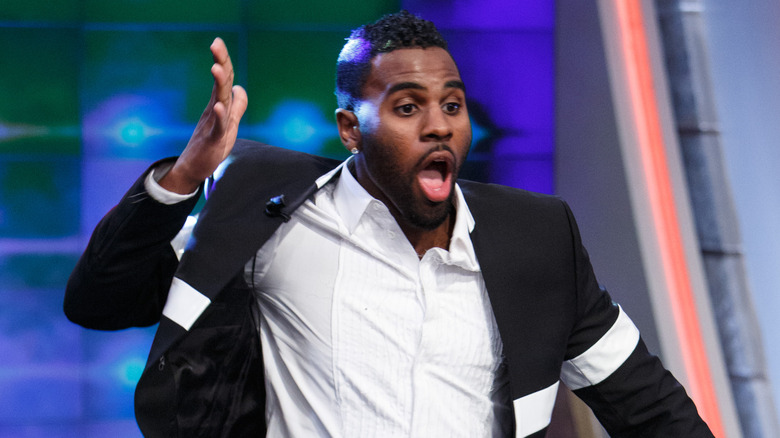 Following the "Whatcha Say" success, Jason Derulo continued to fly high on his newfound fame. That is, until a freak dancing accident during a 2012 rehearsal nearly downed Derulo for life. He landed on his neck while attempting a back-tuck move, Men's Journal reported, but the artist did not realize the severity of the injury right away. As Derulo explained to The Guardian, "I laid on the ground and the paramedics there were like, 'Yeah, you probably just tore the ligaments.' So I got up and walked to the car to meet my mother and we went to the hospital."
However, in Men's Journal, Derulo said that doctors refer to his type of neck injury as a "hangman's break" and that his medical team marveled at his survival. The outlet noted, "Amazingly, he walked off the scene — albeit in agony — but doctors told him he came razor close to paralysis and even death."
The recovery process, which The Guardian called a very "dark period" in Derulo's life, was physically, mentally, and emotionally challenging. Derulo was forced to cancel his tour and take more than half a year off to heal. "It was totally life-changing," he told the outlet. "I was in a brace for seven months and couldn't even do the simple things by myself — like take a shower or take off my shirt."
His post-accident comeback reignited his career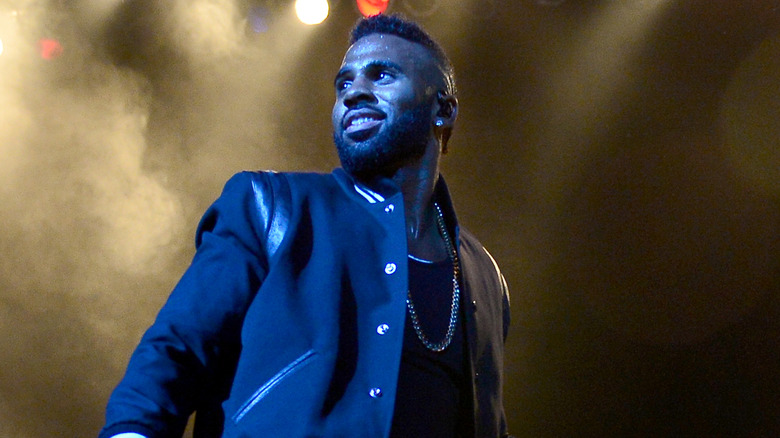 Jason Derulo used the traumatic setback to spark a new beginning. By temporarily leaving the limelight, he had the ability to reflect and forge a new path, his manager, 23 Management CEO Frank Harris, told Billboard. "He got the chance to spend time evaluating where he was, where he wanted to go and the best way to get there," Harris said. "We let him be who he was: a more mature, sexier, edgier Jason Derulo. That's when things started to turn the corner in terms of perception."
By September 2012, Derulo was ready to roll out his next album, "Tattoos." The track list featured more rowdy, upbeat tracks like "Talk Dirty," which helped him cross over from pop to R&B/hip-hop, as well. "All those party songs … stemmed from my accident," Derulo explained to The Guardian. "I could have died. The injury made me realize that life is short, man. You have to live life to the fullest, and all of those songs are about enjoying life."
However, for his fourth album, 2015's "Everything is 4," Derulo dug a little deeper. "There are four legs on a chair, four legs on a table, so it's about having a strong foundation," he said. "There's also four seasons, which represents accepting change and moving forward. Also, it means everything is for a reason. Everything is for my mom, everything is for my family, everything is for my fans. It represents completion."
With a refreshed sense of self, Derulo was now ready to "pounce" onto the next phase of his career.
Jason Derulo's physique got more press than his Cats movie performance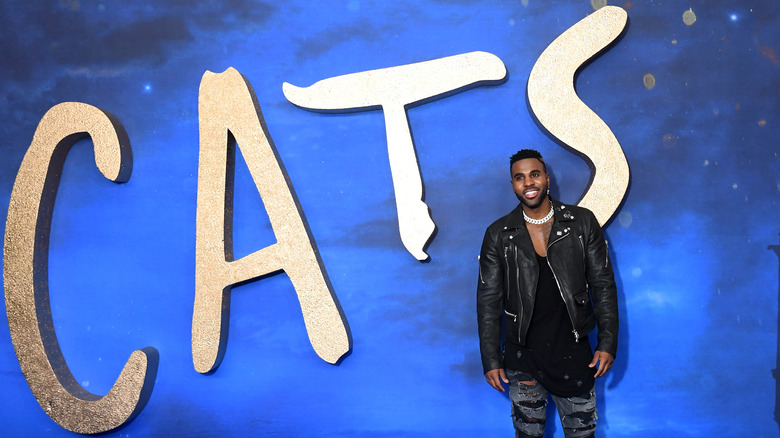 On the heels of a racy and revealing Instagram photo share, Jason Derulo made his film debut in the 2019 movie, "Cats," adapted from Andrew Lloyd Webber's Broadway musical. Following the unleashing of his self-proclaimed "anaconda" picture that November, in which Derulo donned a miniscule swimsuit before a steamy Bali backdrop, his well-endowed physique received as much acclaim as his acting. David Rooney of The Hollywood Reporter reviewed the singer's performance in the film, stating that "Derulo makes the most of his sexy, athletic appearance" while playing the role of Rum Tug Tugger, the feline PBS coined as "the bad boy of the cast."
Despite being banned by Instagram, the provocative photo continued to circulate. The banter also continued, but the "Cats" star lapped it up. Talk show host Andy Cohen questioned Derulo about his seemingly edited nether regions in the film, which the actor confirmed was more than definitely digitally downsized. "125%," Derulo said of his certainty in the SiriusXM interview. To which Cohen quipped, "I guess Rum Tug Tugger is not known for being hung."
Aside from the fanatical following for his fifth feline appendage, at the heart of it all, Derulo was genuinely passionate about the acting, especially in a film that embodied his lifelong love for music and dance. "I think that you need to choose something that you're so obsessed with, you just want to do it all the time," he explained in this "Cats" First Look Trailer.
This singer has one of the most-followed accounts on TikTok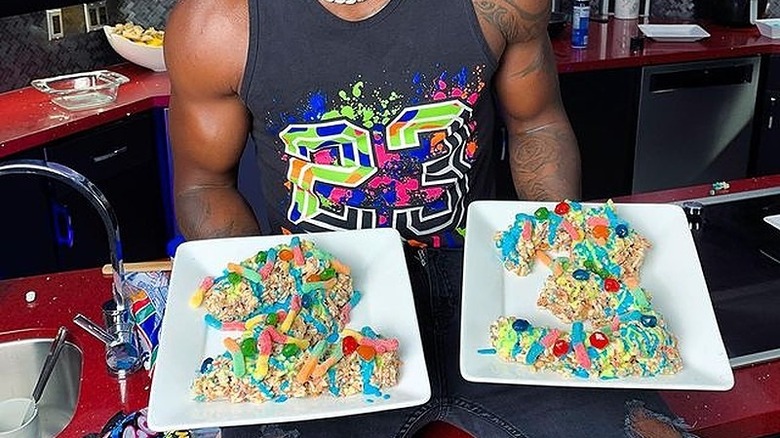 Jason Derulo has also transformed his multifaceted brand by using TikTok. Though he told Variety he did not connect with social media much before March 2020, the singer-songwriter enjoyed doing a couple TikTok dance challenges and then started posting more once he realized the platform's potential.
According to the outlet, Derulo then told Isabel Quinteros Annous, the head of music partnerships and artist relations at TikTok, that he "want[ed] to be No. 1." Right before the COVID-19 pandemic, they held a meeting during which they discussed "best practices," as well as content creation and strategy, Quinteros Annous explained. Since then, Derulo achieved what she called "astronomical growth," as his TikTok following reached over 46 million, making him the 12th most followed on the app, as of this writing.
As Derulo explained on "The Drew Barrymore Show," each time a new million-follower threshold is surpassed, he celebrates with extravagant, random recipes he calls "milli-meals." Whether it be for a ceiling-high stack of pancakes or a "big a$$ doughnut burger," viewers flock in droves to watch Derulo create and crush these over-the-top concoctions. Beyond just the food, Derulo told the "Elvis Duran Show" how he feels a connection to TikTok because of the way it brings people together and showcases extraordinary talents of others around the world.
"Jason is the king of TikTok because he not only delivers amazing content that goes viral all the time, but he also delivers on the music," Quinteros Annous told Variety. "…The sky is the limit for him."
Quarantine revitalized Jason Derulo's life and career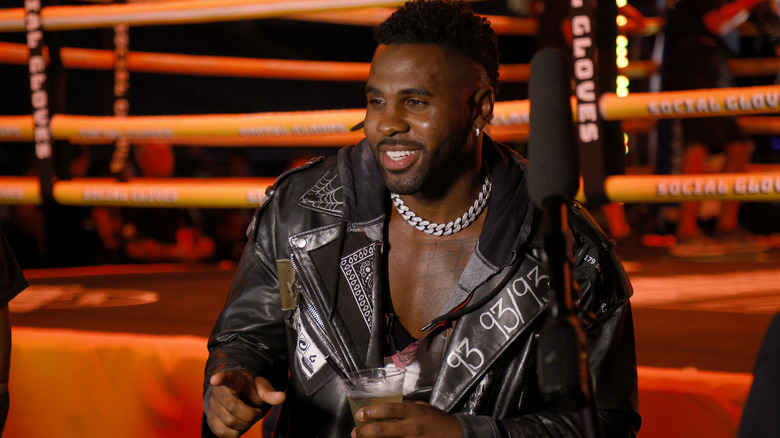 Discovering TikTok was not the only silver lining of Jason Derulo's coronavirus lockdown experience. Due to decades of being on the road for work, quarantine gave Derulo the rare chance to relax. "I'm afraid to say how much I've been enjoying lockdown," Derulo told The Guardian. "It's been a hard time for a lot of people. But I haven't been home since I was a kid really, so it's been the most fun I've ever had in my life."
Like the rest of the world during the COVID-19 pandemic, Derulo laid low — however, he certainly was not lazy. Instead, he used the time and space to recalibrate the business side of his music by exiting the allegedly "almost toxic relationship" of his longtime label, Warner Bros. Records, as Derulo stated in a Kiss 98.5 interview. He spent nearly a year unsigned, but told Forbes he had no regrets about the decision. "I've had some of the biggest songs in the world this year without my label," he said of singles like "Love Not War" and "Savage Love," adding, "It's been a blessing." In March 2021, Derulo happily joined Atlantic Records and is excited for what the future holds.
"For this next phase of my career," Derulo explained to Variety, "finding a 50/50 partner and owning my masters was important to me, and the fact that Atlantic understood my vision from a creative and business perspective makes this a perfect match."
This multi-talented star met his girlfriend at the gym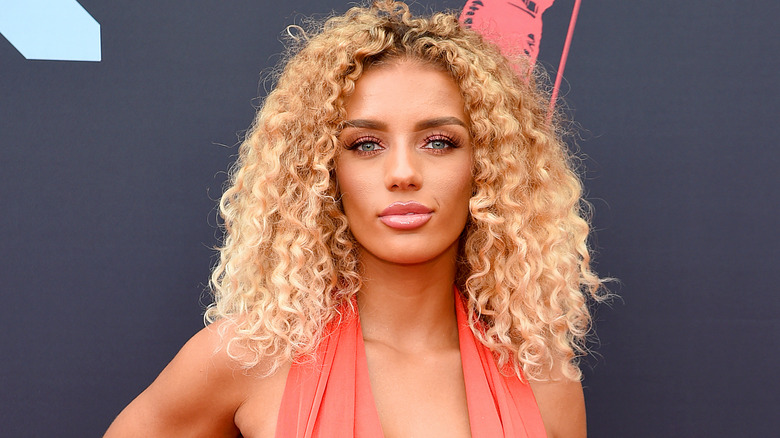 Finding a "perfect match" not only happened in Jason Derulo's music career, but also with his love life. Right before the COVID-19 pandemic, Derulo met actor and model Jena Frumes, five years his junior, at Equinox. 
"We both have a similar desire to work out all the time," Derulo explained to Page Six in 2020, "and I had seen her once there before, and then the second time, I was like, 'Aight. Imma go talk to her,' and the rest is history." According to a Kiss 98.5 interview, another item the couple has in common is their birthday, September 21, which they learned on their first date at the restaurant Catch in Los Angeles. "We're kind of like the same person," Derulo told The U.S. Sun. 
One of his previous high-profile relationships was with his ex, Jordin Sparks. The pair split in 2014 due to disagreements on marriage and other topics, Derulo later revealed, but he was ready for a relationship when Frumes came into his life. "I guess the biggest difference is talking about 'we' instead of 'I,'" Derulo explained to The U.S. Sun. "It's not like, 'What am I going to have for dinner?' It's like, 'What are we doing for dinner?' Every time you're thinking of somebody else in a relationship it really makes you a lot more selfless."
Jason Derulo and his girlfriend are now parents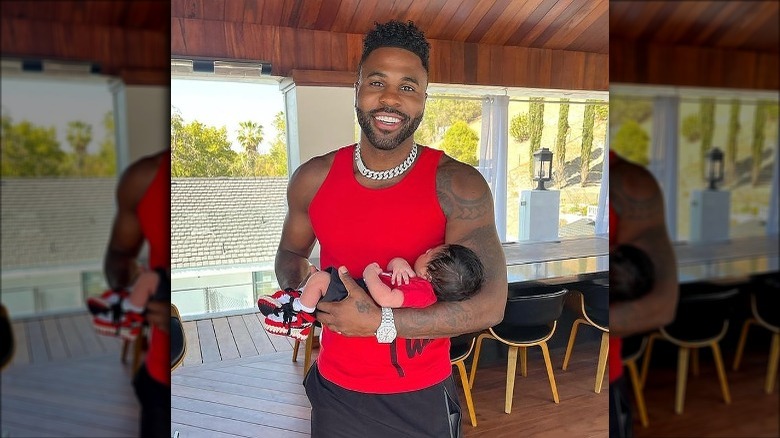 Jason Derulo added fatherhood to his growing list of new beginnings, when he and girlfriend Jena Frumes welcomed their son into the world on May 8, 2021, People reported. The magazine added that Derulo shared the big announcement on Instagram in a since-deleted post, in which he wrote, "The happiest day of my life bringing our baby boy (Jason King Derulo) home. He's so lucky to have such a strong caring hero of a mother @jenafrumes." (Cue a chorus of awws!)
Before becoming a dad himself, Derulo had plenty of practice with his three nieces. "I try to be a cool uncle, give them experiences I didn't have," he told The Guardian in 2020. "I'd be lying if I said the thought of having kids didn't cross my mind. As the years go by you're like, 'D**n, what is it all for?'"
While it was certainly a whirlwind year for Derulo, he definitely felt ready, prepared, and excited to be a father. "I think everything happens in the right time," Derulo said on "The Drew Barrymore Show." He added, "I was just starting to really get baby fever. You know, I guess with age, and you meet someone that you really, really connect with, and yeah, you know, it happened at just the right time for me."
This chart-topping musician is also a fitness junkie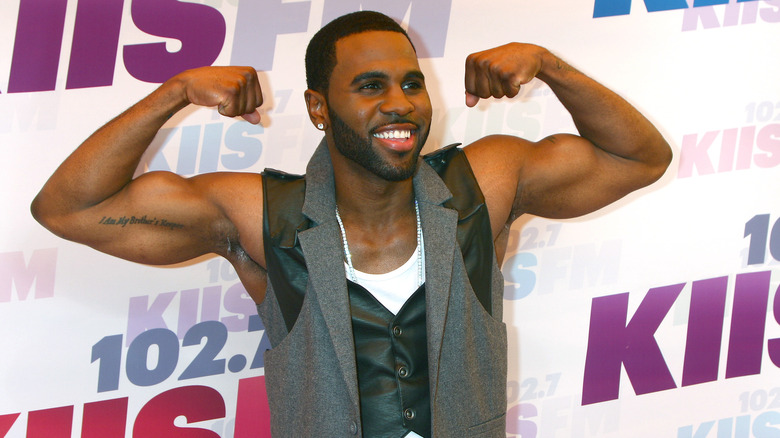 Despite now being a father, Jason Derulo has no plans to develop a so-called "dad bod." In fact, fitness has always been a huge part of his life. During his childhood, Derulo told Men's Health that he was a little overweight, so he went for runs with his siblings, and later joined the track team.
Another turning point for his physical health was following his 2012 dance rehearsal accident, from which he suffered a broken neck. "I think I survived my fall because I was in decent shape," Derulo told the outlet. "I always loved to work out, but I didn't take it as seriously as I started to after my injury. It became an obsession." However, Derulo's regimen received another revamp once he landed his role in the "Cats" movie, which required five months of unconventional training and ground movements, like burpees and crawls.
When the coronavirus quarantine began, Derulo told Kiss 98.5 how he had to adjust to working out at home instead of the gym, but he knew he couldn't afford to skimp on his workouts. "For all of you who feel like you don't have the genetics on your side … I'm the same way," he explained in the former Men's Health interview. "Just because your friend can eat pizza and still have abs, that don't mean that you gotta do the same thing. If you know that you gotta eat cleaner, that's what you gotta do. But just know that you're not alone. S**t, I want some pizza too." (#Relatable.)
Jason Derulo's business ventures include a boxing gym and vodka company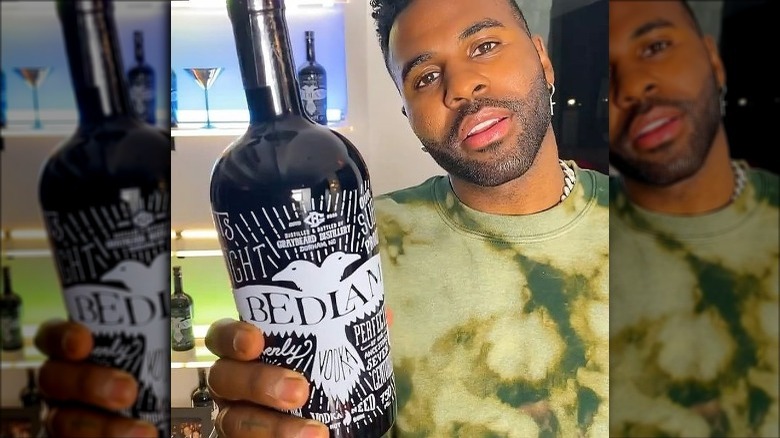 As much as Jason Derulo loves a strenuous workout, he also cannot resist a crisp cocktail, so he partners with companies that promote items he enjoys. Derulo invests in Rumble Boxing, due to his fitness acumen and his longtime love of the sport. "I grew up boxing," Derulo said in a 2017 New York City Monthly interview. Rumble's 45-minute workouts combine cardio on the bags with free weights, in what the Chicago Tribune calls "a nightclublike setting with heavy-duty sound systems playing hip-hop and house music." Knowing this, it is easy to see why an artist like Derulo would consider the gym's atmosphere up his alley.
Partnering with Bedlam Vodka felt like another solid match, given the company's "Live Rebelliously" slogan aligning well with Derulo's lifestyle. "[Life is] about breaking from the cages of what normality is," he told Insider. "I've never put myself in a box. I love having a good time. I love the way Bedlam makes me feel, and I just really want to share it with the world."
The company is equally enthusiastic about having Derulo on board, according to CEO Brandon Evans, who told Forbes that "adding Jason's intellect and energy to our team is the exact ingredient Bedlam needed to continue to shake up the vodka market."
He is a proud Haitian-American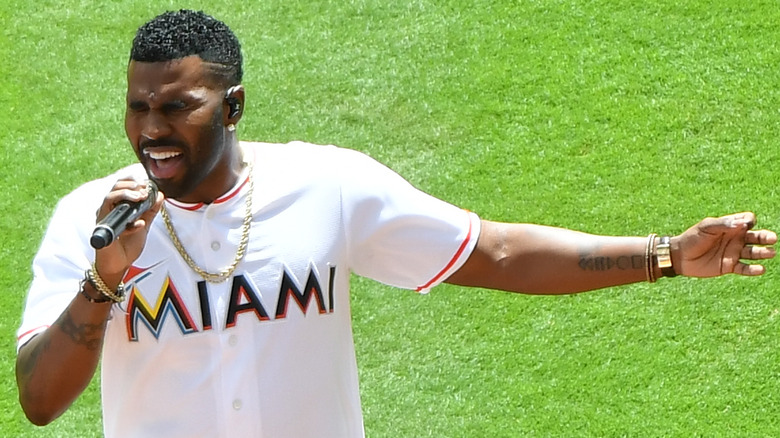 Making bold moves in business is just as common for Jason Derulo as the efforts he expends toward philanthropy. In 2018, he and his mother, Joyce, started the Just For You Foundation, which is "focused on raising funds to promote education, providing shelter to orphans and families, feeding the homeless and promoting health in the United States and globally." On behalf of the organization, Derulo also took the helm at hosting the 2018 Heart of Haiti Gala to benefit the country where both of his parents were born.
"I've been so blessed in my life, and I always wondered where my big impact would be humanitarian-wise," Derulo told Forbes. "And I wrestled with myself for years and years where my place was and what the perfect situation was. Finally one day I was like, 'I can't wait another day, I'm starting today.'" 
When questioned by Forbes about the inspiration that prompted the gala's inception, Derulo did not mince his words: "I'll tell you exactly what it is specifically. It's when Trump called Haiti a 's**thole country.'" He continued, "It's much more than me wanting to lend a hand. I feel I'm responsible to a degree for the Haitian culture … I feel like God gave me a gift for a reason."
Jason Derulo is close friends with Will Smith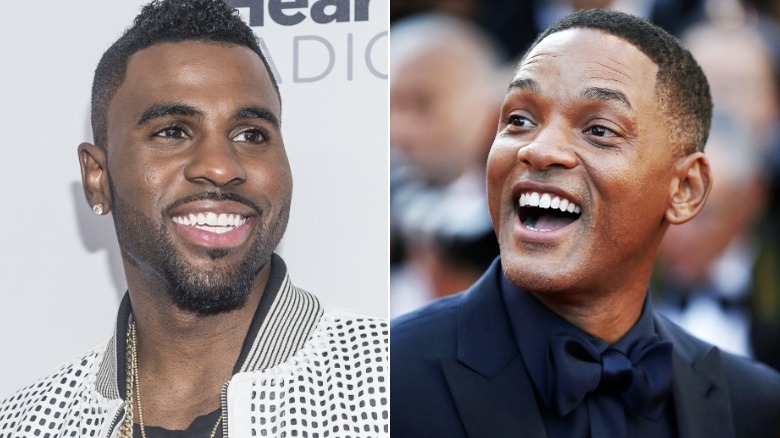 Jason Derulo possesses a clear sense of confidence, and yet he remains humble enough to lean on others in the industry for advice and friendship, such as his mentor, Will Smith. "I grew up watching him and what he's been able to accomplish in different genres," Derulo said on "The Drew Barrymore Show," adding, "I mean, it's just really unbelievable. So to be able to have a friend that I can learn from all the time, you know, there's just nothing like that."
Besides Smith, Derulo told The Guardian that he has a painting in his house of other public figures "who have inspired [him]," such as "Michael Jackson, Madonna, Stevie Wonder, Barack Obama, David Bowie, Prince, Muhammad Ali, Bob Marley, [and] Beyoncé." While each of these individuals possess their own secrets to success, Derulo knows exactly what drives him. "I think the difference with me is I really keep my head down and focus on the next goal," he explained during a Kiss 98.5 interview. "Like, 'How do I become a better version of myself?'"
For an artist who kicked off his career singing his name at the start of his songs, Jason Derulo has certainly come far in navigating life's highs and lows, while figuring out exactly who he is in his personal and professional lives.
Source: Read Full Article