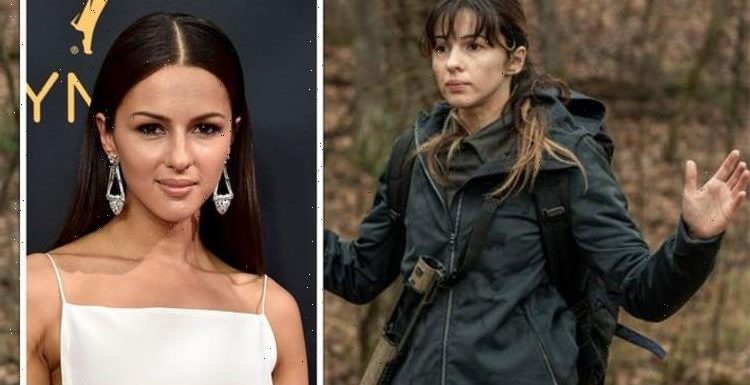 The Walking Dead World Beyond: AMC tease new limited series
When you subscribe we will use the information you provide to send you these newsletters. Sometimes they'll include recommendations for other related newsletters or services we offer. Our Privacy Notice explains more about how we use your data, and your rights. You can unsubscribe at any time.
Actress Annet is known to audiences for her complex role as double agent Nina Krilova in The Americans. However, viewers have been loving her recent villainous role on The Walking Dead: World Beyond. Much to the delight of Huck fans, her latest project will now take the actress to the big screen as well.
Huck is one of the primary antagonists of the AMC series and the tough-as-nails fighter has had numerous conflicts throughout the show.
Viewers will recognise Mahendru from Tyrant, The Following, and The Americans, and now the actress will be seen on the big screen once again.
Mahendru has joined Mark Wahlberg's latest film Stu, which also stars Mel Gibson.
It was revealed to Deadline that Mahendru has recently finished filming for season two of The Walking Dead: World Beyond, but has her latest project lined up.
Stu will be written and directed by Rosalind Ross, and will be produced by Wahlberg as well.
Deadline revealed Stu will be a faith-based drama film, set in Oregon.
The rest of the cast includes: Jacki Weaver, Narcos: Mexico's Teresa Ruiz, Ned Bellamy, and Sons of Anarchy's Niko Nicotera.
Wahlberg hinted a while ago the film could be about boxing after he was spotted filming scenes in Los Angeles.
Though, it was The Departed star's appearance recently that caught viewers' attention.
The actor has put on a considerable amount of weight for his latest role, consuming over 7,000 calories a day.
However, more details are now known about the plot and why Wahlberg gained weight for the role.
The film will follow Wahlberg's character Reverend Stuart Long, former boxer and actor who decides to become a priest.
Gibson, who is currently dating writer/director Ross, will portray Stuart Long's long-lost father, and Ruiz as Long's girlfriend.
Sadly for fans, there is currently no word on Mahendru's character and how she will fit into the story, but hopefully more will be revealed soon.
The Hollywood Reporter noted Wahlberg has previously spent close to six years attempting to get the biopic off the ground.
The true story of a boxer-turned-priest will detail the near fatal accident that led him to join Oregon's Mount Angel Seminary.
The real Reverend was later diagnosed with a rare degenerative muscle disease, which required a wheelchair.
As more details about Stu will hopefully be detailed soon, fans will surely be excited to see what role Mahendru will play, as well as Wahlberg's dramatic transformation.
However, in the meantime, the Huck actress will be back on the small screen soon as well, as AMC confirmed in January that World Beyond will be back for a final 10 episodes.
The Walking Dead: World Beyond is available to watch on Amazon Prime now.
Source: Read Full Article