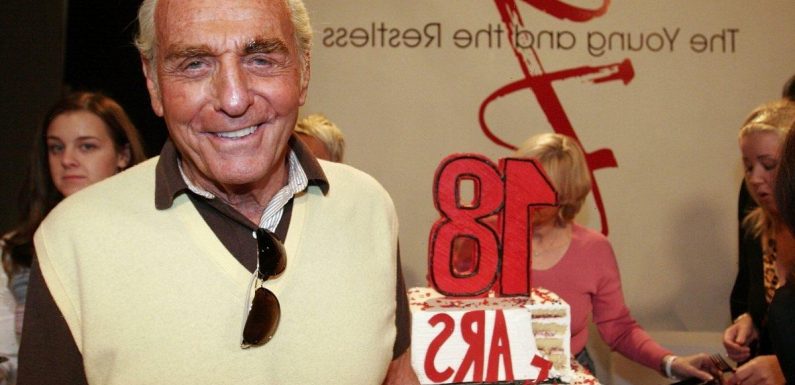 Daytime TV has lost another soap opera veteran. Former The Young and the Restless star Jerry Douglas died on Nov. 9 at the age of 88. Douglas fans and co-stars are posting heartfelt memories of the beloved actor. Read on to read the touching tributes and about Douglas' life and career.
'The Young and the Restless' fans and co-stars pay tribute to Jerry Douglas
Douglas portrayed the iconic Abbott patriarch for over 24 years. The actor was not only loved by fans but also by his co-stars. According to Soaps.com, the actor recently reunited with his onscreen family for an early birthday celebration.
When news of his death hit, Douglas co-stars sent out their condolences. Kate Linder recalled it being a "pleasure of working with #JerryDouglas." Former The Young and the Restless star Daniel Goddard called Douglas "wonderfully charming" and "pure class."
On a Twitter thread, fans paid tribute to the iconic actor. "I loved him as John Abbott. His on-screen relationship with Jack, Ashley & Traci especially was lovable and believable," wrote one viewer. Another commenter chimed in with, "Please find a way to do a tribute to him. He deserves one. He was such an integral part of the show for so many of us."
John Abbott was written off in 2006
Douglas took over the role of John in 1982, replacing Brett Halsey. His portrayal of the Abbott patriarch earned praise from The Young and the Restless viewers. John was a significant part of the show. Aside from running his cosmetics company Jabot, John's greatest role was being a dad.
John's love life was a focus of the show. His wife, Dina Mergeron (Marla Adams), left him and their kids because she wanted to travel the world. John would then marry Jill Abbott (Jess Walton), with whom he has a son Billy Abbott (Jason Thompson).
In 2004, John married Gloria Fisher (Judith Chapman), the mother of Michael Baldwin (Christian LeBlanc) and Kevin Fisher (Greg Rikaart). However, the arrival of Gloria's ex-husband Tom Fisher (Roscoe Born) complicated their lives. John went to prison for the murder of Tom, yet months before his release, he died of a stroke. Fans still criticize the Young and the Restless' decision to kill John.
Although his character was killed off, Douglas continued to make appearances on The Young and the Restless. John's spirit would often visit Jack Abbott (Peter Bergman) and Ashley Abbott (Eileen Davidson) to offer his guidance. John's last appearance came in October 2016 when he tried to mend a fit in Jack and Billy's relationship.
Jerry Douglas life after 'The Young and the Restless'
Before becoming an actor, Douglas initially went to law school. However, after eight months, he quit and moved to California to pursue an acting career. A few of Douglas' early credits include TV shows such as Mission: Impossible and Barnaby Jones. But The Young and the Restless would be his most famous role.
Douglas was semi-retired after he departed from the soap opera except for his occasional The Young and the Restless appearances. He is survived by his wife of 36 years, TV host Kym Douglas, and their son Hunter. Douglas also has two kids Jod and Avra, from his first marriage to Arlene Martel.
Source: Read Full Article