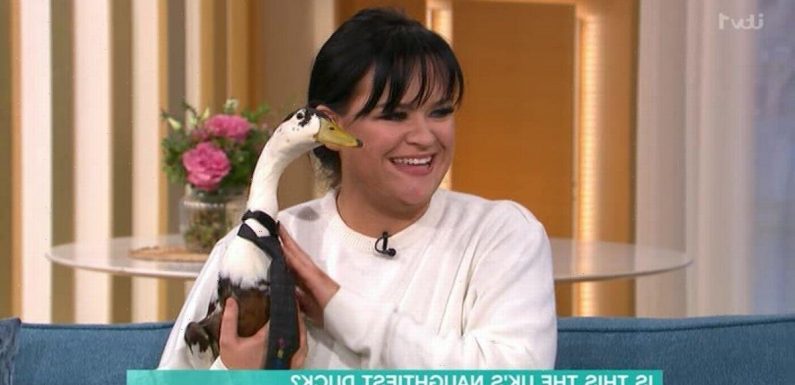 This Morning viewers were left divided over the show's latest guest as Holly Willoughby and Phillip Schofield spoke to the "UK's naughtiest duck".
During Wednesday's episode (January 18) the two hosts welcomed Charlotte and her pet duck, Ham to the sofa.
But people watching the segment at home were not too impressed with one calling the interview "nonsense."
READ MORE: Dancing On Ice's Holly Willoughby makes rare public appearance with husband of 16 years
In the interview, Ham's owner Charlotte described her relationship with the duck, calling him one of her children.
"He's always in the house, I'll come in and he'll be sat on the couch," she said, before gigging.
Talking about her neighbours and how they react to Ham, Charlotte said: "They absolutely love him. One woman who lives near me, he goes round her house and she gives him a cup of tea."
Holly then proceeded to let Ham drink her cup of tea – much to the duck's delight.
Charlotte also recalled the mischievous things that Ham gets up to around the neighbourhood.
"He terrorises the bin lorry, chases local cats, follows people to school and tries to get into the pub and chemist."
However, viewers watching the show at home soon took to Twitter to share their thoughts – and many were not happy.
"You are scraping the bottom of the barrel when you're interviewing a duck. @ITV scrap it," one viewer raged.
Another mused: "Why am I watching an interview about the UK's naughtiest duck?"
"Even by the usual standards of #ThisMorning, this duck nonsense is b*******," tweeted a third.
Somebody else penned: "Remember back in the day when #ThisMorning was an entertaining yet educational daytime show? I miss those days."
"There's a duck drinking a cup of tea now! I've seen it all!" A fourth viewer wrote.
Other fans seemed to love the duck coverage, with one proclaiming, "he's adorable!"
Echoing their thoughts, a second added: "Aw he's adorable. I love ducks."
A third agreed: "He is lovely, like lighthearted funny stories, that aren't way too bizarre."
READ MORE:
Phillip Schofield 'likes' Jeremy Clarkson but questions his apology to Meghan Markle
This Morning descends into chaos as doctor walks off ITV set and mouths 'was it live?'
This Morning's Alison Hammond emotional as she apologises while Dermot gives support
For more of the latest showbiz and TV news from the Daily Star, make sure you sign up to one of our newsletters here.
Source: Read Full Article