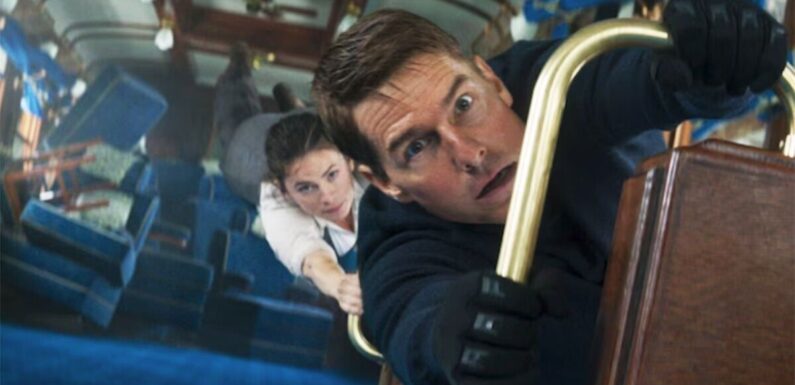 Tom Cruise does speedflying for Mission: Impossible – Dead Reckoning
Earlier this year, Tom Cruise returned in his seventh outing as IMF agent Ethan Hunt.
Mission: Impossible Dead Reckoning Part 1 was critically acclaimed but was a box office disappointment making just $567.5 million on a budget of $291 million.
This was partly due to competition from Barbie and Oppenheimer in a crowded blockbuster summer.
The film ended on a cliffhanger ahead of Mission: Impossible Dead Reckoning Part 2, which was set to release next summer.
However, due to the ongoing actor's strike, Paramount Pictures has delayed the movie from June 28, 2024 to May 23, 2025, following the rumoured move for Marvel's Deadpool 3.
Read more… Tom Cruise hangs on UPSIDE DOWN plane for Mission Impossible 8 stunt[MISSION: IMPOSSIBLE 8]
That date marks Memorial Day in the US, when the studio won't have to compete with Christopher Nolan this time around for IMAX screens.
It's also the day when Cruise released his highest-grossing movie of all time, Top Gun: Maverick, which made $1.49 billion worldwide last year.
Meanwhile, The Hollywood Reporter's Film Editor Aaron Couch tweeted: "Actually, Dead Reckoning 2 is no longer expected to be the title of the next Mission movie."
Don't miss…
Tom Cruise's net worth boosted after making $100million with one movie[NET WORTH]
Mission Impossible Dead Reckoning review – Tom Cruise fun let down by big issue[REVIEW]
Tom Cruise talks retirement after turning 61-years-old and Mission Impossible 7[TOM CRUISE]
Advert-free experience without interruptions.
Rocket-fast speedy loading pages.
Exclusive & Unlimited access to all our content.
So by the sounds of it, we could be back to calling the film Mission: Impossible 8 until a new title is officially announced by Cruise and Paramount.
Taking the film's June 28, 2024 slot now will be A Quiet Place: Day One, which is moving back from March 8, 2024.
The film stars Lupita Nyong'o and Denis O'Hare and is a prequel to John Krasinski and Emily Blunt's A Quiet Place and A Quiet Place Part II.
Source: Read Full Article