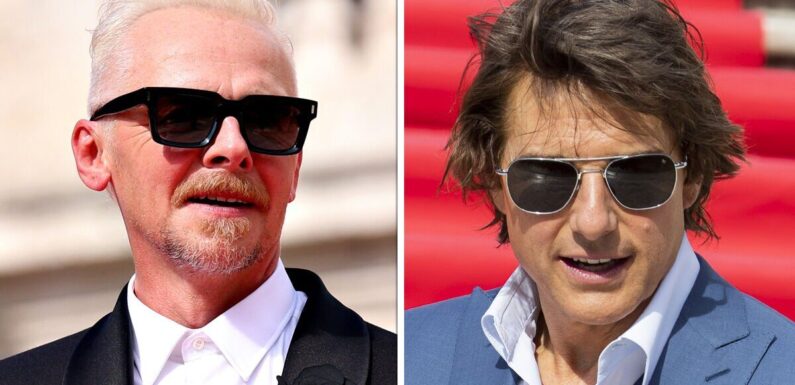 Watch The Trailer For Mission Impossible – Dead Reckoning Part One
The Mission: Impossible series would not be as popular as it is today without some incredible death-defying stunts.
Tom Cruise is the purveyor of these borderline-insane set pieces – from running up the Burj Khalifa building to hanging off of a flying plane.
But however thrilling these stunts may be for viewers, one of the Hollywood A-lister's colleagues has admitted fear over seeing him die all in the name of entertainment.
Simon Pegg plays Benji – the "guy in the chair" to Cruise's Ethan Hunt – and admitted on the Mission: Impossible – Dead Reckoning Part One red carpet that he felt "lucky" his character remains "behind the computer".
"Tom is jumping off cliffs on a motorbike," Pegg told Deadline. "He's hanging his, you know, hanging off trains – it's genuinely dangerous stuff."
Pegg went on to admit that he does fear if Cruise will one day take it too far, though.
"There's always a sense that, you know, one day, something might go wrong. We might lose Tom, you know," he said.
"Anytime there's a big stunt, we all have that sense of, you know, fear."
Don't miss…
Tom Cruise 'begged' Mission Impossible director to perform 'insane' stunt alone[LATEST]
Tom Cruise spent 15 minutes praising superhero movie director's work[INFO]
Hamilton in 'love triangle' with Shakira and Tom Cruise as dating life heats up[INSIGHT]
Despite this, Pegg went on to smile: "But he always pulls it off!"
This particular film has Cruise riding a motorcycle off a cliff before doing a BASE jump directly across the mountainside.
The 60-year-old actor released a video showcasing just how his team of stunt experts planned the shots out and ensured he would not be at risk.
We use your sign-up to provide content in ways you've consented to and to improve our understanding of you. This may include adverts from us and 3rd parties based on our understanding. You can unsubscribe at any time. More info
During his time in front of the camera, Cruise himself has become adept in stunts and coordination.
While shooting Mission: Impossible – Fallout, he became an expert HALO jumper when he carried out more than 500 skydives.
Mission: Impossible – Dead Reckoning Part One hits cinemas on July 14.
Source: Read Full Article