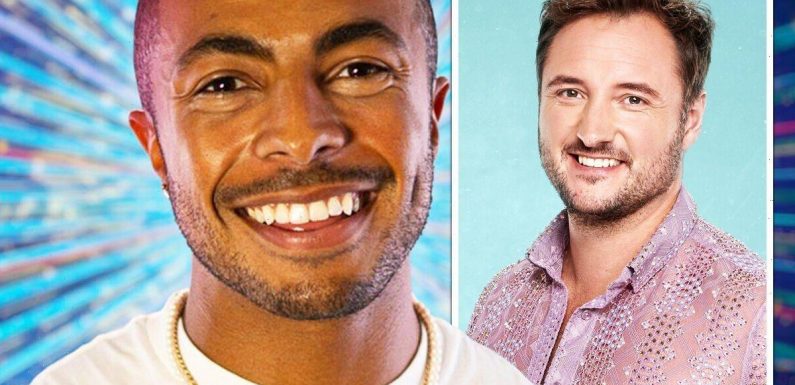 Strictly: Kaye Adams says her 'best' might be 'rubbish'
We use your sign-up to provide content in ways you've consented to and to improve our understanding of you. This may include adverts from us and 3rd parties based on our understanding. You can unsubscribe at any time. More info
Radio DJ and TV presenter Tyler West is one of 15 UK stars who will be going for the Glitterball Trophy in the 20th season of Strictly Come Dancing. In his preview for the series on Friday's Morning Live, Tyler revealed an EastEnders star might be his biggest competition during his stint on the wildly popular BBC ballroom series.
Tyler hinted EastEnders star James Bye could cause him the most trouble during their time on Strictly over the coming weeks.
Speaking to Morning Live presenters Rav Wilding and Jeanette Kwakye, the DJ opened up about one of the challenging decisions of his career.
His Strictly stint could be made all the more difficult if Tyler and Martin's behind-the-scenes feud carries over to the dancefloor.
"I haven't got any, like, rivals or anything like that," he began.
However, he quickly reconsidered his answer and added: "Actually, I'll tell you what, James Bye.
"James Bye, Martin Fowler, he's always, constantly, trying to get one up on me."
Tyler revealed James had been employing some shady tactics during rehearsals to try and put him off his steps.
"He looks at me from across the dancefloor, he puts me off."
"I don't have any rivals, but he's a bit of deep competition, I can't lie."
If the two celebrity dancers impress the judges in the first few weeks, they could become serious competition for each other later on in the series.
Outside of his brushes with James, Tyler also admitted his time on Strictly is already one of the hardest things he's ever done in his career.
"I felt alright up to now!" he said as Rav reminded him he would be on the dancefloor live for the first time on Saturday night.
DON'T MISS:
Charlie Stayt frustrated by Simon Clarke in 'car crash' BBC interview [VIDEO]
Rings of Power boss teases major time jump [EXCLUSIVE]
Blue Bloods' Jamie Reagan exit 'sealed' by shooting [THEORY]
"Honestly, I'm shaking with it. It's crazy to think that me and my family used to come together to watch this show and now I'm actually going to be stepping out there on the dancefloor.
"It's completely outside of my comfort zone. But I'm so, so excited."
Tyler has already started rehearsals with his professional partner, who will be confirmed to viewers on Friday's opening show.
He revealed the process has been physically exhausting but credited his partner for helping him overcome the first hurdles.
"I feel like I've been wearing a pair of heels on a night out for about 79 hours!" he joked.
"Back-to-back days. Like, it's honestly intense. It's the hardest thing I've ever done in my life.
"I used to play handball, I used to be on the Great Britain squad, and I was like, 'This is nothing!'
"Like, 'Yeah, I've got this'. But no, it is the most difficult place to be on that dancefloor."
Tyler will be competing for the first time this weekend against the likes of Loose Women's Kaye Adams, Bros singer Matt Goss and Paralympian Ellie Simmonds.
Morning Live airs weekdays from 9:15am on BBC One. Strictly Come Dancing starts Friday, September 23 at 7pm
Source: Read Full Article