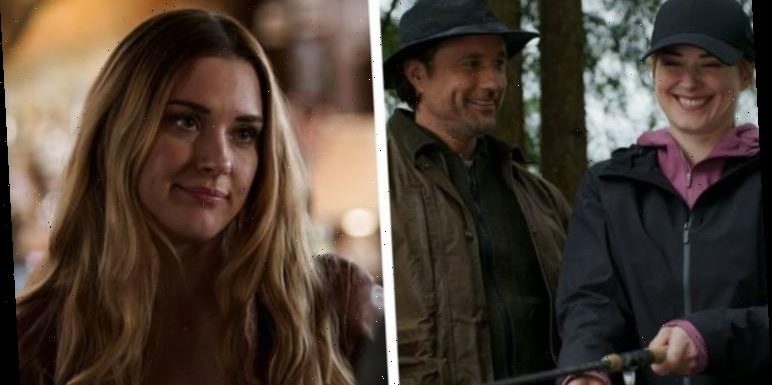 Virgin River: Alexandra Breckenridge stars in season two teaser
Virgin River season three has been commissioned and will likely continue to follow the romance between Mel Monroe (played by Alexandra Breckenridge) and Jack Sheridan (Martin Henderson). As fans will know, their relationship was complicated by the news Charmaine Roberts (Lauren Hammersley) was having twins. This was especially hard for Mel given her believed inability to have children – but some fans think this might change in the third season of the show.
Will Mel Monroe get pregnant in Virgin River season 3?
Throughout the first two seasons of Virgin River, viewers have learnt more about Mel's past.
The show has revealed she is not only reeling from the trauma of her husband's death but still coming to terms with her inability to have children.
In flashbacks, this is the main thing Mel and Mark Monroe (Daniel Gillies) argue about and she explains how she has lost past pregnancies.
This is one of the things which makes it so hard for her to treat Charmaine in the show as she believes she is unable to have children herself.
We will use your email address only for sending you newsletters. Please see our Privacy Notice for details of your data protection rights.
As well as this, it is a barrier between Jack and Mel as she can see he has the chance of having a family.
Heading into season three of Virgin River, Mel and Jack have started to give their romance a chance.
And some believe she could get pregnant after all with Jack's child as the show continues.
Following the announcement Daniel Gilles will reprise his role in season three, viewers had an idea of how this could happen.
Fan Theanother___name13 posted on Reddit a theory about how this may relate to Mel having children.
They wrote: "I wonder if Mel is pregnant so they will show her and Mark when she found she was pregnant."
Redditor Erinmel agreed, adding: "This will probably be a pretty emotional season for Mel as she really lets herself fall in love with Jack, that alone could warrant some parallels with Mark.
DON'T MISS…
Martin Henderson height: How tall is Martin Henderson? [INSIGHT]
Who plays Hope in Virgin River? Meet Annette O'Toole [PICTURES]
Virgin River: What happens with Charmaine's pregnancy in the books? [VIDEO]
"And I am fully expecting her to realise she's pregnant at some point during season three, which would naturally bring up a lot of memories."
A third named Technical-Garbage995 also speculated she may already be pregnant ahead of the season's start.
They wrote: "I also think this is when they introduce the pregnancy.
"It makes for good drama with her dealing with a pregnancy and Jack's recovery, not to mention it will give Jack more motivation for recovery."
Does Mel Monroe have children in the Virgin River books?
WARNING: This section contains spoilers for the Virgin River books by Robyn Carr.
In the book series the show is loosely based on, Mel and Jack eventually manage to have a relationship.
They get married and have two children together called David Sheridan and Emma Sheridan.
However, so far the show has deviated from the series quite a lot so it seems possible it may continue to do this.
Fans will just have to wait and see what happens next in the hit series when it returns.
Virgin River seasons 1-2 are available to stream on Netflix now.
Source: Read Full Article