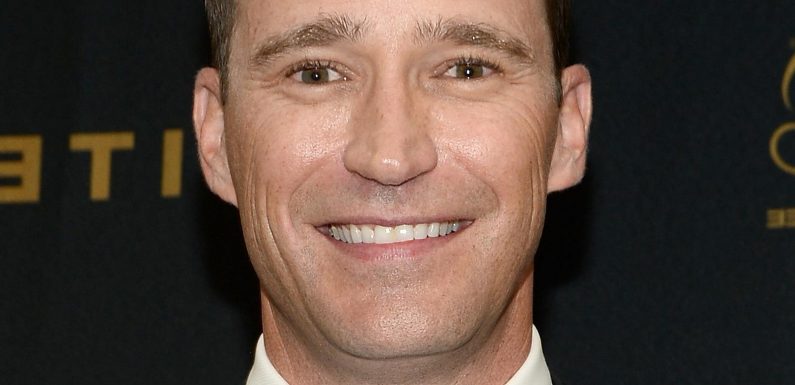 Mike Richards is most likely going to be the next host of "Jeopardy!" According to Deadline, he's finalizing a deal to replace the late Alex Trebek on the quiz show. It's not official just yet, but the odds of other fan-favorite guest hosts, like "Star Trek" actor LeVar Burton or "The Big Bang Theory" star Mayim Bialik, getting the gig are looking pretty slim.
As the executive producer of the show, Richards was able to watch and learn from a vantage point that the rest of his competition never had, although he wasn't the only candidate for the job who had firsthand experience with its inner workings. As noted by Variety, Ken Jennings, the winner of the "Jeopardy! The Greatest of All Time" tournament," seemed like the favorite to keep Trebek's legacy alive, especially after his 74-game win streak that turned him into a celebrity. According to Forbes, Jennings' ratings were slightly better than Richards' when he guest-hosted the show.
Still, Richards seemed to find a special place in viewers' hearts with his moving tributes to the man who made "Jeopardy!" what it is today (via Deadline), and he impressed them with the ease that he slipped into the hosting role. "Fantastic job, he is a natural with lots of charm," read one Twitter review. And while Richards was just named the show's executive producer last year, fans can take comfort in knowing that he was someone Trebek had a good relationship with.
How Alex Trebek showed his soft side during a conversation about work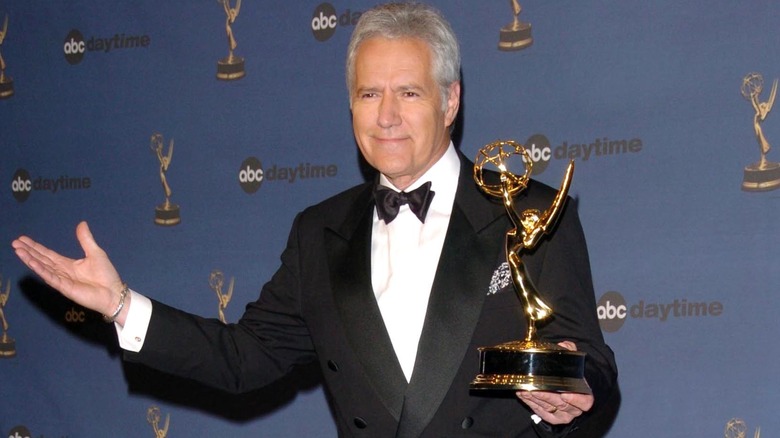 While talking to Parade about one of his final interactions with Alex Trebek before his death from pancreatic cancer, Mike Richards recounted how the host changed the course of one of their work conversations. Richards became the show's producer at a difficult time, and there was a lot to discuss regarding how the COVID-19 pandemic would affect production. Richards recalled Trebek being eager to get back to work and concerned about how the pandemic was impacting his co-worker's family. "He wanted to know how not getting to go to school was affecting my children," Richards said. "He genuinely cared about my kids but also all children. Keep in mind he was very close to the end of his life. Amazing."
Richards also spoke to CNN about how the television icon wasn't just a role model to him because of his strong work ethic and professional success. "As a man, he was an amazing dad, and he loved [his wife] Jean so much that it was inspirational," he said. "So what I told him was I wanted to thank him for showing me how to be a better man at work, and even more importantly, a better man with my family and my wife." 
After Trebek's son Matthew donated a large portion of his wardrobe to charity, per Jeopardy.com, Richards praised the act as "the perfect way" to honor one of Trebek's final requests to help those in need.
Why Alex Trebek quizzed Mike Richards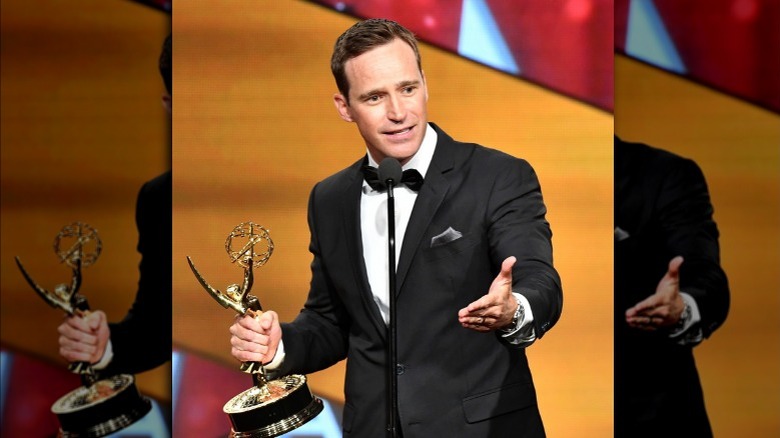 In a Facebook video, Mike Richards revealed that one of his fondest memories of Alex Trebek was when the host quizzed him, but his questions weren't all about common "Jeopardy!" categories like Science, World History, and Literature — at first. Instead, he wanted to know a lot more about Richards' work history.
Per Jeopardy.com, Richards has hosted other shows before, including "The Pyramid" and the reality series "Beauty and the Geek." His production credits are also quite impressive and include "The Price Is Right," "Let's Make a Deal," and "Who Wants to Be a Millionaire." However, his outstanding resume didn't make him any less nervous about meeting Trebek for the first time. "I sit down, and he started to quiz me about the logistics of the other game shows that I produced," he recollected. Trebek's line of questioning then took a sudden turn.
"And then he started to quiz me on geography in the U.K.," Richards said. He explained that he had studied there and Trebek had just visited the country. "I looked at him and I said, 'Is the great Alex Trebek quizzing me?'" he recalled. "And in his very calm way, he said, 'Well, I guess he is.'" So while Trebek didn't exactly interview Richards for the hosting gig, he did make sure that he's comfortable with questions — and he'll be hearing a lot of them if he becomes the new host of "Jeopardy!"
Source: Read Full Article