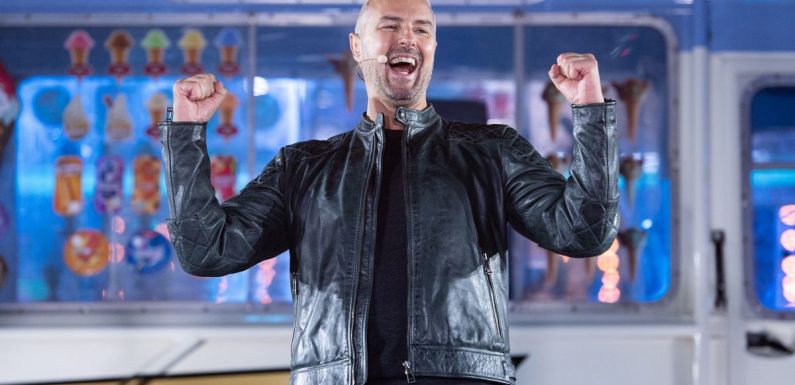 Bookmark
BBC star Edd China has said it would be "great fun" to re-challenge Paddy McGuinness after the Top Gear host beat Edd's world record title.
TV presenter and car mechanic Edd, who has featured on Wheeler Dealers and hosts Edd's Workshop Diaries, broke the Guinness World Record for the fastest electric ice cream van in 2020 at a speed of 73.921mph.
However in the same year, Paddy broke the same record in his vehicle based on a 1979 Bedford CF ice cream van – at a speed of 80.043mph.
READ MORE: Jeremy Clarkson begs for Top Gear to be 'saved' as BBC show's future thrown into doubt
Speaking exclusively to Daily Star as he launches a new campaign with storage solution experts BiGDUG, Edd China has since revealed that he is attempting to set a new world record in his latest electric ice cream van – and that he would be interested in re-challenging Paddy in the future.
When asked what fans can expect on the new Youtube series of Edd China's Workshop Diaries, the mechanic revealed his latest world record attempt, saying: "There's a classic Mini coming up, some other bits and pieces and if I get round to it, we're going to try and re-do my world record of the electric ice cream van.
"We obviously set the record a couple of years ago. Top Gear were inspired by that.
"They then beat my record, so now I've got to go back and we're going to aim for 99mph – so we'll see how that goes!"
He added: "They could have left it just a little longer, but I've had a lot of records over the years and it's quite good fun.
"Really part of the fun of that is getting to have another go and do something slightly differently. For example the record we set was in a brand new Mercedes Sprinter, that I then electrified.
"Now, I'm going the other way and I've gone for a 1970s Bedford CF old classic ice cream van."
When asked if he would be interested in re-challenging Top Gear host Paddy following the world record attempt defeat in 2020, Edd replied: "I think it would be great fun.
"I think that's when you get to be super creative. A little bit of competition means you have to go the extra mile, so I think that would be great fun."
Since 1998, Edd has broken numerous world records with vehicles such as the fastest piece of furniture, fastest toilet and fastest motorised shopping trolley.
Edd explained achieving one world record set the spark for what was to follow, saying: "The very first thing was the world's fastest piece of furniture. We had the sofa car that I built a long time ago – 1998 I think it was.
"We were whizzing around Donnington and we got clocked on the start finish straights at 87mph. Guinness basically came and said, 'That's a record'."
"But once you've got one record of course that's not quite enough, so I kept going and every year they'd phone up and say, 'So what else are you doing?' It's just part of the fun really."
Edd is also working on a campaign with storage solution experts BiGDUG, who he says have helped him find "more room for more projects."
"You've probably seen one of my workshops or my car workshop and it's very, very messy.
"The good thing is, whether you want good, better or best quality, BigDug do all of those. You can tidy everything up, put it on your rack and it's even more room for more projects – which is never a bad thing right?"
Edd China recently worked with BiGDUG, UK provider of garage shelving, storage and flooring.
READ MORE:
Freddie Flintoff quits A League Of Their Own after 12 years as team captain
Jeremy Clarkson 'angered' BBC bosses with Prince William and Kate Middleton poster
Jeremy Clarkson breaks viewing records with Clarkson's Farm 2 after begging for support
For more of the latest showbiz news from Daily Star, make sure you sign up to one of our newsletters here.
Source: Read Full Article