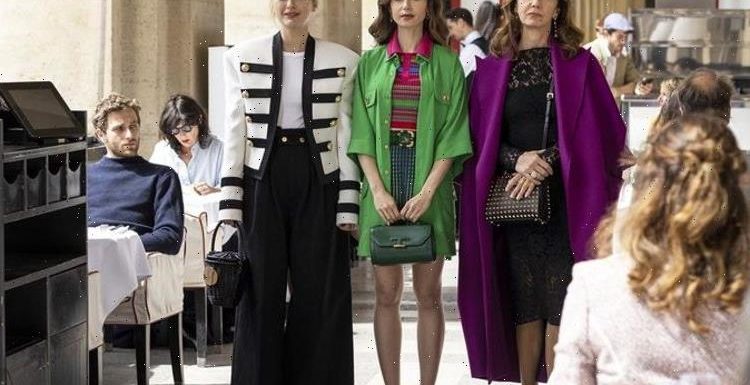 Emily in Paris: Lily Collins stars in season two trailer
We use your sign-up to provide content in ways you've consented to and to improve our understanding of you. This may include adverts from us and 3rd parties based on our understanding. You can unsubscribe at any time. More info
Emily in Paris season three is definitely on the cards as Netflix confirmed the good news on January 10. What is more, the Lily Collins series will return for an additional fourth season. Express.co.uk has all you need to know about when season three could arrive.
When will Emily in Paris season 3 come out?
Emily in Paris fans were left on the edge of their seats as Emily Cooper (played by Lily Collins) had a tough decision to make.
At the end of season two, she was left to choose between her job and her love life as her boss Sylvie (Philippine Leroy-Beaulieu) gave her an ultimatum.
As Sylvie and some of the other members of staff decided to set up their own firm, Emily was invited to join them.
However, she was due to return to Chicago and had a complex love triangle to think about.
Season two arrived in December 2021, so there is a chance season three could arrive at a similar time.
The series usually airs in the winter, with the debut season airing in October 2020.
With this in mind, it is highly likely the third outing will arrive in the winter of 2022.
Filming for the third season is yet to begin, so it is difficult to say when the final product will come to light.
Actress Collins is on Instagram and she shared the news with her fans.
In a photo, she is seen wearing an Emily in Paris t-shirt, smiling widely at the camera.
She said: "Woke up early to give you some VERY exciting news… @emilyinparis is back for Season 3… AND wait for it, Season 4!!!!!
"I can't tell if Emily would love or hate this announcement outfit but she'd be screaming either way.
"Truly love you all, thanks so much for the incredible support. Seriously cannot wait for more. Merci Beaucoup!"
Filming for season two started in May 2021 and was complete by July, meaning a quick turnaround is possible.
Production for season three is likely to start in the spring this year and should be wrapped by the summer.
Fans can remain hopeful that the new episodes will air as early as October 2022.
They took to Collins' Instagram to congratulate the star, with memphisevehewson saying: "Can you shoot season 3&4 back to back so we can binge back to back we can't wait a whole year in between pleeeeeassse!!!" [Sic]
Viewers also called for each episode to be an hour instead of 30 minutes long.
beekeepers_naturals added: "Congrats! We can't wait to binge the next two seasons."
thathannahalper commented: "SO WELL DESERVED!!! Many more months in Paris isn't so bad!"
At the end of the second season, Emily discovered Camille (Camille Razat) had moved in with Gabriel (Lucas Bravo).
She was about to confess her love to Gabriel when she made the shocking discovery.
In the final moments of the show, she was seen calling Sylvie to say she had made a decision about whether she would stay in Paris or go back to Chicago.
Although it's highly likely she will remain in Paris, Emily will continue to face pressures in both her work life and personal life.
Emily in Paris seasons 1 and 2 are on Netflix now.
Source: Read Full Article