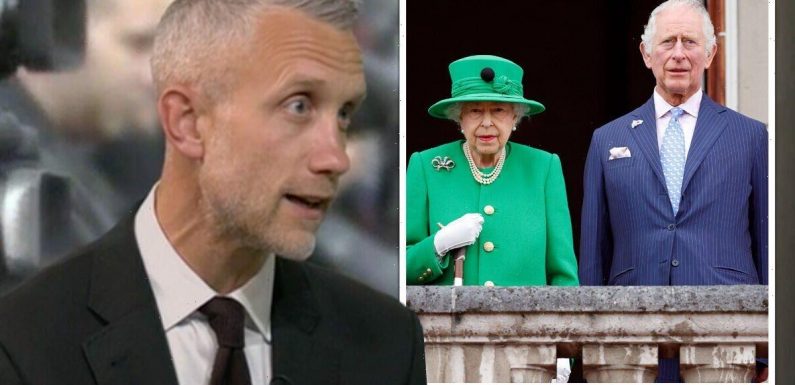 Jubilee is start of a 'long goodbye' from the Queen says expert
We use your sign-up to provide content in ways you've consented to and to improve our understanding of you. This may include adverts from us and 3rd parties based on our understanding. You can unsubscribe at any time. More info
Samira Ahmed was on hand to present the latest instalment of Newswatch as part of BBC Breakfast and she spoke to Paul, a viewer from Somerset, and Richard Burgess, Interim Senior Controller of BBC News content. The trio discussed the BBC coverage of the Queen's Platinum Jubilee with Paul offering criticism of how licence fee money was spent. Samira also put Richard on the spot as she questioned if the BBC had gone overboard with their coverage.
Samira asked: "Paul, as you know, a lot of this coverage was simultaneous broadcast on the news channel as well as BBC One. Do you have a view about that?"
"Well I think one channels worth of coverage is enough," Paul replied.
"I'm not denying this is a major event and did warrant a significant amount of coverage.
"But I do feel it was pretty much one-way traffic, there was very little representation or contrary point of view.
Samira cut in: "And there was other news happening as well."
"Indeed, yeah," Paul agreed.
Samira turned to Richard: "The Trooping of the Colour, the Thanksgiving Service, and the Pageant all went out in full on the news channel as well as on BBC One. Where were people supposed to go for news?"
"Well, I don't think it would have been a good use of licence fee payer's money to try and recreate event coverage and that was the event of the weekend that was going on on BBC One," Richard replied.
"I don't think we did entirely simulcast, particularly not around the pageant. We did break out for other news as well.
"It's a major event. We come back to that. I think people would expect the BBC News Channel is covering a major event in the UK as it happens."
More to follow…
Source: Read Full Article