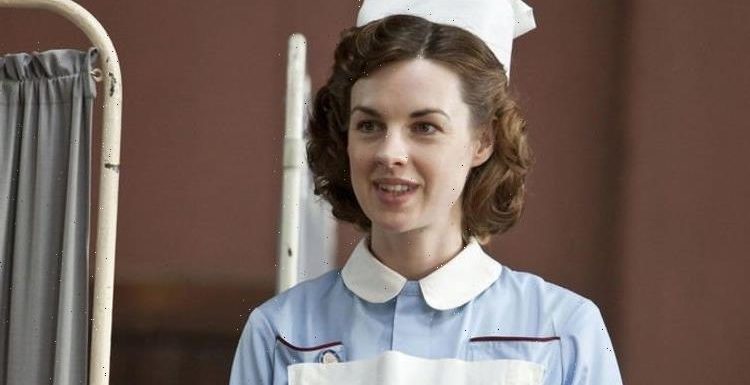 Call the Midwife: Helen George recalls early days on the show
When you subscribe we will use the information you provide to send you these newsletters. Sometimes they'll include recommendations for other related newsletters or services we offer. Our Privacy Notice explains more about how we use your data, and your rights. You can unsubscribe at any time.
Call The Midwife has been airing on weekends on BBC One and the historical drama has celebrated its 10th anniversary. This season sees Nonnatus House face the threat of closure and money is desperately needed to get services back on track. Express.co.uk has all you need to know about why original cast member Jessica Raine left the series.
Why did Jessica Raine leave Call The Midwife?
Jenny Lee was one of the original midwives from the series and she appeared in the first three seasons.
She had originally trained as a nurse before working at Nonnatus House and she had moved to Poplar for a fresh start.
She had fallen in love with a married man and had trouble controlling her feelings.
Jenny was the show's main protagonist and she faced many challenges along the way.
She helped look after Chummy's (Miranda Hart) mother who was dying and made the decision to change careers.
Wanting to work in end of life care, she announced she would be leaving Nonnatus House to work at the Maria Curie Hampstead Hospital.
Around the same time, she met her soon-to-be husband, Philip Worth (Stephen Ashfield ) who was with her when she left Nonnatus House.
Her character was based on the real Jennifer Worth, who inspired the series with her memoirs.
Raine was believed to have left the series so she could pursue a career in film in the US.
The voice of Jenny was used to narrate the series in future seasons, and she was voiced by Vanessa Redgrave.
At the time of leaving, Raine said in a statement: "It's been a real privilege to help bring Jenny Lee's story alive and amazingly satisfying to see how the public have embraced the series.
"But as is in keeping with Jenny's story, it's time for me to explore pastures new."
After leaving the series, Raine told Matt Baker on The One Show that she did not watch the show any more.
But she did say she kept in touch with some of her old co-stars, including Trixie's Helen George.
Raine went on to star in Doctor Who, Line of Duty, Wolf Hall and Fortitude.
Her most recent roles were in Informer and Baptiste. Her film credits include Benjamin, Black Shore and Carmilla.
The mother-of-one is married to fellow actor Tom Goodman-Hill.
Her character in Call The Midwife went through some tough storylines, including the death of one of her partners.
One fan said on Twitter: "Literally balling at call the midwife. Cannot cope. Poor Jenny Lee."
When news of her departure was announced, another said: "Jessica Raine quit Call the Midwife?! This is the worst news!
Fans are still hoping she is able to return in one form or another before the series ends.
The suggestion is that Jenny is still in touch with her Nonnatus House colleagues, so there may be scope for her to return.
Her character was inspired by the real Jennifer Worth who handwrote accounts from her midwifery days.
She was also a keen musician and performed as a pianist and choir singer across Europe.
She died in 2011, shortly before the debut episode of Call the Midwife aired, with a special tribute to her.
Call The Midwife airs on Sundays on BBC One at 8pm.
Source: Read Full Article