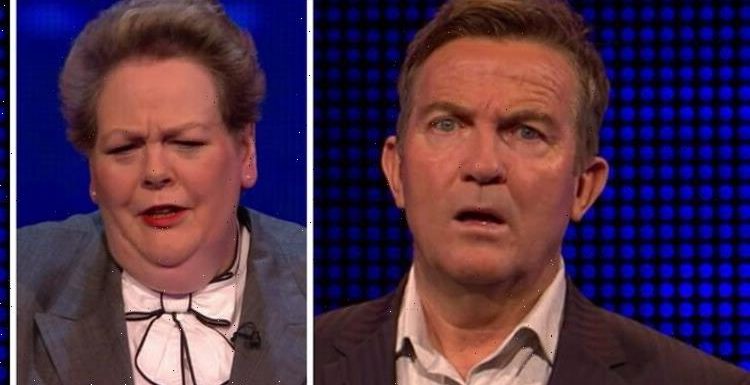 The Chase: Anne recognises contestant from Mastermind
We use your sign-up to provide content in ways you've consented to and to improve our understanding of you. This may include adverts from us and 3rd parties based on our understanding. You can unsubscribe at any time. More info
Bradley Walsh welcomed Lawrence, Nial, Kellyann and Rodabe onto Friday's instalment of The Chase who were all hoping to beat Anne 'The Governess' Hegerty in order to take home a cash prize. Lawrence was the first contestant to go head-to-head with Anne, but he was taken aback to discover she had researched his background. Bradley was left open-mouthed when The Governess revealed Lawrence had failed to mention he had appeared on other quiz programmes.
Lawrence introduced himself as an industrial chemist when Bradley greeted him on the instalment.
The chemist raised £6,000 in his cash builder round and decided to play against The Governess for that figure in the next round.
However, before the round took off Anne pointed out that she had "done her research" on the player which confused Bradley.
Anne began: "I must admit, I thought £6,000 was a little bit disappointing from a man who has been on Mastermind so many times."
"Yes, that's right," a surprised Lawrence replied with a grin on his face.
Anne then told the contestant she also knew he had appeared on the Channel 4 quiz show Fifteen to One as well.
"Oh you have done your research," Lawrence quipped.
"You kept that very quiet," the Chaser told him as Bradley looked at the camera with his mouth wide open.
The stunned host asked Lawrence: "Why didn't you tell me?"
Unsure of how to respond to Bradley's question, he joked about his past being exposed by Anne.
Bradley teased: "I'm your playing partner, I mean you really have got to tell me stuff like that. I'm your mate.
"Is there anything else you're keeping from me?"
DON'T MISS…
Mark Labbett blasts The Chase team after fall from grace [LATEST]
The Chase's Mark Labbett says writers refuse to stop fat-shaming jokes [INTERVIEW]
The Chase player slapped down after taking minus offer [MUST SEE]
Lawrence cheekily replied as his teammates giggled: "Many things Bradley, many things."
The player's passion for quizzing helped him secure a place in the final of the episode.
Nial, who was next to play, raised £6,000 in his cash builder round and also sailed through to the final.
Receptionist Kellyann raised £3,000 in her opening round and was thrilled when she made it into the final and brought the prize money up to £15,000.
Rodabe also made it through to the final with £3,000 which meant a full house would compete against Anne.
They had four attempts to push back the Chaser and managed to beat her with time to spare.
Lawrence wanted to spend his winning on a trip to the Caribbean and Kellyann planned on visiting her sisters in Australia. Nial wanted to go to Wrestlemania and Rodabe was going to spend her £4,500 on updating her kitchen.
The Chase continues weekdays at 5pm on ITV.
Source: Read Full Article