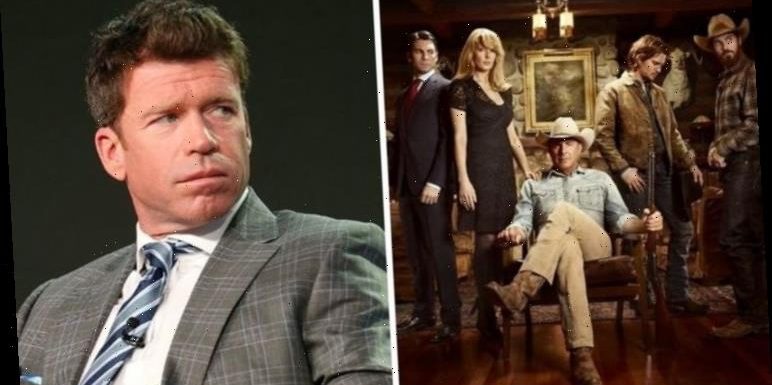 Yellowstone: Kayce and Monica clash over his job
Sheridan is currently at work on the fourth instalment of his modern western series, Yellowstone, for Paramount. Before the hit cable show hits screens, however, his new feature film will be releasing later this spring in theatres and HBO Max.
Warner Bros. has confirmed Taylor Sheridan's new western film, Those Who Wish Me Dead, will be released on May 14 this year.
The acclaimed director will team with award-winning star Angelina Jolie (Maleficent: Mistress of Evil) for his first film centred on a female lead.
Following his stint as an actor on Sons of Anarchy, the filmmaker has since helmed the western thrillers Hell or High Water and Wind River, and penned the scripts for Sicario and its sequel, Day of the Soldado.
Those Who Wish Me Dead is based on Michael Koryta's 2014 novel of the same name, who joins the film's writing team along with Sheridan and Charles Leavitt (Warcraft).
We will use your email address only for sending you newsletters. Please see our Privacy Notice for details of your data protection rights.
An official synopsis reads: "A teenage murder witness finds himself pursued by twin assassins in the Montana wilderness with a survival expert tasked with protecting him — and a forest fire threatening to consume them all."
Following the official announcement, fans of Sheridan's previous work took to social media to voice their excitement, now the writer-director has built up an enviable reputation for his work on some of Hollywood's best thrillers in recent years.
On Reddit, one movie fan commented: "My favorite writer in the business right now. I cannot wait for this movie."
Another user touched on his previous films, adding: "Feels like he's revitalizing the western genre even though I don't think any of his work aside from Hell or High Water is truly a western."
"None of them take place in 'the west' but they all have 'that feeling.' I don't know how to consider his work which I guess is part of what makes it exciting."
Though they all take place in the 21st century, Taylor Sheridan's films undoubtedly take inspiration from classic Hollywood and Spaghetti Western pictures set in the Old West.
The latest entry in his filmography will once again mesh traditional western tropes with Sheridan's keen eye for contemporary crime drama.
Joining Jolie are Nicolas Hoult (The Favourite), Tyler Perry (Gone Girl), Aiden Gillen (Game of Thrones) and Sheridan's frequent collaborator Jon Bernthal (Wind River).
DON'T MISS:
Game of Thrones: Why Ilyn Payne didn't return after season 2 [INSIGHT]
Lupin: Omar Sy opens up on 'impossible' scene in the Louvre [INTERVIEW]
Virgin River season 3 theories: Jack and Mel wedding 'sealed' [THEORY]
Medina Senghore, Finn Little and Jake Weber also round out the upcoming film's supporting cast.
Produced by Warner's New Line label, the upcoming feature will fall under the studio's new plan to debut major releases simultaneously in cinemas and on HBO Max in the United States.
Whether this means the film will also be available to stream in other territories is unclear, though it's hoped cinemas will soon be able to reopen as the vaccine roll-out gains steam.
Sheridan will also produce the film, along with fellow producers Garrett Basch, Steven Zaillian, Aaron L. Gilbert and Kevin Turen.
Angelina Jolie's involvement was previously announced back in January 2019, and it's likely it would have screened in 2020 were it not for the outbreak of coronavirus.
It marks her last film role before she takes the lead in Chloé Zhao's Eternals for the Marvel Cinematic Universe, also slated for a release this year.
Meanwhile, Sheridan's popular cable series Yellowstone is currently filming its fourth season in Montana, which is hoped to premiere later this summer.
Yellowstone will return with season 4 in 2021 on Paramount.
Source: Read Full Article