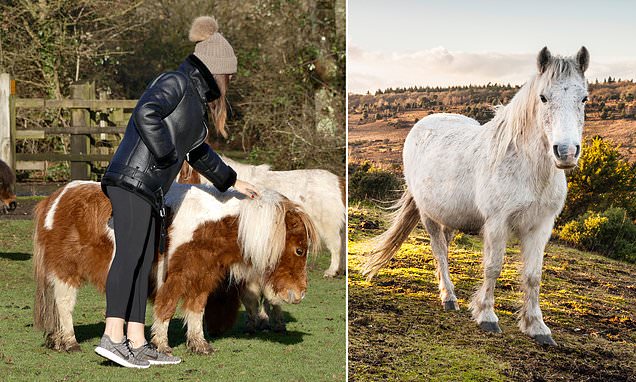 Tourists will be fined £1,000 if they pet the New Forest's famous wild ponies because it makes them more aggressive towards humans
Park rangers said the ponies are being fed 'on a daily basis' by tourists
Tourists could be fined £1,000 if they are caught petting wild ponies in the New Forest, over concerns it makes them aggressive.
Plans to clamp down on 'extremely detrimental' behaviour have been given the go-ahead by New Forest District Council.
It argues holidaymakers stroking and feeding ponies, horses, mules and donkeys increase the animals' aggression towards humans.
After petting and giving snacks to ponies,  people have been bitten and kicked as the animals harass and 'beg' for more food. 
Anyone breaching a Public Spaces Protection Order can be handed a Fixed Penalty Notice of up to £100.
New Forest District Council will fine tourist who feed wild ponies up to £1,000, as they say it makes the animals more aggressive towards humans
After petting and giving snacks to ponies, people have been bitten and kicked as the animals harass and 'beg' for more food
The fine can reach £1,000 if the case goes to Southampton Magistrates' Court. 
The council will also introduce new measures to ban wildfires and barbecues in the pasture and heathland, in Hampshire – in a bid to wipe out anti-social behaviour. 
They will be rolled out from July 1 – just weeks before school holidays and staycations.
The district council first recommended the new rules in November, after A New Forest code had already been introduced as guidance but was largely been ignored.
It asked visitors to keep their distance from animals, keep dogs on a lead and not start BBQs or wildfires.
Last year, a report was handed to the council documenting the park's issues said that tourists are spotted in the area feeding and petting the free-roaming animals 'on a daily basis' causing 'extremely detrimental' issues to the ponies' health.
The head agister who looks after the New Forest ponies, Jonathan Gerrelli, said: 'Unfortunately, ponies can and do get aggressive around food.
The council will also criminalise lighting fires and barbecues in the area as well as feeding the renowned ponies, horses and donkeys
'This leads to competition between the ponies, including kicking and biting, and that aggression can and often is directed at members of the public.
'As a result, members of the public get knocked over, bitten and even kicked. A direct result of humans feeding the ponies is therefore danger to members of the public.'
The New Forest's lead ranger Gillie Molland said: 'It is increasingly common to see ponies congregating around parked cars, harassing and 'begging' the car's occupants for food.
'Not only is this bad for the ponies and the future of communing in the New Forest, it spoils people's enjoyment of the areas and in a few cases, people can feel quite intimidated.'
The national park added in the report that after monitoring the popular tourist spot Bolton's Bench for an hour in Easter 2020, there were 37 petting incidents with one person being bitten while trying to feed crisps to a pony.
Source: Read Full Article