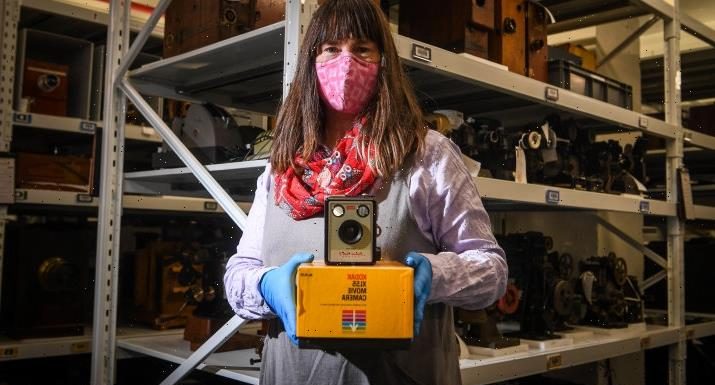 There are 40,000 items in Museums Victoria's collection of Kodak memorabilia. But if senior curator Fiona Kinsey had to pick her favourite one, it would be Thomas Baker's formula book.
Inside its pages are chemical recipes written down more than a century ago by Mr Baker, the chemist who co-founded Kodak manufacturing in Australia.
Museums Victoria senior curator Fiona Kinsey with some of the 40,000 Kodak items.Credit:Justin McManus
The pages are stained with drops of photographic emulsion. The handwriting is neat but with self-corrections.
"He was an innovator, a scientist and very dedicated to the success of the company," Ms Kinsey said.
"He had a very curious mind, he was always trying to improve on things."
It was in spring 2004 when a museum colleague mentioned to Ms Kinsey, a lifelong photography enthusiast, that the Kodak factory at Coburg was about to close.
Kodak director Thomas Baker's formula book, 1884 to 1921. Credit:Justin McManus
What was to be a six-week collation of artefacts turned into a 17-year labour of love.
"I had my son in 2011 and I joke that the Kodak project is my other baby," Ms Kinsey said.
The Kodak Heritage Collection — catalogued by 60 museum staff and volunteers — includes 30,000 images, 3000 objects as well as documents, films and interviews with former Kodak staff.
A selection from the collection has been compiled into a new, solely online exhibition, Kodak Snapshots. It tells a corporate success story.
A 'cameras, reels and sundries' assembly line at Kodak's Coburg factory circa 1963.Credit:Museums Victoria
In 1887 in Melbourne, Thomas Baker, who was already a photographic product maker and seller, teamed with retailer and marketer John Joseph (JJ) Rouse, as Baker & Rouse.
They built a huge factory in Abbotsford and owned shops across Australia, including in Melbourne's Block Arcade.
In 1908, the company merged with American giant Eastman Kodak, but Baker and Rouse remained as directors and became philanthropists. Baker and his wife, Alice Baker, and sister-in-law Eleanor Shaw, founded what is now the Baker Heart and Diabetes Institute.
In 1961, the sprawling new Kodak factory in Coburg opened. By the 1970s it had 2300 employees, including tea ladies, in-house electricians, truck drivers, accountants and chemists.
Workers did everything from designing packaging, to mixing chemicals and making cameras.
In an interview featured in the exhibition Trish Lobb, who worked at Coburg from 1964 to 1992, recalls her first job was assembling cameras, then converting slide projectors' US wiring to Australian standards and later she was an executive secretary.
A 1930s Kodak advertising poster.Credit:Museums Victoria
Val Bell, a Kodak clerk from 1937 to 1944, told of playing basketball for a Kodak team, and of eating lunch on the manicured gardens by the river at the Abbotsford factory.
Objects in the exhibition, or "digital showcase", include crockery with Kodak printed on it and a circa 1950 photo of a company square dance club.
Ms Kinsey marvels that, helped by Kodak staff, the Museum's collection "snowballed into this huge project".
"I had no idea exactly how much history they'd retained and preserved — a warehouse full of material," she said.
"I just knew there would be a wonderful story there. A real Melbourne story. It's such an amazing collection."
Kodak Snapshots: 120 Years of of Manufacturing in Australia can be viewed online at museumsvictoria.com.au\kodak
The Morning Edition newsletter is our guide to the day's most important and interesting stories, analysis and insights. Sign up here.
Most Viewed in National
From our partners
Source: Read Full Article