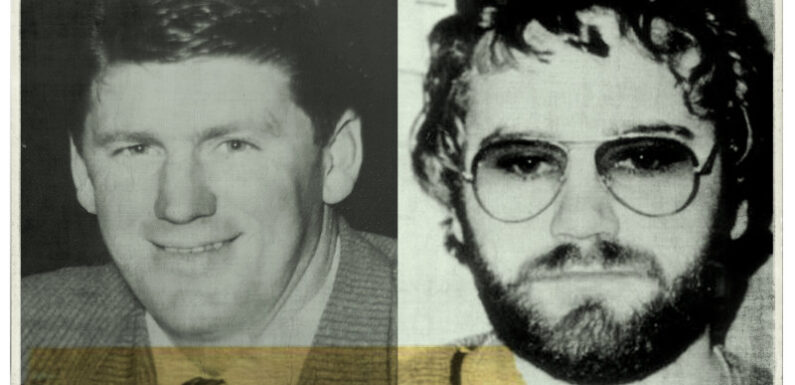 Save articles for later
Add articles to your saved list and come back to them any time.
The man on the end of the phone line was a serious gangster who had ordered a hit on an undercover cop, and he wanted a meeting. Who was I to argue?
The caller was Alan Williams, central to an underworld cartel connected to at least four murders, one failed hit, a suspicious death, corrupt cops in two states and a concerted effort to sabotage the criminal justice system.
Robert "Jack" Richardson (left) and Alan Williams.Credit: Age archive
Williams wanted to tell his story, but he was also making a public plea to the underworld: Don't kill me.
Williams became a target after he told police the notoriously bent NSW detective Roger Rogerson was the organiser of an attempted hit on undercover cop Mick Drury.
Williams' message to his former underworld colleagues was that while he had talked on Rogerson, he would remain silent regarding their affairs and was happy to disappear. Rather than be a dead man walking, he wanted to be a live one running.
He had good reason to be nervous. There had been one attempt on his life and his contact in the drug syndicate Drury infiltrated had been executed.
That contact was Robert "Jack" Richardson, who, 39 years after his murder, is the subject of a promising cold case investigation that includes a million-dollar reward, fresh information and a tantalising DNA trace discovered on a bullet casing.
According to Senior Detective Leigh Prados, this case is far from cold: "In a fresh homicide time can be the enemy, but in this sort of case time can be on our side."
That's because the wall of silence cracks over time. Those who built that wall, and who killed to make sure there would be no leaks, are dead, infirm or in jail.
"The threat to people who know the truth has diminished," says Prados.
Jack Richardson (insert) with Roger "The Dodger" Rogerson.Credit: Daniel Munoz
At the time of the crime, the threat was very real because anyone seen as a weak link tended to end up dead.
Now the million-dollar reward could be handy superannuation for someone who has kept their mouth shut for four decades. Prados knows that in a major criminal conspiracy – which this is – more than one person knows the truth.
The murder of Richardson was one of the black cards dealt when NSW drug squad detectives wanted to find the source of heroin flooding into Kings Cross.
To do this, undercover policeman Mick Drury infiltrated a syndicate at the lower end, hoping to climb to the top.
The first person to vouch for him was Sydney crook Frank Avery. As his reward for introducing the fox into the henhouse, in July 1983 Avery was found dead in a Sydney hotel with a heroin needle in his arm. He was not known as a drug user and police believed it was a hotshot.
The personable Drury soon won the confidence of middleweight Sydney drug supplier Jack Richardson, a knockabout former Australian rules player with a minor criminal record.
Tapping into a heroin supply had boosted him into the big time. Richardson introduced Drury to the next link, Brian Hansen, a man of extreme interest to the NSW Drug Squad.
The trouble was that Hansen's supplier, Alan Williams, ran out of Melbourne, which meant the job had to shift down south.
This was not a drama to the crooks but a big one for the cops. Victoria Police thought too many NSW detectives were corrupt, while the Sydney team thought Melbourne were out of their depth with such a big job. Both had a point.
Mick Drury and Alan Williams.Credit: John Silvester
In late February 1982, when the NSW team arrived in Melbourne, there was a fair helping of tension and a large slice of distrust. Sydney kept crucial information to itself and Melbourne was slow to produce $110,000 in show money for the sting.
The job was saved because Drury and straight-talking Melbourne detective Johnny Weel (who would later help bust open an international Mafia syndicate) trusted each other. Game on.
So it was arranged that on March 4, 1982, there would be a meeting at the Old Melbourne Hotel. Drury would show Hansen the money, he would contact the supplier (Williams) and they would be scooped up when Drury gave the waiting Victorian police the sign.
But Williams, full of suspicions and his own product, was reluctant. He would later tell me: "I was a giant of the trade. I knew Brian Hansen – he said he had a drug buyer [Drury] down from Sydney.
"The deal was supposed to kick off at lunchtime, but for about nine hours I smelt a rat. I didn't want to do the business. Brian, on the other hand, was insistent, he said he had counted the money and that everything was sweet."
When Drury gave the signal, the arrest team screamed in far too fast, skidding past Williams' car by about 10 metres, giving the heroin dealer just enough room to plant the foot and escape.
That 10-metre gap cost lives. If Williams had been arrested in the car with the heroin it was an open-and-shut case, but because he escaped he became obsessed with sabotaging the prosecution.
Within a week, he had offered $30,000 to any cop who could swap the recovered heroin with harmless white powder at the forensic lab.
As soon as Weel heard of that offer, he had the drugs tested for the later court case.
Williams went to a friend, hitman Christopher Dale Flannery, to use his Sydney police connections to bribe Drury. Williams said: "I offered $30,000 at one stage, $50,000 at another stage, $100,000 and an open ticket in the end."
Richardson, Hansen and Williams were charged over the Old Melbourne sting. Without Drury, the case against Williams was weak. Even with Drury the case was poor, and Williams was ultimately acquitted.
According to Prados, the police who investigated Richardson thought he was "a good bloke".
Maybe too good. The man they called "Melbourne Jack" indicated he was up for a chat with the right detective. The trouble was the wrong detectives also knew, which meant Williams' team was tipped off.
On March 4, 1984, two years to the day after the arrest and the day before the trial, Richardson went missing, last seen sitting outside a St Kilda ice cream shop with two men.
It was 200 metres from Mickey's Disco, where Flannery had worked and was a silent investor.
Local detective Larry Proud recognised Richardson at the ice cream parlour and would have almost certainly identified Flannery if he was with Jack.
As Prados says: "Richardson was seen with his hands in his pockets, looking relaxed."
No one ever relaxed around Flannery.
Richardson was somehow lured to Strath Creek, 110 kilometres away, to be shot in the back of the head.
For Williams, there was still the outstanding problem of Drury, who had refused Rogerson's bribe. (Rogerson was so brazen that he summoned Drury to his police office to make the offer.)
At a Sydney restaurant Williams, Rogerson and Flannery decided if money couldn't silence Drury, a bullet could. On June 6, 1984, Flannery, possibly with killer Laurence Joseph Prendergast, shot Drury at his Chatswood home.
Against all odds, Drury survived. By this stage the threat was so high that Weel's children were being driven to school in a police car.
Happy families: Drug dealer and multiple murderer Dennis Allen points a gun at his mother Kath Pettingill's head.
Flannery took a $50,000 deposit for the Drury hit but according to Williams, "Chris said not to worry about sending the other $50,000. The job hadn't been completed."
Not everyone was so generous, as the next target was Williams.
On September 18, 1984, Dennis "Mr Death" Allen and Ray "Red Rat" Pollitt were waiting outside Williams' Lower Plenty house when a car pulled into the driveway.
They dragged the driver from the car, but it wasn't Williams. It was his brother-in-law Lindsay Simpson. They shot him regardless.
Pollitt, who was convicted of the murder, claimed he was innocent, but did tell me the killer wasn't wearing a balaclava, knew he would be recognised and feared Williams would come after him: "It wasn't a case of mistaken identity, it was a matter of survival."
Next was Flannery, who even in Sydney was considered the loosest of loose cannons. He had killed up to 12 people and the unsolved Drury shooting was bringing heat. He told one senior policeman: "You're not a protected species, you know – you're not a f—ing koala."
He had to go.
The body of Christopher Dale Flannery, aka Rent-A-Kill, has never been found.Credit: Fairfax Media
On May 8, 1985, Flannery (at Rogerson's suggestion) agreed to informally meet NSW murder taskforce detectives in a bar. But Flannery was reluctant to talk, so why hold the meeting?
The always cunning Rogerson had a plan to follow Flannery, who was in hiding, home after the meeting.
The following day Flannery went missing, never to be seen again.
Four months later Prendergast, who was with Flannery when he shot Drury, joined the missing list.
Prados says the Richardson case was reviewed in 2019 and deemed solvable. Fresh information suggests there are people who know the truth.
He believes many of those people read this column (which means our demographics go beyond stockbrokers and left-wing school teachers. Take note, bean counters).
"These people need to contemplate their position. They should find us before we find them," Prados says. "We will continue to knock on doors and as long as you continue to draw breath we will not stop trying to find you."
Crime Stoppers 1800 333 000
Most Viewed in National
From our partners
Source: Read Full Article