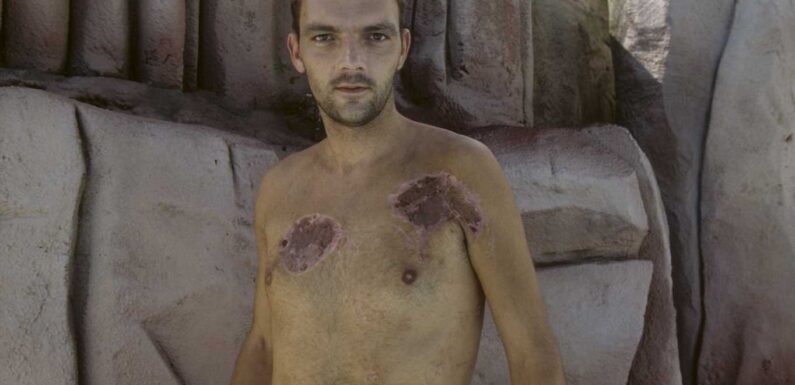 A MAN who was left for dead after being attacked by a rare shark species has shared the miracle encounter which saved his life.
Martin Richardson was bitten five times by a Mako shark off the coast of Egypt – but while floating in a pool of his own blood, he was saved by a heroic group of animals.
Martin said: "There was no reason for the shark to stop. I had lost approximately 5 pints of blood. You only have 8 to 9 pints in your body.
"I was waiting for a feeding frenzy… I knew it was circling me… I turned away and looked at the mountains. I gave up."
Suddenly, a pod of dolphins appeared behind Martin, and the beast stopped his brutal attack.
Martin was then rescued by a boat and taken to hospital, where he received over 300 stitches.
READ MORE IN WORLD NEWS
Secret of Megalodon extinction revealed by scientists
Terrifying moment Brit gets within inches of 5,000lb great white shark's jaws
He said: "I firmly believe the dolphins saved my life."
But Mike Heithaus, a professor in the Department of Biological Sciences at Florida International University, said the dolphins may have not been intending to save Martin.
He explained: "The dolphins see a big cloud of blood, they know a shark is in the area."
If the dolphins had their babies nearby, they may have been on the offensive to protect their young.
Most read in The Sun
Greenwood given shock football lifeline by his old Man Utd boss Jose Mourinho
Ellie Goulding will be supported by Zac Goldsmith amid marriage split
Darius Danesh's heartbreaking autopsy results revealed by girlfriend
Major update on inquiry into Phillip Schofield's affair with young lover
It's not the first instance of dolphins saving a shark attack victim – last year, a Brit swimmer was rescued from a 6ft shark about to attack.
Adam Walker claims the heroic dolphins formed a protective circle around him to fend off the underwater beast in New Zealand.
He claims he was told by a pal that he did not need to worry about sharks in the area, promising him a fear-free dip.
But lurking in the depths of the Cook Strait was a 6ft beast, gunning for an oblivious Adam who hovered above.
He was already battling fierce waves, describing the dip as "like swimming in a washing machine".
The Brit could then hardly believe his eyes when a pod of dolphins popped up and began swimming around him in circles.
He believes the intuitive animals had noticed the deadly predator and opted to keep him safe on his open water swim.
In a Facebook post detailing his extraordinary experience at the time, Adam wrote: "Dream come true swimming with dolphins over an hour…open-water swimming doesn't get any better than this!"
Source: Read Full Article