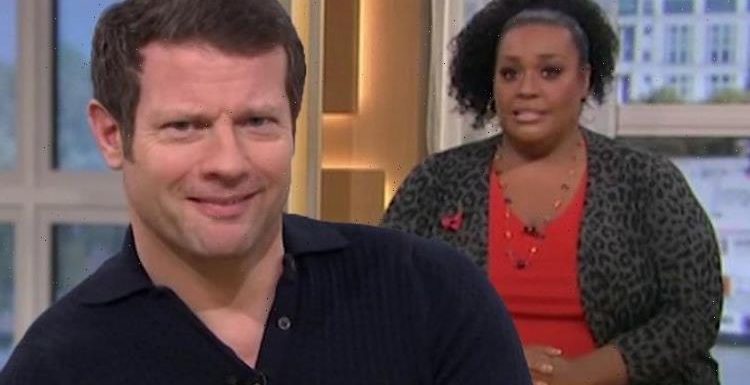 This Morning: Alison asks if Dermot is Britain's dullest man
We use your sign-up to provide content in ways you've consented to and to improve our understanding of you. This may include adverts from us and 3rd parties based on our understanding. You can unsubscribe at any time. More info
Alison Hammond, 46, has taken to Instagram to share a picture of herself and co-presenter Dermot O'Leary, 48, trying to "upstage" each other. In the picture Alison can be seen to be laughing with Dermot talking to Alison.
This pic really makes me giggle.

Alison Hammond
Alison shared the image on her Instagram story in view of her 987,000 followers.
In the image Alison and Dermot are standing with an editor of This Morning, at what seems like her baby shower.
Alison captioned the image: "This pic really makes me giggle as me and Dermot always try and be the favourite with our editors and producers so we try and upstage each other like in the film Bridesmaids."
Alison is referring to the 2011 film where Annie (Kristen Wiig) tries to upstage Helen (Rosie Byrne) in being the best maid of honour for their best friend's wedding.
Alison and Dermot have been presenting every Friday on This Morning since ITV announced a shakeup of its presenters.
In 2020, Eamonn and Ruth were taken off the show, with Alison and Dermot replacing them on their Friday segment.
According to sources, Eamonn is reportedly leaving This Morning after 15 years to join GB News.
The Mirror reported that Eamonn will front his own show several times a week on the channel.
An unnamed source told the paper: "Eamonn's move to GB News marks the end of an era.
"He'll be missed by many ITV viewers but, the truth is, this job offer probably came at just the right moment for both him and ITV.
"All good things come to an end."
Express.co.uk has previously approached reps of Eamonn and ITV for comment on this.
A clip of Alison's interview with Lady Gaga was shown on This Morning today, with Alison channelling her inner pop star.
As a tribute to the singer, Alison wore a bright green dress and pink jacket with names of some of Lady Gaga's biggest song titles on it.
To complete the look, Alison wore a huge bow on her head, pink gloves, and large black sunglasses, similar to the ones Lady Gaga wore in her famous Just Dance music video.
She posted a picture of the outfit to Instagram, captioning the photo: "Going Ga Ga for @ladygaga.
"Coming soon only on @thismorning. @davidobrien75."
Holly Willoughby commented: "This…"
This Morning cook Juliet Sear said: "Omg this is everything." (sic)
Pixie Lott added: "ALI."
Loveofhuns joked: "The Queen of Birmingham has arrived."
Source: Read Full Article