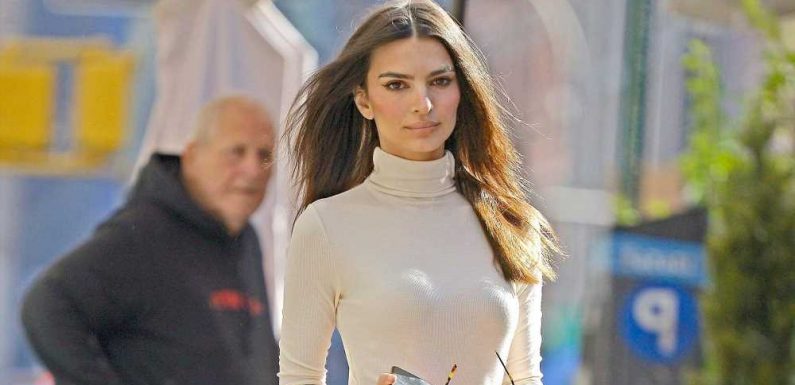 Whenever a fashion-loving celebrity steps out to promote their latest project — a movie, a TV show, a cool collaboration — fans typically receive an extra treat: a week's worth of fabulous outfits, styled to perfection for press interviews. This week, it was Emily Ratajkowski making the rounds, speaking about her new book, My Body. The collection of essays definitely left us thinking about our own complicated relationship with beauty, perception, and self-esteem, but at the same time, we couldn't ignore her cute fall looks. After all, she stepped out in nine that we can't wait to copy.
For years, we've considered this multi-hyphenate to be one of our top style icons, whether she's channeling Julia Roberts or revealing her brilliant shopping tips. So, it's no real surprise that, along with her stylist Emma Jade Morrison, she's now provided us with days' worth of inspiration. Whether you're curious about how to wear trends like denim-on-denim and the micro mini, or are searching for new ways to amp up your basics, Ratajkowski is showing us how to wear it all, ahead.
Keep It Cream
Ratajkowski kicked things off by sticking with a single color scheme. This mix of beige and cream colors not only feels fresh and cozy for a crisp fall day, it serves as easy outfit inspiration for the next time we're wondering what to wear. Monochromatic works every time.
Get Repetitive
Similar to the first look, the star also showed us a low-effort way to do denim-on-denim. Simply style your favorite jeans with a coordinating denim top, then complete the look with a dark brown belt and boots. Classically cool.
Make It a Mix
While Ratajkowski loves to make use of wardrobe staples, such as half-zip sweaters and knee-high boots, she also uses statement pieces — like this skirt — to give her outfits a boost. Not only is this red option a statement piece due to the bright color, it's a bit shorter than your average mini, giving things a Y2K vibe.
Break the Rules
Styling your suit with a button-down is a timeless choice, but who says you have to tuck it in? The model helped us think outside the box with this simple striped shirt, which she left unbuttoned and layered under a blazer with a turtleneck.
Create a Base
A turtleneck and jeans is a go-to combination for many, but as Ratajkowski proves, it's possible to make this look all your own with layers, accessories, and footwear. This time, she seemed to channel the early '90s with an oversized blazer and cowboy boots. But if she happened to wear the same top and bottom with sneakers and a sweatshirt next week? We'd barely be able to tell.
Say Yes to Sets
It doesn't get easier or sleeker than a matching top and pants set — AKA a pre-planned outfit that's ready to go. However, if you're hoping to spice things up a bit, do as Ratajkowski did and layer with items that are similar but not identical, whether it's a shirt with the same print or a jacket that's part of the same color family.
Focus On the Footwear
If your goal is to keep vibrant dresses or loud prints from feeling too over-the-top, complete your look with a neutral shoe, like a white knee-high boot, to balance it out.
Pick Favorites
Looking at what Ratajkowski has worn over the past few days, it's hard not to notice some similarities. She clearly enjoys a sleek turtleneck, black cowboy boots, and red skirts. Yet, because she and her stylist play around with pairings, add in different layers and accessories, these pieces look and feel different each and every time, rather than repetitive.
Experiment with Proportion
Sure, this outfit may seem a little daring, but it still provides us with tricks that everyone can take away. For instance: in cooler weather a maxi or midi skirt provides more warmth than a mini, and you can pair it with a variety of footwear, from heels and tights to bulkier boots. It's also worth it to get creative when choosing a top, balancing out the longer length with something cropped. Plus, layer up! A simple zip-up in enhanced with the help of a collared shirt (whether it's teeny tiny or full-length).
Source: Read Full Article