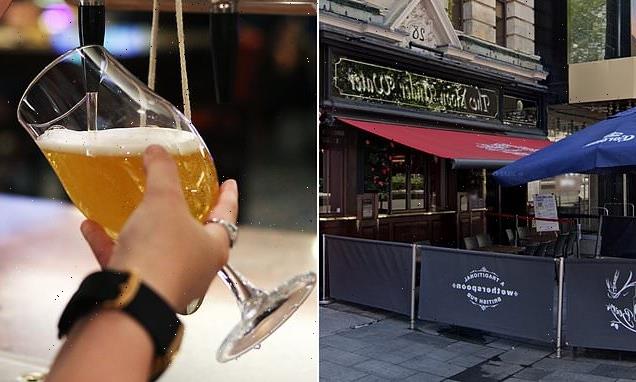 Almost £7 a pint…at Wetherspoon! Drinkers face forking out soaring sums for beer as even budget-friendly pub chain is hit by price rises – so what do you pay at your local?
The price of a pint at Wetherspoon pubs can now cost punters almost £7
Soaring inflation and rising costs has seen prices hiked at the budget pub chain 
Wetherspoon customers now face paying £7 for a pint at the pub chain amid soaring inflation.
The chain recently increased the cost of its food and drink by around 7.5 per cent as costs continue to rise. 
Now, inflation reaching up to 11 per cent means pubgoers in some of Wetherspoon's 800 branches could be handing over nearly £7 for a drink, The Sun reported.
One of the most expensive Spoons pints in the country is on offer at Leicester Square's Moon Under The Water, with Leffe Blonde costing £6.85.
The Belgian pint is just as expensive at branches in Heathrow and Gatwick airports.
(Stock Photo) Wetherspoon customers now face paying almost £7 for a pint at some of its pubs
Pints of San Miguel, Corona and BrewDog IPA will also cost a £6.55 at Wetherspoon's Leicester Square pub. 
Meanwhile, a pint of Leffe Blonde costs £6.15 at Penderal's Oak in High Holborn and Wetherspoons in Victoria Station.
It comes as the pub giant increased the price of its food meal deals by up to 75p and its drinks by 25p.
However, deals can still be found for pints at Wetherspoon despite the soaring cost of living.
The pub chain offered a two dine for £22 meal for Valentines day for couples yesterday.
However, the offer was still £2 more expensive than last year.  
The cheapest pint of Carling in the country is reported to be on offer at The Wilfred Owen in Shropshire at just £1.99.
Wetherspoon also offered a range of 99p drinks, including a pint of Ruddle's Best, in a January sale.
(File Photo) A pint of Leffe Blonde beer at the Moon Under The Water in Leicester Square, London (pictured) costs £6.85
The chain has been trying to lure customers back in recent months, as sales remain below pre-pandemic levels.
Chairman Tim Martin recently claimed supermarkets had taken up to half the industry's trade as customers looked to cut back on costs. 
He added that pubs including Wetherspoons were vulnerable to competition from shops as supermarkets do not pay VAT on food sales while bars and restaurants pay 20 per cent.
Mr Martin said in a trading update in January: 'We estimate that supermarkets have taken about half of the pub industry's beer volumes since Wetherspoon started trading in 1979, a process that has likely accelerated following the pandemic.' 
Wetherspoon recently announced it would sell 40 of its pubs amid cost pressures. 
Source: Read Full Article