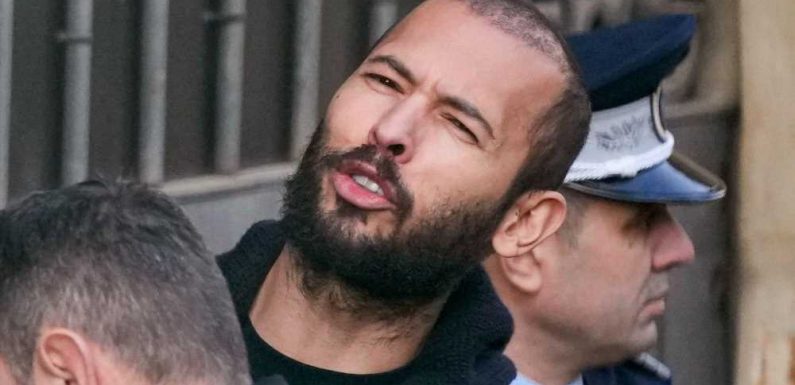 WHINING Andrew Tate has revealed his prison workout routine while complaining about his "limited freedom" in jail.
The misogynistic influencer has been locked up in a cell in Romania for almost two months.
Tate, 36, and his brother Tristan were detained on December 29 as part of a probe into human trafficking, rape, and organised crime.
In his latest whinge from prison, the former kickboxer told on Twitter how he does 500 squats and 500 press-ups a day.
Tate also said he walks 10km around his tiny call as he has "extremely limited freedom of action".
Meanwhile, in yet another rant sent to his subscribers by email, he claimed he receives "thousands of letters" in custody each day.
More on Tate
Tate reveals inmates brawl with guards in 'animal house' Romanian jail
Chilling voice messages Andrew Tate sent to victim after 'strangling' revealed
Tate also urged his male fans to "fall in love with beautiful women" and "break hearts".
In a previous email, he moaned about the "blistering cold" while being "locked in a box".
And in another, he launched a thinly veiled attack on his supporters from his jail cell, saying he needs "better people".
It comes after Tate and his brother were ordered this week to spend a further 30 days behind bars.
Most read in The Sun
BGT legend becomes first time dad as he & fiancé have daughter by surrogate
Huge cinema chain gives update on future after falling into bankruptcy
Huge ITV star replaces Ken Bruce on BBC Radio 2 after shock exit
Family of woman claiming to be Maddie break their silence
But two co-accused women dubbed "Tate's Angels" were freed on house arrest as a criminal probe continues into the allegations.
The brothers are accused of recruiting women on social media platforms and persuading them to travel to their £600,000 villa on the outskirts of the country's capital.
The brothers would allegedly falsely claim to be in love with the young women, before making them perform sexual acts on webcams.
Women were forced to film porn videos in the compound and were kept under 24/7 house arrest, according to Romanian investigators.
Prosecutors also said one of the brothers raped one of the victims in March of last year, which is when the investigation started.
The Tate brothers have maintained their innocence, and claim their detention is part of a conspiracy to silence them.
Andrew has threatened to sue a woman who accused him of trafficking for £249million to "shut down" the case against him.
One-time Big Brother contestant Tate spent years creating a warped empire promoting toxic worldviews which have infected legions of fans through TikTok.
Read More on The Sun
Our trip turned into living hell after catching silent killer bug from a hot tub
iPhone owners can get 'Google upgrade' with ingenious perk for first time ever
His influence has had a worrying spread amongst teenage boys, with one UK MP saying he is "brainwashing" children.
Source: Read Full Article