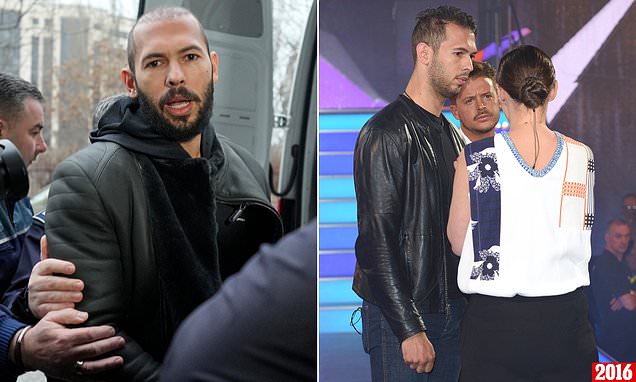 Andrew Tate could be sued by three British women who claim he 'sexually abused' them as he ran 'online sex firm in Luton'
Three UK women want to sue Andrew Tate for alleged sexual abuse from 2013-16

Misogynist Tate, 36, ran an online sex business from Luton, Bedfordshire

READ MORE: Tate and brother grilled by cops at Romanian organised crime unit
Disgraced social media influencer Andrew Tate is reportedly facing the possibility of being sued by three British women who claimed he sexually abused them.
The legal team who are putting the allegations together, which it will make clear once they have the money to bring civil action against Tate in the High Court.
The women, now aged in their late 20s and early 30s, reportedly claim that Tate, 36, sexually abused them between 2013 and 2016, as the self-described misogynist ran an online sex firm from Luton, Bedfordshire.
An investigation by British police forces into complaints made by two women at the time resulted in no charges being brought against Tate, who repeatedly denied wrongdoing.
The British women looking to bring the claim against Tate say that they have suffered personal injury and psychiatric harm after alleged violent sexual and physical assaults in the UK.
Police officers escort Andrew Tate, handcuffed to his brother Tristan, outside the Directorate for Investigating Organized Crime and Terrorism (DIICOT) where prosecutors examine electronic equipment confiscated during the investigation in their case, in Bucharest, Romania, on January 26
Tate was born in America but grew up in English town Luton, before making a TV debut on reality TV show Big Brother in 2016 (Tate pictured on the show)
READ MORE: Andrew Tate blames 'jealous women who know nothing' over his arrest for human trafficking and rape, telling police they 'just ask me for money to go shopping' and are using legal system to 'punish men'
Former kickboxer Tate was been pictured this week arriving for questioning in Romania after he was released from custody last month.
Tate was seen along with his brother Tristan outside offices of the Directorate for Investigating Organized Crime and Terrorism (DIICOT) in Bucharest on Monday, for forensic searches of electronic equipment confiscated during investigations.
He and his sibling were moved to house arrest in Romania on March 29 after being arrested last year. They had been detained since December 29 on suspicion of human trafficking, rape and forming an organised crime group to exploit women.
Tate was born in America but grew up in English town Luton, before making a TV debut on reality TV show Big Brother in 2016. However he was booted off the show after police told the producers about the allegations of abuse at his internet sex business.
It took police a four years to pass evidence to the Crown Prosecution Service who said that there was 'no realistic prospect of conviction' in a review.
Through his lawyer Tate said the women, 'wanted money because I fired them', The Times reports.
He added: 'The police understood after the investigation that I am innocent and the police found messages from the girls' phones where they were talking between themselves… about me.'
The women said on the CrowdJustice fundraising page: 'We intend to take action to encourage a criminal investigation in the UK and pursue a civil case against Tate for compensation to help rebuild our lives.
'In doing so, we hope to empower other victims of his abuse. We want to show them that we, as survivors, can stand up to him and that every one of his despicable acts has consequences. Our goal is to reveal his true face in a UK court and prevent other women from becoming his victims, and to release impressionable young boys from his toxic hold.'
Tate and his brother Tristan and alleged accomplices Georgiana Naghel and Luana Radu will remain under house arrest until April 29 after winning an appeal to leave prison.
None of the four has yet been formally indicted in Romania and remain under investigation. 
The accused had appealed their detention multiple times over the last four months without success, but they won an appeal on March 31 to be moved from police custody to house arrest.
Self-described misogynist and former kickboxer Andrew Tate is seen arriving for questioning in Romania after he was released from custody last month
Tate has maintained his innocence since his release from prison.
On the influencer's appearance at the DIICOT offices on Monday, a spokesman for the Tate brothers told MailOnline that the interview was a routine part of the investigation.
'Andrew and Tristan Tate visited DIICOT earlier today as a routine visit to assist authorities with the investigation,' the spokesman said.
'There have still been no charges made against the brothers and they are extremely focused on beating these fabricated accusations.'
Prosecutors have already carried out several device searches since they were detained.
As the Tates left the DIICOT offices on Monday, they were met by a scrum of media, and a handful of supporters who chanted "Top-G, Top-G!" – one of the monikers used by fans.
Asked how he is feeling, Tristan Tate told reporters: "I'm always OK. I was OK in jail, I'm OK now."
Mr Vidineac told the Associated Press that prosecutors have seized "a lot of devices" in the case and that they're "still looking for the information, even now".
"Being under arrest, even home arrest, the searches (are) mandatory to be done in their presence," he said.
"The prosecutor is doing his job, we respect the job of the prosecutor, of the authorities, we let them do the investigation … and we await the results."
Since his release from police detention, Andrew Tate's Twitter followers have rocketed by at least 500,000.    
The influencer's appearance on Monday came after he made a bizarre post on Twitter, telling Elon Musk – the owner of the platform – to 'escape' the Matrix.
Responding to an image shared by the billionaire of the 1999 film in which Musk alluded to the insignificance of arguing with strangers on the platform, Tate responded to the world's second richest man by writing: 'You must escape.'
Tate often refers to a conspiracy involving the concept of 'The Matrix' as a global conspiracy trying to control the world. He frames himself as being someone who will help people break free of this 'control'.
There is no such evidence such a conspiracy exists.
Tate was previously banned from the social media site Twitter but reinstated by Musk after the billionaire bought it at the end of last year.
In January, he said he was first allowed to contact fans via email from prison.
He wrote, saying he had been left in a cell without light, with cockroaches and bedbugs his 'only friends at night'.
Source: Read Full Article