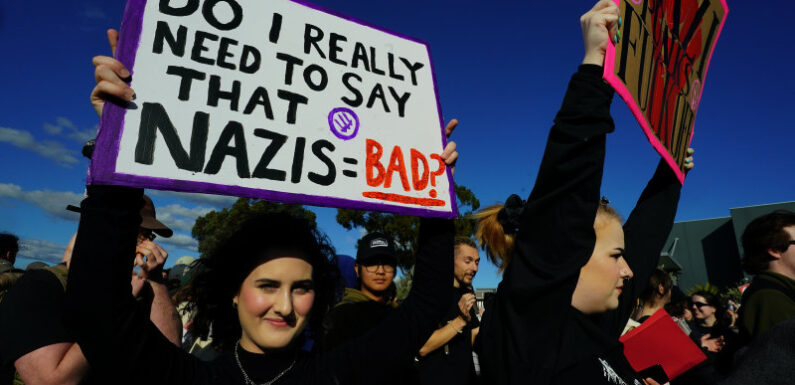 Save articles for later
Add articles to your saved list and come back to them any time.
Police stopped anti-fascism protesters from clashing with a group of neo-Nazis holding a "white powerlifting competition" at a boxing gym in Melbourne's west on Saturday.
Dozens of anti-fascism protesters marched to the Legacy Boxing Gym in Sunshine West, walking down Industrial Drive just before 3pm chanting "unite, unite, unite to fight the right", before calling on the white supremacists to face them in the street.
Anti-fascist protesters march in Sunshine West on Saturday.Credit: Luis Ascui
The neo-Nazi group waved at the protesters and performed Sieg Heil salutes from behind a fence, but did not leave the gym – previously linked to far-right groups – while demonstrators were outside.
The protest ended about 3.30pm.
Before the protest began, a small group of balaclava-clad white supremacists walked outside the gym, which was adorned with Nazi symbolism.
Barricades, two police lines and a buffer zone separated both groups. Victoria Police had declared the area around the gym a designated area, allowing officers to search people and vehicles for weapons, and remove anyone from the area they suspected intended to brawl.
Police kept protesters separated from the neo-Nazis, who were inside the Legacy Boxing gym. Credit: Luis Ascui
White supremacist groups the National Socialist Network and the European Australian Movement were holding a two-day event for members of the "nationalist community" at the gym, which has been connected to some of Victoria's most prominent neo-Nazis.
The event was organised by prominent white supremacy activist Thomas Sewell and was promoted in flyers circulated on encrypted chats as a "white powerlifting competition" and luncheon, with speeches and seminars to be held at a secret location for pre-approved guests only.
"Neo-Nazis are desperately trying to build a following, and they're doing it in the heart of one of Melbourne's most multicultural suburbs," rally organiser Jasmine Duff said.
"Their aim, as always, is to draw in more angry, violent men and build a movement that preaches hate, discrimination, and violence against the rest of Australia."
Dozens of far-right activists pose with Nazi symbology at Legacy Boxing Gym in Sunshine West.
An investigation by The Age last year uncovered links between Legacy Boxing Gym, well-known Neo-Nazi activists, and a growing community of young men boxing at the gym.
Images posted in encrypted far-right chat groups captured a secret event at the gym last year, which was adorned with swastika and SS flags, as well as other far-right symbolism.
Sewell, who was convicted of assaulting a Channel Nine security guard earlier this year, was photographed at the event posing with a child and dozens of other far-right supporters.
This masthead also uncovered several pictures showing gym director Timothy Holger Lutze and young members of the gym making Nazi salutes.
The Morning Edition newsletter is our guide to the day's most important and interesting stories, analysis and insights. Sign up here.
Most Viewed in National
From our partners
Source: Read Full Article