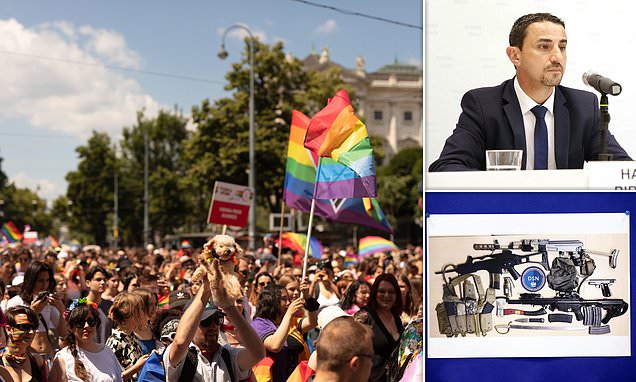 ISIS terror attack on Vienna Pride parade is 'foiled' by Austrian police and  suspects aged 14, 17 and 20 are arrested
Austrian authorities arrested three alleged ISIS sympathisers aged 14, 17 and 20
The suspects are accused of planning an attack on a pride parade in Vienna 
Austrian intelligence services have arrested three alleged ISIS sympathisers accused of planning an attack on a pride parade in Vienna. 
Three male suspects – aged 14, 17, and 20 – were arrested prior to the event in Austria's capital city, which today attracted crowds of 300,000 people. 
The suspects were detained following searches of their homes on Saturday that uncovered 'extensive' evidence of their plans, including stockpiles of weapons.
The three individuals had been closely monitored by Austrian security services due to their online activities, including their sharing of ISIS content on the internet. 
The head of Austria's intelligence services told reporters the three suspects were 'under constant control' and that there was 'never any specific danger' to the public.  
Three alleged ISIS sympathisers have been arrested over a suspected plot to attack a pride parade in Vienna (pictured)
All three invidiauls were being 'closely' monitored by authorities due to their involvement in an extremist Islamist scene, the head of Austria's domestic security services, Omar Haijawi-Pirchner said. 
The 14-year-old is from Vienna and the 17-year-old and 20-year-old are brothers from the nearby city of Saint Pölten, Austrian public broadcaster ORF reported.
The identities of the three suspects, who are all Austrian citizens of Bosnian and Chechen origin, were not revealed. 
Searches of the three suspects homes uncovered weapons including knives, swords and air rifles. One of the three individuals was known to police previously. 
The head of Austria's intelligence services Omar Haijawi-Pirchner (left) told reporters there was no danger to the public
Authorities said there are also indications the suspects had tried to buy more weapons online, as they noted one of the suspects also had a vehicle.  
The three individuals were arrested by Austria's Cobra special forces just an hour before the Vienna pride parade was set to start. 
The Vienna pride parade's organisers were only informed of the plot on Sunday, following raids on the suspects homes. 
Almost 700 officers were deployed to police today's pride parade, including specially trained officers, in order to ensure it could go ahead safely. aust 
Austrian intelligence services discovered stockpiles of weapons including knives and air rifles
The arrests come after four people were killed and another 23 were injured in an Islamic terror attack in Vienna in 2020. 
Austria has since then bolstered its security services after the government vowed to double the size of its counter-terror forces. 
Authorities said there is no evidence the three suspects had ever met the 2020 attackers.
The three suspects may, however, have come into contact with individuals linked to the 2020 attackers through group chats and the internet, the authorities said. 
The three individuals were arrested following searches of their homes, Omar Haijawi-Pirchner (left) told reporters
Austrian chancellor Karl Nehammer today expressed his gratitude to investigators for preventing 'a possible Islamist attack in Vienna'.
'This shows once again that we must never give in in the fight against radicals and extremists,' Mr Nehammer said. 
'They are a threat to our democracy and security and must be dealt with severely.
Vienna's mayor Michael Ludwig said 'There must be no place for hate and exclusion in Vienna. Our city is colourful and cosmopolitan,' 
'We will not let the enemies of rights for LGBTQI people, democracy and an open society get us down,' the parade's organising team said, APA reported.
Ann-Sophie Otte, chairwoman of the Homosexual Initiative Vienna, said The rights of the community have recently been 'increasingly threatened by backsliding and we have to fight every day for our visibility and safety,' according to APA.
Source: Read Full Article