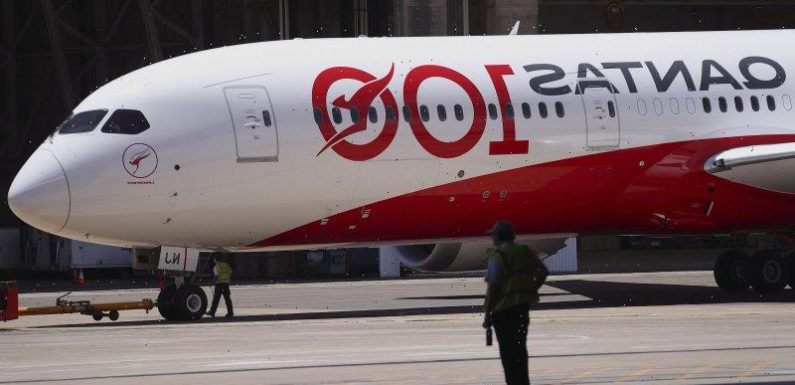 London: Qantas says it has had to offload baggage belonging to economy passengers flying on its flagship route to London because works on Darwin Airport's runway prevent its planes from taking off unless its load is considerably lightened.
Multiple QF1 flights have been affected by the works and have seen passengers travelling between Sydney and London have their baggage offloaded at Darwin because the Dreamliner could not take off if their bags were onboard.
Qantas' Dreamliner flies between London and Sydney via Darwin since the COVID-19 pandemic.
A Qantas spokesman said that bags were being sent on later flights, amid complaints from passengers that their baggage was arriving up to three days later and after zero communication from the airline.
"An issue with the runway pavement at Darwin Airport resulted in temporary additional weight restrictions on our flights to London last week and unfortunately that meant we weren't able to carry some passengers' bags on their flight," the spokesman said.
"Bags were reaccommodated on later flights and are couriered directly to customers as soon as we're able to confirm the correct address.
"We apologise the inconvenience this has caused our passengers and thank them for their understanding."
"We're advised that the pavement issue causing the weight restriction has now been fixed," the spokesman said.
However, a spokeswoman for Darwin Airport said that maintenance works were ongoing and that the wet season was partly to blame and warned of more repairs to the runway in coming weeks.
"It's been in the last week that this was discovered," the spokeswoman told The Sydney Morning Herald and The Age.
"We've had to undertake runway repairs, that's impacted the length of the runway, which affects the larger aircraft because they need a longer runway to take off," she said.
Darwin Airport's sole runway usually measures 3384 metres and operates 24/7. It has a joint user agreement with the Department of Defence which is responsible for detecting and overseeing maintenance works.
"This particular repair has been completed but there will be ongoing repairs required to the runway, so we'll obviously be keeping that impact to an absolute minimum where we can," she said.
"The larger aircraft are the ones that go to London, they're the ones that are impacted. At the end of the day the Qantas flights are going to be returning to Perth," she said.
Paul Smith, Presiden of ALP Abroad
Qantas rerouted its two non-stop flights between London and Australia from Perth to Darwin during the COVID-19 pandemic when Western Australia closed its borders to the rest of the country and international passengers.
The flights are expected to resume between Perth and London mid-June although the snags currently being experienced at Darwin could see the route returned earlier.
Australian Paul Smith who is President of ALP Abroad flew home to London with his wife and son on QF1 via Darwin on Thursday and said he was furious with Qantas' poor customer service.
He said while the bags were offloaded at Darwin they were only informed 15 minutes before landing at Heathrow.
Runway issues: A Qantas plane touches down in Darwin.Credit:Getty
He said he spent five hours on hold with Qantas customer service but never got through and that he never once heard from the airline before their bags were delivered via a third-party courier late on Sunday night.
"My child had no shoes to put on his feet," he said.
"We were talking to one woman who was going to a wedding and she had none of her clothes and there was literally nobody there to offer any support and this was a known problem — that makes it all the worse," he said.
"If you're paying £4100 ($7274) to travel with you, you should be able to have someone on the ground at the airport who can communicate with you.
"I have not had an email or phone call from Qantas about this in three days."
He said Qantas should have offered flight refunds.
Get a note directly from our foreign correspondents on what's making headlines around the world. Sign up for the weekly What in the World newsletter here.
Most Viewed in World
From our partners
Source: Read Full Article