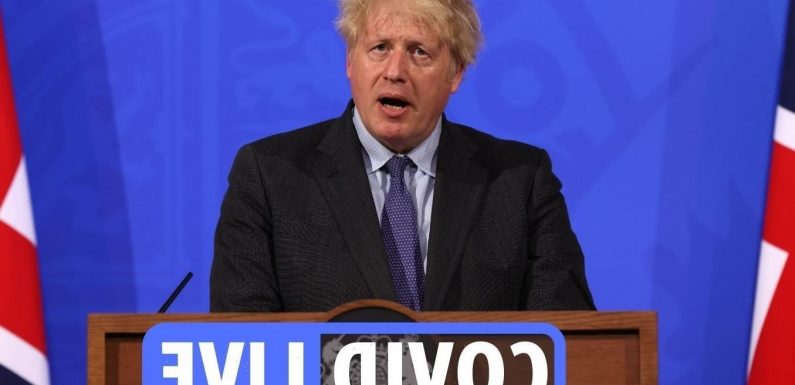 BORIS Johnson will make a major covid rules announcement shortly, outlining the ways in which the UK can get its freedom back.
The Prime Minister is expected to say that from July 19, covid face mask rules will be scrapped, with the UK switching to a voluntary system as we learn to live with covid as a simple fact of life.
However local councils and public transport providers may still insist upon masks being worn with the threat of fines for anybody who doesn't.
Pubs are also likely to be normal with social distancing measures and enforced table service ditched, although individual pubs may well choose to keep their capacity smaller and stick with apps and table service for orders.
And the Government's order to work from home where you can will also be axed – but again, many offices are predicted to opt for flexible working in the future after proving popular and successful during lockdown.
The PM will address the nation at 5pm today – and you can watch live and follow all the action here, live on this page.
The July 19 rule changes which come as covid infection rates soar in the UK but, crucially, hospitalisations remain low thanks to our brilliant vaccines rollout which has broken the link between infections and deaths
Read our live blog below for the latest lockdown updates…
Joseph Gamp

JOHNSON TO 'TRUST PUBLIC'S JUDGEMENT' AS PEOPLE LEARN TO LIVE WITH CORONAVIRUS

Scientists and medical experts have urged caution as Boris Johnson prepares to tear up England's coronavirus rules on July 19.

The Prime Minister will tell people that it will be left to their judgment how to reduce the risk posed by the virus, rather than expecting the Government to set out restrictions in law.

The approach is expected to mean that from "freedom day" in a fortnight's time, face masks will no longer be required in many settings and social distancing restrictions will be removed in pubs and restaurants.

Mr Johnson, who will give further details at a press conference on Monday afternoon, said: "As we begin to learn to live with this virus, we must all continue to carefully manage the risks from Covid and exercise judgment when going about our lives."

The Prime Minister is widely expected to announce the end of the one metre-plus rule in hospitality venues while the work-from-home order is expected to be dropped.

Joseph Gamp

'WE WILL ALLOW PEOPLE TO MAKE THEIR OWN INFORMED DECISIONS' SAYS PM

The PM said: "We will move away from legal restrictions and allow people to make their own informed decisions about how to manage the virus."

Joseph Gamp

AIRLINE PASSENGERS WILL STILL HAVE TO WEAR MASKS EVEN IF LAW CHANGES

Several airlines will continue to require passengers to wear face coverings even if the Government drops the legal requirement to do so.

Ryanair said it will not change its current policy, while the PA news agency understands that easyJet is also not planning to ease its rules.

Train operators have pledged to "support" passengers who continue wearing face coverings if they become voluntary.

Boris Johnson is expected to announce on Monday that face coverings will no longer be required in many settings in England from the final step of the Government's road map out of lockdown, due to take place on July 19.

A spokeswoman for Ryanair said face coverings "will still be mandatory across all Ryanair flights, regardless of the departing/destination country".
Joseph Gamp

SPORTS STADIUMS IN ENGLAND SET TO RETURN TO FULL CAPACITY FROM JULY 19

Sports venues in England are set to return to full capacity from July 19 after the Government announced plans to ease the remaining restrictions on social distancing.

Crowds have either been kept out entirely or allowed in severely restricted numbers since the coronavirus pandemic took hold in the UK in March last year. Test events with higher attendances have been held as part of a Government programme since April.

However, the Government is confident that the success of the vaccine rollout has helped to break the link between rates of infections and rates of hospitalisation and death due to Covid-19.

A final decision on whether to lift the remaining restrictions in England on July 19 will be taken next Monday, but the intention is for stadiums to operate at full capacity from that date.

Recent test events have trialled the use of Covid certification – where spectators must provide proof of either full vaccination, a recent negative test or existing immunity – but these so-called 'vaccine passports' will not now be compulsory for entry.

Joseph Gamp

BORIS JOHNSON: WE MUST BALANCE THE RISK OF THE DISEASE AND CAUSING HARM WITH LEGAL RESTRICTIONS

Boris Johnson said we must "balance the risk" of the disease from the virus and the harm from continuing with legal restrictions which "inevitably take their toll on people's lives and livelihoods, on people's health and mental health".

He added: "And we must be honest with ourselves that if we can't reopen our society in the next few weeks, when we will be helped by the arrival of summer, and by the school holidays, then we must ask ourselves 'when will we be able to return to normal?'

"And to those who say we should delay again – the alternative to that is to open up in winter when the virus will have an advantage, or not at all this year."

Joseph Gamp

JCVI STILL ASSESSING IF CHILDREN SHOULD GET COVID VACCINES – CHRIS WHITTY

"For any vaccine, you want to be confident that the benefits outweigh any risks," says Professor Whitty in response to question from the public.

"Because children have had much lower rates of severe outcomes from Covid… we would need to have even greater confidence about the safety."

Joseph Gamp

ALL COVID RESTRICTIONS WILL END ST STEP 4 OF ROADMAP, CONFIRMS THE PM

Prime Minister Boris Johnson has confirmed that all legal coronavirus restrictions including mask-wearing, social distancing and nightclub closures will end at Step 4 of the Government's plan to ease England's lockdown, which is expected to be on July 19.

Joseph Gamp

THE PANDEMIC IS FAR FROM OVER, WARNS BORIS JOHNSON

Prime Minister Boris Johnson said the pandemic is "far from over" and will not be over by July 19, with a potential 50,000 cases detected a day by that date.

He told the Downing Street press conference: "We're seeing rising hospital admissions and we must reconcile ourselves sadly to more deaths from Covid.

"In these circumstances we must take a careful and a balanced decision. And there's only one reason why we can contemplate going ahead to step four in circumstances where we'd normally be locking down further, and that's because of the continuing effectiveness of the vaccine rollout."

He said the expectation remains that by July 19 every adult in the UK will have had the offer of a first dose of a coronavirus vaccine and two-thirds will have had a second dose.

Joseph Gamp

SAJID JAVID MAKING COMMONS ANNOUNCEMENT TO MPs

Sajid Javid is currently setting out England's road map, the so-called "Freedom Day" on July 19, to MPs in the Commons now.

It is coinciding with a press conference currently being given by the Prime Minister at Downing Street.
Joseph Gamp

VACCINES HELPING TO BREAK THE COVID LINK TO DEATHS, SAYS BORIS

Vaccines are breaking the link between Covid-19 infections and deaths – but that people should accept there will be more deaths from the virus.

"We wanted a bit more time to see the evidence that our vaccines have helped to break the link between disease and death," Johnson said at a news conference.

"It has grown ever clearer that these vaccines are indeed successful with the majority of those admitted to hospital unvaccinated."

Joseph Gamp

CASES STILL RISING, SAYS PATRICK VALLANCE

"It is going quite steeply", the chief scientific adviser says.

"The doubling time is roughly nine days, mainly among younger people but spreading up the age groups."

Joseph Gamp

PM: REQUIREMENT TO WEAR FACE COVERINGS ON PUBLIC TRANSPORT WILL END

The requirements to wear a face covering on public transport in England is to be scrapped despite opposition to the move.

Boris Johnson announced that the legal requirement to wear face coverings will be removed when his road map out of lockdown reaches the final stage, which is expected to be on July 19.

A YouGov survey of 2,749 British adults indicated that 71% of the public want current rules to remain in place for longer.

Earlier, Greater Manchester mayor Andy Burnham urged the Government to retain the requirement to wear a face covering in "locations where people don't have a choice to go", such as public transport and supermarkets.

Some organisations could still make face coverings a condition of carriage, but Mr Burnham said he would not do that on Manchester's tram network, adding: "I just don't think it would work".

Joseph Gamp

LINK BETWEEN INFECTIONS AND DEATHS IS WEAKENED – BUT NOT COMPLETE BROKEN SAYS POWIS

Link between infections and deaths has weakened, but is not completely broken.

"We expect to see a further increase", says Professor Powis.

Joseph Gamp

WE MUST RECONCILE OURSELVES TO MORE COVID DEATHS, SAYS PM

"We must reconcile ourselves, sadly, to more deaths from Covid," the PM says, noting that a "careful and balanced" decision must be taken based on the vaccine rollout. 

Joseph Gamp

WHAT WILL CHANGE IN STEP 4 OF BORIS JOHNSON'S ROADMAP?

Under the Prime Minister's plan for Step 4 of the road map:

– There will be no limits on social contact, meaning the end of the orders such as the "rule of six" and restrictions on guests at weddings and mourners at funerals.

– Legal requirement to wear face coverings will be lifted, although guidance will suggest people might choose to do so in "enclosed and crowded places".

– All remaining businesses will be able to reopen, including nightclubs, while capacity caps will be lifted and bars and restaurants will no longer be restricted to table service.

– The Government will no longer instruct people to work from home.

– The "one metre plus" rule on social distancing will be lifted except in specific circumstances such as at the border, where guidance will remain to keep passengers from red and amber list countries from mingling with other travellers.

– The limit on named care home visitors will be lifted but infection control measures will remain in place.

– There will be no compulsory use of Covid status certification – so-called domestic vaccine passports – although firms will be able to voluntarily use the system.

– The gap between vaccine doses for under-40s will be reduced from 12 weeks to eight, meaning that all adults will have the opportunity to be double-jabbed by mid-September.
Joseph Gamp

GAP BETWEEN JAB DOSES WILL REDUCE FORM 12 WEEKS TO EIGHT WEEKS FOR UNDER 40S, SAYS BORIS

The gap between coronavirus vaccine doses for the under-40s will be reduced from 12 weeks to eight in an acceleration of the rollout to allow all adults to be offered both jabs by mid-September, Prime Minister Boris Johnson says.

Joseph Gamp

GOVERNMENT WILL CONTINUE TO MAKE DECISIONS USING DATA, PM WARNS

We will do all, our best to stop more harsher restrcitions from coming into place, says the Prime Minister.

We will continue to analyse and monitor data to inform our decisions.

Joseph Gamp

BORDER CONTROLS ARE STILL BEING MAINTAINED, SAYS PM

Border controls, including red list will be kept in force

We will work with industry to remove need for isolation when returning from Amber countries.

Joseph Gamp

TRACK, TEST, TRACE TO CONTINUE – SAYS PM

We will continue to manage the virus through a track, test and trace service. You will have to isolate if you are told to.

Joseph Gamp

NO LONGER NEEDED TO WORK FROM HOME – PM

It is no longer necessary for people to work from home, the PM says.

Joseph Gamp

FIVE POINT PLAN 'FOR LIVING WITH COVID'

Let me set out or five point plan for living with Covid, in the hope it will give people time to prepare.

We will control from tools such as legal restrictions and allow people to make their own decisions.

No legal limits on people meeting indoors and outdoors.

We will open all businesses such as night clubs.

We will end one metre plus rule, and the legal obligation to wear a face covering, says the PM.
Joseph Gamp

WE MUST BALANCE RISKS, SAYS PM

We must balance the risk of disease, although not eliminated, and the balance of legally enforced restrictions.

We must be honest that if we can't reopen in the next few weeks, we must ask ourselves when will be able to return to normal.

Joseph Gamp

THE VACCINE IS STOPPING US FROM GOING INTO LOCKDOWN – PM

We paused the roll out of step 4 to get more jabs in people's arms, the PM reminds the public.

By July 19, every adult will have had chance to receive first dose and two thirds will have received the second.

The vaccines are successful, Boris says.

Joseph Gamp

PANDEMIC WON'T BE OVER BY JULY 19 – PM

He says the pandemic is far from over and won't beb over by 19th July.

We are seeing hospital admissions rise and there will be more deaths.

Joseph Gamp

DOWNING STREET PRESS CONFERENCE BEGINS

It's here- the end of Covid restrictions as announced by the prime minister.
Source: Read Full Article