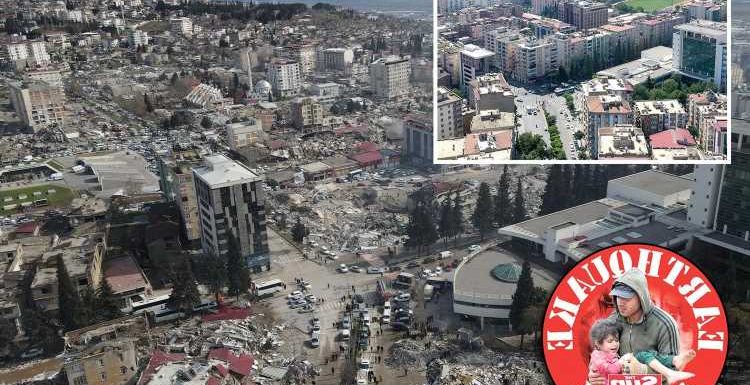 CHILLING aerial images reveal the devastating aftermath of the catastrophic earthquake in Turkey as the casualties have now exceeded 24,000.
Haunting photos show countless collapsed buildings and rubble across the streets days after the killer quake hit Turkey and Syria.
Heart-breaking images show the scale of destruction in Kahramanmaras, Turkey, a city at the epicenter of the massive7.8 magnitude quake on Monday.
Entire blocks have been reduced to rubble as thousands have lost their homes in the deadliest earthquake in the region in over two decades.
The city's football stadium has now turned into a makeshift morgue to accommodate and identify bodies.
To donate, visit redcross.org.uk/sunaid
A 70-year-old woman, Menekse Tabak, was miraculously rescued in Kahramanmaras, one of the worst-hit areas in Turkey after spending 122 hours in the rubble.
read more on turkey
Newborn babies among those hauled from earthquake ruins as rescuers wept
Premier League donate £1m to Turkey and Syria earthquake fund
She was swaddled in a blanket while rescuers carried her to a waiting ambulance.
Another woman, Masallah Cicek, 55, was also pulled alive from the debris in Diyarbakir.
Meanwhile, rescue teams continue to look for survivors trapped in the rubble as some have miraculously made it out alive including newborn babies.
A total of sixty-seven people had been clawed from the rubble in the previous 24 hours, Turkish Vice President Fuat Oktay said, in efforts that drew in 31,000 rescuers across the affected region.
Most read in The Sun
Nicola's partner reveals 'panic' over her phone at centre of probe being found
Morning Nicola vanished was 'different' to others, 'panicked' partner says
Nicola Bulley's partner believes a local is responsible for disappearance
Pregnant Ferne McCann welcomes new family member & says she is 'beyond in love'
It comes as….
Newborn babies wereamong those hauled from earthquake ruins as rescuers wept with joy
Harrowing earthquake images show mass graves marked with just numbers
Desperate survivors made homeless by the quake are living in freezing conditions after their homes were destroyed.
Heartbreaking video shows a little girl protecting her brother while stuck under rubble before they're saved.
Mystery surrounds the fate of former Premier League star Christian Atsu, who was buried under the rubble, amid conflicting reports.
Love Island star Belle Hassan and her dad Tamer have lost family in the devastating earthquake that hit Turkey and Syria.
Fears are growing for an entire school volleyball team trapped under rubble following the catastrophic earthquakes in Turkey.
Claims Turkey had failed prepare for a quake "for 20 years" and wasted £3.8bn in emergency funds raised with special tax.
Britain will send up to 100 more aid workers to Turkey to save lives after the devastating earthquake.
Ex-Dragons' Den tycoon Theo Paphitis has boosted The Sun's Earthquake Appeal by £5,000.
About 80,000 people were being treated in hospital, while 1.05 million left homeless by the quakes huddled in temporary shelters, he added.
"Our main goal is to ensure that they return to a normal life by delivering permanent housing to them within one year and that they heal their pain as soon as possible," Oktay said.
The UK has now pledged will send up to 100 more aid workers to Turkey to save lives after the devastating earthquake while generous Sun readers have now raised £850,000.
A British firefighter who was deployed to Turkey spoke of the heartbreaking scenes he encountered as he was pulling casualties out of the rubble.
Speaking to Mail Online dad-of-two Steve Davies, 51, said: "I've got two daughters and you can't help putting yourself in the position the earthquake survivors are in, desperately hoping to find family. 
"It is heartbreaking. It has been tough.
"Everybody is saying how totally horrific this one is and how widespread the impact is.
"That's the hardest part as a rescuer – having to walk past sites where people are begging you to try and go in and look for their family but we know our dogs have been over and there's no chance of us saving a life.
"We've got to try and save as many people as we can because time is so precious."
It comes as the tragic death toll exceeded 24,150 across southern Turkey and northwest Syria today.
Deaths in Turkey rose to 20,665while in Syria, more than 3,500 have been killed.
Read More on The Sun
I have 30GG boobs and can never find bralettes… but Primark has come through
Pregnant Ferne McCann welcomes new family member & says she is 'beyond in love'
Some 12,000 buildings in Turkey have either collapsed or sustained serious damage, according to Turkey's minister of environment and urban planning, Murat Kurum.
Harrowing images revealed mourning families praying for their loved ones in mass graves in Turkey as morgues and cemeteries have been overwhelmed due to the high number of victims.
SUN READERS RAISE £850K
The Sun's Earthquake appeal has now hit £850,000 after generous donations from readers and British businesses.
Steve Parkin, a former coal pit miner who set up a "man and van" business in the 1990s and grew to become £1 billion enterprise Clipper Logistics, donated £100,000 to the Sun's Red Cross fund.
Mr Parkin told The Sun "I've seen the harrowing scenes and devastation caused by the earthquake on the Turkey and Syria border and wanted to help in whichever way was possible".
EG Group, the petrol station empire owned by Zuber and Mohsin Issa, who also own Asda have also pledged £100,000 and a further £25,000 from employees.
Zuber Issa, co-chief executive, said: "EG Group is pleased to support the British Red Cross through The Sun's Earthquake Appeal following the devastation caused by the recent earthquakes in Turkey and Syria.
"EG's Foundation and Corporate Social Responsibility colleagues are also organising additional fundraising events and activities in the Blackburn head office and across our extensive UK site network to supplement the company donation.
"Our hearts go out to all those affected by the earthquakes in Turkey and Syria, and we hope they receive all the support they need from the international community in their time of need."
Ocado Group, the grocery technology business, is also giving £25,000 to The Sun's appeal.

Source: Read Full Article