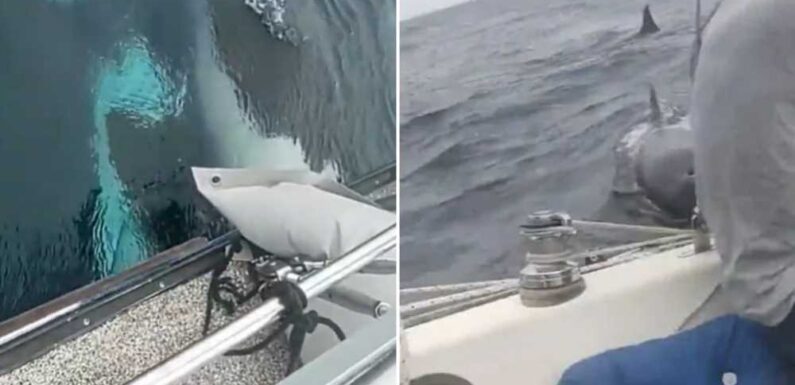 A SAILOR was left terrified after his small boat was surrounded by a pod of killer whales and heavily damaged following a brutal attack.
Luis Eduardo Alves Lima was sailing towards Ibiza when he noticed the orcas swimming near him – and at first he thought it was beautiful.
But the beautiful moment took a turn for the worse as the big fish began aggressively ramming his boat.
Lima told 9News: "I didn't realise I was being attacked until after a few minutes I saw an Orca that was breaking the rudder and I realised that it was more serious and they weren't as friendly as dolphins are."
Despite Lima's sailboat being a strong vessel, the whales were able to breaker the rudder and nearly flipped his boat.
The sailor said the attack was "intelligent".
READ MORE IN WORLD NEWS
Heartbreaking vid shows 'world's loneliest orca' circling tiny tank all day
Moment Brit woman's yacht is attacked by killer whales led by notorious orca
After 20 minutes, the whales left – only to return again later to finish the job.
Lima quickly sailed to shore to repair his boat, and said he was lucky to escape.
He said: "You can see in one of (my) videos the matriarch coming up and attacking the rudder with calf at side of her, then she drops back and then the little calf gets in to have a go.
"It was definitely some form of education, teaching going on."
Most read in The Sun
Prince Harry's court whines will cost £1m – and you've got to pay for it
First photo of Nottingham suspect at uni after knifeman killed three
Netflix show returns for FIFTH season – and the start date is just weeks away
New Strictly It Takes Two host revealed to join Janette Manrara
In May, a pack of killer whales tried to sink a boat filled with Brit tourists for over an hour.
Janet Morris and Stephen Bidwell, from Cambridge, were enjoying a sailing course off the coast of Morocco when they spotted the group of orcas.
Some of the deadly mammals then started bumping the boat – an attack which reportedly continued for an hour.
But even though they crew were faced with high winds and big swells, they managed to navigate the boat to safety.
Business consultant Janet, 58, said: "I couldn't believe it when I saw them – it's extremely rare. We were sitting ducks.
"We were amazingly calm but underneath we were thinking, 'Oh my god'.
"Because everyone was calm it felt okay, but we were petrified, it wasn't until afterwards that we talked about being very scared."
Janet revealed that they all collected their valuables and passports before talking about getting their life raft ready.
Source: Read Full Article