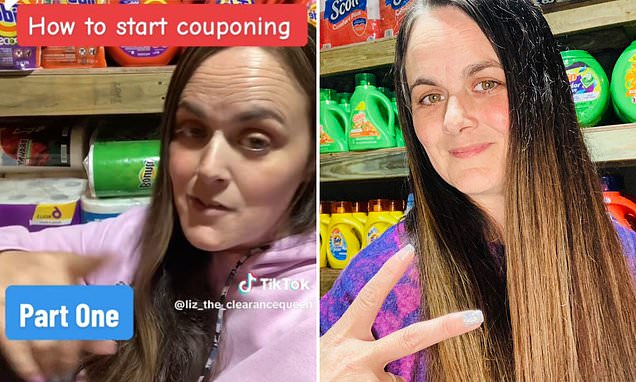 Mom-of-two who calls herself the 'clearance queen' explains how she regularly shaves off $60 a week on her grocery shop with coupons and rebates
Liz Cook uses social media to share tips for clearance hunting and couponing 
She recommends using digital coupons for big-name stores and rebate apps
The savings expert regularly cuts costs on everyday essentials for her family 
A mom-of-two, who calls herself the 'clearance queen', has revealed her tips and tricks for using coupons and rebates to save up to $60 on her weekly shop.
Liz Cook, from L'Anse, Michigan, has gained over 375,000 followers on TikTok, where she shares her secrets for bagging the best bargains to make her family's budget stretch further. 
The 39-year-old, who lives with her husband Eric, 37, and their two children, told The Sun how she got into couponing after falling on hard times during the Covid-19 pandemic. 
Her work as an Uber and Lyft driver dried up during lockdown – meaning they were relying entirely on her husband's income. She was denied unemployment, and remembers how there was a time when she only had $20 or $30 a week to buy food for the family of four. 
Cook, who now works as a buyer for an online resale company, started using rebate apps in February 2021.
Liz Cook uses TikTok to share tips for clearance hunting and couponing at various major stores 
Cook said how she was able to bring her weekly bill down to as low as $100, which is less than half of what the average family of four spends on groceries, according to the Department of Agriculture.
On her TikTok page @liz_the_clearancequeen she details how you do not need to shop at discount stores to make big savings. 
She explains how you can use digital coupons at stores such as Walgreens and Kroger and still get items for as little as 50 cents to $1. These can be accessed through the store's free mobile app or website. 
Her method is simple. First, she makes a list of the products that she wants to buy that week. 
Then she checks the digital coupons for her regular stores and sees if there are any deals available on those items. 
'For example, I need hamburger. Is there a certain band that's on sale or a certain brand that has a rebate?' she said.
Cook also maximizes her savings by using free cashback apps which give rebates on essential household items. 
These services return to customers a percentage of what they spend on qualifying purchases. For big-ticket items such as a $300 TV, you would get back $21 on a typical 7 percent cashback offer.
She recommends trying apps Ibotta and ShopKick – and said says she often saves up to $40 on a grocery trip using them. 
Ibotta allows shoppers to submit a receipt and withdraw earnings on certain products after shopping instore. Since it was founded in 2012, it has given back over $1.2 billion in cash rewards to more than 40 million users. 
Cook said she regularly saves on items like cheese, bread, cereal and pasta sauce using the app.
Coupons.com and Fetch are also useful resources for deals and rewards, according to Cook. 
Liz Cook tells her social media followers how you do not need to shop at discount stores to make big savings
When it comes to holiday shopping, Cook's trick is to look for items on clearance immediately after Christmas, or at unusual times of the year for particular stores. 
'Walmart clearance normally hits hard in January and July,' she told The Sun. 'I make a tally sheet so I don't go overboard. I'm a true believer in the whole "Christmas in July."'
She added: 'Learning how to save has completely changed my life.'
For those who have never tried couponing before, she recommends starting with products you already buy and stores you already visit – and building it up from there. 
Some of the cashback apps also offer deals for new customers. 
Source: Read Full Article