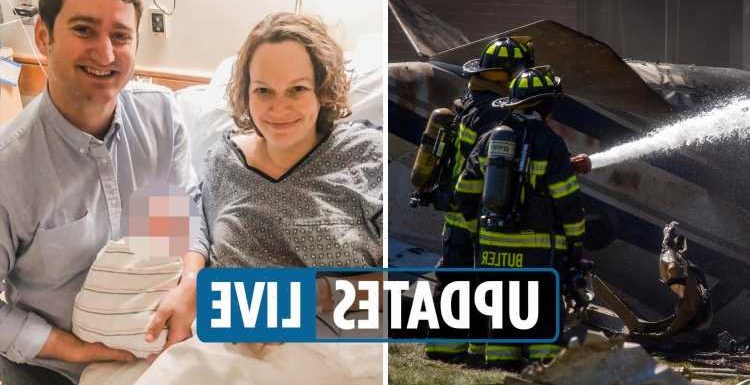 AUTHORITIES have identified the four people who died after a plane flew into the side of a building in Connecticut yesterday, two of which were a couple expecting a child.
The two pilots have been identified as William O'Leary, 55, and Mark Morrow, 57, and the passengers are Courtney Haviland, 33, and her husband, William Shrauner, 31.
A family friend confirmed that Courtney and William were expecting a child. They already share young son, Teddy, who was not onboard the flight.
The company that owns the building, Trumpf, also confirmed that an additional two people on the ground had been injured.
"At this time, all employees who were inside the affected building have been accounted for with two injuries reported. Additional information will be provided as it becomes available," the company wrote on Facebook.
The plane crashed into the building just after 10am local time on Thursday.
Read our Connecticut plane crash live blog for the latest news and updates…
Cybele Mayes-Osterman

WHERE DID THE PLANE STRIKE?

Initial reports suggest that the aircraft a Trumpf Inc building – a German industrial machine manufacturing company.

This has not yet been confirmed by police.

Officials said the building is located at 111 Hyde Road.

Julia Fields

TRIBUTE FOR PILOT

One of the pilots who passed, Will O'Leary, has a touching tribute for him on YouTube made by his cousin.

The caption of the video reads, "My Cousin Will died today. He was a Great Pilot, Great brother, son and Father. He will be missed. Love you buddy."

Julia Fields

WITNESSES

Witnesses told the Hartford Courant what they experienced during and after the crash.

"People who work in the area reported hearing a loud thump. The lights flickered, and then they lost power."

Another witness recalled that "the plane took out a utility pole and its transformer before it struck the building."
Julia Fields

STATE OF EMERGENCY

Amid the plane crash, Governor Lamont declared a state of emergency due to the flooding in Connecticut as a result of Hurricane Ida on Thursday.

Julia Fields

WHEN DID THE CRASH OCCUR?

The incident, which caused billows of smoke to pour out from the scene, occurred after 10am local time on September 2.

Julia Fields

WHERE DID THE CRASH TAKE PLACE?

The aircraft hit a Trumpf building in Farmington, Connecticut on Hyde Road.

Julia Fields

WHAT KIND OF PLANE WAS IT?

The plane was described as a Cessna Citation 560X business jet according to NBC Connecticut.

Julia Fields

TRAVELING TO NORTH CAROLINA

The Federal Aviation Administration confirmed that the flight took off from Robertson Airport in Plainville, Connecticut and was headed towards North Carolina.

Julia Fields

THE PLANE HIT THE GROUND FIRST

Officials say that the plane hit the ground before colliding with the building.
Julia Fields

SCHOOLS KEPT INSIDE 

Plainville schools were advised to keep children inside due to the intense smoke in the area.

However, they were able to resume normal activties shortly before 11am.

Julia Fields

ONE EMPLOYEE SUFFERED BURNS

Trumpf worker Steve Ennis shared that one of his coworkers suffered burns as a result of the crash.

Two employees were injured in the incident, but injuries do not appear to be life threatening.

Julia Fields

TRUMPF WORKER STATEMENT CONTINUED

Steve Ennis' recount continues, "One of my employees who sits right next to me was like, 'Oh my god, that was a plane crash,'" Ennis recalled. "We ran out of the building and already the flames were halfway up the building."

"People could have gotten killed. And if it was another 20 yards down the wall, people would have gotten killed."

Julia Fields

TRUMPF WORKER STATEMENT

Steve Ennis, who has worked at Trumpf for 21 years, was working at the time of the crash.

"We knew something was up," said Ennis, who has worked for Trumpf for 21 years. "It was really close to us. And then all of a sudden we heard a huge bang and all of the power went out."

"One of my employees who sits right next to me was like, 'Oh my god, that was a plane crash,'" Ennis recalled. "We ran out of the building and already the flames were halfway up the building."

Julia Fields

PLANE REGISTRATION

The plane involved in the crash was was registered to Brook Haven Properties LLC in Camden, Delaware in April 2017, according to FAA records.

Earlier in March 2016, the plane was listed as registered by Central Connecticut Aircraft LLC in Plainville.

Julia Fields

PILOT LICENSES

The Stamford Advocate reveals the licenses of both pilots killed in the crash.

It reads, "Morrow held an active commercial airline transport pilot's license and was certified to fly single and multi-engine planes such as the Cessna, which is equipped with twin fan-cooled, turbo props.

"O'Leary held an active airline transport license and was certified for single and multi-engine planes, FAA records show."
Julia Fields

DID THE COUPLE HAVE CHILDREN?

William and Courtney were a married couple killed in a plane crash in Farmington, Connecticut.

According to William's brother Ben's Facebook post, the two had a young son named Teddy.

He was not onboard at the time of the crash.

Julia Fields

PILOTS IN GOOD STANDING

The Stamford Advocate reports that the Federal Aviation Administration records show that "Morrow and O'Leary were pilots in good standing, and had worked as flight instructors."

Julia Fields

WILLIAM'S BROTHER SPEAKS OUT

One of the victim William's brother Ben spoke out about his brother's death on Facebook.

He confirmed that the couple's young son, Teddy, was not onboard.

Julia Fields

NTSB STATEMENT

The National Transportation Safety Board released a statement about the investigation.

"The investigator will document the scene, examine the aircraft, request any air traffic communications, radar data, weather reports and try to contact any witnesses.

"Also, the investigator will request maintenance records of the aircraft, and medical records and flight history of the pilot."

Julia Fields

INVESTIGATION

An NTSB spokesperson said investigators arrived on the scene of the crash on Friday.

A full report on the incident could take 10 days to two years.

Julia Fields

TRUMPF SENIOR VICE PRESIDENT

In a video on Friday, Trumpf Senior Vice President Burk Doar said "Today we're focused on assessing the damage in our production facilities and see what we can do to get the company back up and producing machine tools and lasers for our customers."
Julia Fields

MASSACHUSETTS GENERAL HOSPITAL STATEMENT

Massachusetts General Hospital released a statement on Friday saying "Our hearts are broken following the passing of our friend and colleague Dr. Courtney Haviland and her husband, Dr. Will Shrauner.

"Courtney first came to MassGeneral Hospital for Children in 2016 as a resident and most recently completed a fellowship in Medical Simulation this past June before moving on to Brown University where she worked as a fellow in Pediatric Emergency Medicine.

"She was universally loved by her colleagues and patients and lived a life full of meaning. Her bright smile and the twinkle in her eye left an indelible mark on all who met her, as did her boundless kindness and compassion.

"Our thoughts are with her family and loved ones as we grieve with them during this difficult and tragic time."

Julia Fields

BOSTON MEDICAL CENTER STATEMENT

Boston Medical Center released a statement on Friday that said "We are deeply saddened by the tragic loss of one of our cardiology fellows, Dr. Will Shrauner, and his wife, Dr. Courtney Haviland.

"Will, a second year fellow at Boston Medical Center, was well known as an outstanding educator, physician, colleague and friend to many. Our thoughts and prayers are with Will and Courtney's family and loved ones."

Julia Fields

TRAGEDY

A WBZ reporter shared that a family friend of Will and Courtney revealed that Courtney was pregnant at the time of her untimely death.

Julia Fields

WHAT CAUSED THE CRASH?

Officials said that the plane suffered a mechanical failure following take off that led to the crash.
Source: Read Full Article