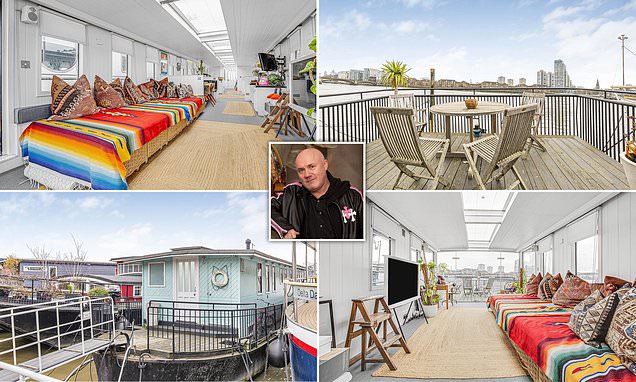 The Damien Hirst that has halved in value: Artist's houseboat could be yours for a knockdown £80,000 as enfant terrible of British art puts 77ft vessel up for sale
Damien Hirst bought the houseboat for £160k but it is on the market for £80k 
He earned the moniker the 'enfant terrible' of the art world after dominating the industry in the 1990s with his installations of dead sharks, sheep, and cows preserved in formaldehyde and went on to become Britain's richest living artist.
His platinum skull encrusted with 8,601 flawless diamonds sold for £50million and he was encouraged by his accountant to buy a pied-a-terre in the city after racking up a £65,000 hotel bill at London's Metropolitan Hotel.
However, a sales brochure, published to sell Damien Hirst's 77ft houseboat Signe Maria, has revealed that the 57-year-old Turner prize-winner does not always have the golden touch.
His houseboat, which is decorated in the style of 'a Ralph Lauren beach hut with patina' – rather than his infamous animal installations or spot, spin, or butterfly paintings – is being sold for a knockdown price.
Turner prize winning artist Damien Hirst has put his houseboat up for sale 
The 77ft houseboat Signe Maria is being sold for a knockdown price
The artist paid £160,000 for the 77ft boat in 2006 and moored it on the Thames
The boat is believed to be under offer, and has been listed with agent River Homes for £80,000
Hirst and his fashion designer partner Maia Norman, mother of his three sons Connor, 27, Cassius, 22, and Cyrus, 17, paid £160,000 for the 77ft boat in 2006 and moored it on Chelsea Wharf as it was 'the closest thing to the beach in London'.
But the barge, which has two bedrooms and two bathrooms, and is believed to be under offer, has been listed with agent River Homes for £80,000 – half the original price before renovation.
It is not the first loss that Hirst has faced since his 2008 Beautiful Inside My Head Forever auction at Sotheby's raised £111 million. 
Ten years later an analysis of auction prices for his works by Artnet, which lists auction prices, found that all but two of his 19 works which were resold publicly had dropped in price by a total of £2.2million. 
His 2008 skull picture Beautiful Mider, which sold for £668,450 in 2008, was auctioned for £449,000 in 2018.
The boat has more than enough room to entertain guests in 
And due to its Thames location offers spectacular views of the city 
Artnet's Tim Schneider wrote at the time: 'Instead of a formaldehyde tank, the best fluid measure here is a bloodbath. Is this grim total just a matter of a few horrendous results pulling down the rest of the group by association? Individual results thunder back a loud "no".'
Signe Maria began life in the 1940s as a custom dock barge designed by Vickins. After Hirst bought the yacht, Norman was entrusted with its decoration, hiring designer Mike Rundell to give it a radical makeover.
He redesigned the boat in a prosaic duck egg blue, installed underfloor heating, insulated its tongue-and-groove walls, and decorated it with stripy rugs, colourful cushions, and Mexican artefacts.
The couple separated in 2012 and Hirst now lives with his girlfriend Sophie Cannell, 28 years his junior, and their three French bulldogs, Pablo, Chapo and Blanco, at his £36million 14-bedroom home in Regent's Park.
Last year Hirst fell foul of animal rights activists who complained that his installation A Hundred Years infringed the right of insects. The artwork was removed from display at the Kunstmuseum Wolfsburg, in Germany, after People for the Ethical Treatment of Animals (Peta) objected to its treatment of flies.
Hirst did not respond to a request for comment.
Source: Read Full Article